---
The Yin and Yang of a Successful Event
32 Pairs of Schoenhut Pianos Enthrall Crowds
The Schoenhut Piano Company has a history of participating in and funding unusual events that bring their chime-like toy pianos — and the newer 44-string mini grand piano — before the public. Here, Renee Trinca, president of Schoenhut, describes in her own words a unique concert and performance piece that the company sponsored at the Vizcaya Museum in Miami.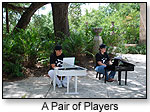 When Wendy Mae Chambers, a virtuoso of the toy piano, requested 64 Schoenhut pianos for an event at Vizcaya Museum and Gardens, my thoughts flew to the complications involved with preparing, shipping, and setting up so many instruments. As she described plans for the performance and her "dream of Kun," I instead began envisioning 32 white and 32 black baby grand toy pianos being played simultaneously throughout the spectacular museum gardens among gorgeous flowers and trees. Wendy had already worked out a myriad of details, including collaboration with the museum staff, advertising, composing music, and lining up and tutoring 64 musicians. I couldn't refuse this unusual, but remarkable, opportunity for a large crowd to hear the enchanting sounds of our toy pianos.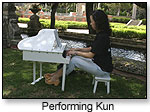 The event, which took place on April 26, 2009, was a resounding success. Lovely chime-like piano tones emanating from solos, duets, and multiple groups intermingled beautifully throughout the gardens. The thousands of people who attended seemed enthralled with the performance. We are very pleased to have played a part in this spectacular event.

In addition to promoting the skyrocketing interest in Schoenhut toy pianos as serious concert instruments, we enthusiastically support avenues that foster a love of music in children. A visit to the Gallery of Little Stars link on our website shows a representation of budding musicians. Hundreds of customers have contacted us, many of them professional musicians, telling of the positive impact our toy pianos have had on their lives.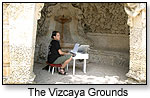 Through contributions to a selected number of organizations each year, Schoenhut provides the gift of music to children in need who might not otherwise have a musical instrument. One such example is our company's promise of 100 toy pianos for TDmonthly's Charitable Kid Contest. Yearly donations are given to The Toy Bank sponsored by Toy Industry Foundation (TIF) and Summer Gift Drive by Gifts in Kind. We are also supporting TIF's Do Good Stuff-a-Thon this year. Locally, here in St. Augustine, our toy pianos for "Helping Students Inc." will provide gifts for many impoverished children this upcoming holiday season.

As business owners, we are committed to giving back to the community that supports us.

Following is the piano that charmed Miami, plus other Schoenhut offerings:







Inspired by the beauty of a full-size concert grand, Schoenhut® Piano Company offers this exquisite miniature 37-key replica. Complete with opening top to release the lovely chime-like tones, this smaller version is designed for a child with serious musical aspirations. Each piano in the series is custom built from solid maple and ½-inch multi-ply birch, stained in mahogany or painted in your choice of white or black, with the interior hand finished to match the selected exterior. The hinge is designed to raise and lower gradually, so as not to slam down on little fingers. Chromatically tuned, the sound is produced by little hammers striking precision-ground, German steel music rods.Schoenhut's patented Learning System, with its play-by-color teaching method, makes playing simple and fun. Available in Mahogany, Black or White.

.

AD
---






Schoenhut's Fancy Baby Grand is beautifully designed with curved legs and an elegant style, yet extremely durable and sturdy. This piano is a great way to introduce a child to basic keyboard skills and musical concepts. Lovely chime-like tones are created by small hammers striking metal rods, the sound that makes Schoenhut toy pianos unique. The two and one-half octave span of full-width keys provides a good foundation for the transition to a larger model. Includes: Schoenhut's Learning System and bench.

.

AD
---






.

AD
---






This high-quality musical instrument is chromatically tuned and features lovely chime-like notes that are produced by little hammers striking precision-ground, German steel music rods (versus the conventional taut wires used in full-sized pianos). Schoenhut's patented Learning System, with its play-by-color teaching method, makes playing simple and fun. A removable color strip fits behind the keys to guide small fingers from chord to chord, and is also suitable for use on adult-sized keyboards. The accompanying songbook contains a collection of familiar tunes. Launch date: July 2007.

.

AD
---






.

AD
---






This versatile little piano grows with the child. The main unit, decorated with a whimsical animal's head, is perfect for toddlers because it sits safely and squarely on the floor within easy reach of little hands. Later on, the sides with the animal's body can be attached, conveniently raising the piano to a comfortable height for an older child seated at the bench. Included is Schoenhut's® Learning System, with a removable color-coordinated strip that fits behind the keys to guide small fingers from chord to chord. The accompanying songbook contains a collection of familiar tunes. Schoenhut toy pianos are famous for their lovely chime-like tones. The keys are spaced correctly for a full-sized piano, which teaches proper finger placement and affords an easy transition to a large piano.The piano is 19-3/4" H x 16" W x 10-3/4" D and the bench measures 8" H x 8" D x 11" W. This product weighs 17 lbs. Launch date: February 2008.

.

AD
---






Schoenhut® Piano Company has taken the concept of pianos for the very young a step further with this new three-octave Elite Baby Grand. With a keyboard almost half the size of an adult piano, this new model is designed with the three-to-nine-year-old in mind. "Not just a toy," it is a fine musical instrument and beautiful piece of furniture as well.

.

AD
---
THIS BANNER IS AN AD:
---
---