---
TDmonthly's Book Expert
One Educated Bookworm's Opinion
With this batch of children's titles, TDmonthly Magazine's Book Expert got a thorough introduction to the art of origami and learned some fascinating facts about obscure animals. See how she liked them below.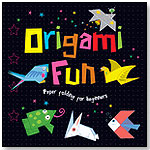 Title: Origami Fun: Paper Folding for Beginners
Author/Illustrator: Jon Tremaine
Publisher: Barron's Educational Series
Gender: Boys and Girls
Age: 9 and Up
MSRP: $11.99

TDmonthly rating:




What It Is: An introduction to the ancient Japanese art of paper folding, this all-in-one book contains step-by-step detailed instructions for making a variety of origami figures, including a traditional swan, a spaceship, a fortune teller, a water bomb and talking fish. The colorful illustrations offer clear, color diagrams to follow. The book includes not only 40 sheets of colored origami paper but also colored pencils and wiggly eyes that can be used to decorate the finished creations.

Why You Should Carry It: This item makes a great gift for those looking for creative craft activities for kids. It's especially appealing because it comes with all the supplies necessary to produce the final result.

What Kids Think: Origami can be challenging for younger children, and the way this book is presented requires some patience as the children need to go step by step through the beginning folding techniques and not skip ahead to more complex creations. Eva, age 10, really liked the variety of bright paper and the way the book illustrates how to decorate the origami to add fun details such as eyes and teeth.

---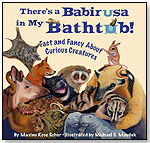 Title: There's a Babirusa in My Bathtub: Fact and Fancy About Curious Creatures
Author/Illustrator: Maxine Rose Schur/Michael S. Maydak
Publisher: Dawn Publications
Gender: Boys and Girls
Age: 7 to 12
MSRP: $8.95

TDmonthly rating:




What It Is: This book combines poetry and expository text to explore some of the world's most fascinating but little-known animals, such as a tangalung, matamata and jerboa. Presented in alphabetical order, the animals are depicted with striking paintings of the exotic creatures in their native habitats around the globe. A "fabulous fact" on each animal is also included. Additional enrichment activities for use at home or in the classroom are provided at the conclusion of the book.

Why You Should Carry It: This unique book will appeal to all animal lovers, who will enjoy both the catchy poems as well as the additional factual information provided on each animal and its habitat. It's an especially good book for teachers and parents who are homeschooling their children since it encompasses both science and language arts through the combination of poetry and short factual essays on each animal.

What Kids Think: A group of 7- to 10-year-olds enjoyed both the poems and learning about these exotic creatures, which appeal to children's love of everything weird, grotesque and dangerous!

---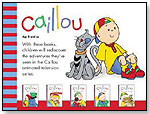 Title: Caillou Boxed Set
Author/Illustrator: Joceline Sanschagrin, Nicole Nadeau
Publisher: Chouette Publishing
Gender: Boys and Girls
Age: 3 and Up
MSRP: $19.95

TDmonthly rating:




What It Is: Based on episodes of the popular PBS preschool animated television series, each of the five books in this attractive boxed set with its own little handle tells a separate story about Caillou dealing with typical preschool topics. These include building a snowman, planning a surprise, putting away his toys, coloring on his sister's doll, and sleeping over at a friend's house.

Why You Should Carry It: These colorful, simple books, with their uncomplicated stories and uncluttered illustrations featuring primary colors, appeal greatly to young children, who easily understand the everyday situations to which the stories relate. The books are perfect for sparking discussions with toddlers and preschoolers and, therefore, fostering their verbal skills. The packaging is particularly fun, with the easy-to open Velcro front and the small handle on the top making it easy for young children to carry themselves or put in their backpacks. The boxed set would make a great gift item for birthday parties, holidays, or just for every day.

What Kids Think: Sam, age 4, immediately recognized Caillou from the cover of the boxed set and asked to hear the stories. In fact, he wanted to hear all five stories one after the other! He enjoyed the gentle humor of the stories and could identify with Caillou's dilemmas.

---

Title: Have You Ever Seen a Duck in a Raincoat?
Author/Illustrator: Etta Kaner/Jeff Szuc
Publisher: Kids Can Press
Gender: Boys and Girls
Age: 4 to 7
MSRP: $14.95

TDmonthly rating:




What It Is: This non-fiction picture book, the first in a series of "Have You Ever Seen" books, teaches science concepts to preschoolers by using a repetitive question-and-answer format. Children learn that while humans need to wear clothing, footwear and headgear, animals have developed other adaptations to allow them to survive. For example, a duck doesn't need to wear a raincoat to protect it from the water because oil on its feathers lets the water bead up and slide off instead of sinking in. At the end of the book is an animal tic-tac-toe activity that encourages thinking about how animals and humans are different and reinforces lessons from the book. The book's small format makes it best for reading to individual children or small groups.

Why You Should Carry It: The book presents educational scientific concepts about animals in a light, humorous format that kids will enjoy and that won't bore parents and teachers. The funny pictures of animals wearing human clothing are very entertaining, and the colorful, stylized artwork is appealing to children.

What Kids Think: Preschoolers giggled at the silly pictures of rabbits in shorts, lobsters in helmets, whales in parkas, and more. The repetitive nature of the Q&A format encourages participation, and the children liked being able to learn interesting facts about some of their favorite animals.

Writer's Bio:
A member of the American Library Association, Margo Tanenbaum was formerly employed by an independent children's bookstore and has published book reviews on Amazon Vine and Goodreads. She is pursuing a master's degree in library science and writes about historical fiction and non-fiction for children and teens on her blog,
The Fourth Musketeer
.
Read more articles by this author
THIS BANNER IS AN AD:
---
---