The boys said the game was "fun, fast and easier than Scrabble." — Audra Estes, mother of four
TDmonthly Magazine's Roundtable families paired up with Bananagrams' Pairs in Pears game and spelled their way to play. The packaging and pear theme received praise, but can a game that practices spelling really be fun? See what the children and moms liked best about Pairs in Pears.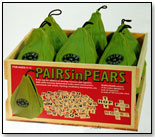 Pairs in Pears by BANANAGRAMS
Other products by BANANAGRAMS
Age: 6 and Up
Gender: Boys and Girls
Category: General Games
TDmonthly rating: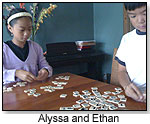 What It Is: Pairs in Pears is a portable, compact spelling game with a fruit theme. Inside a pear-shaped pouch are letter tiles featuring various designs (dots, lines, blank and solid). Multiple levels of play are given. Nothing other than a flat surface is required to play.

What the Moms Thought: Tong called the packaging "creative and attractive," a quality echoed by Summers and Estes. Summers also loved the tiles: "good for little hands, and fabulous for playing with words!" she enthused.

Tong appreciated the multi-level play. "It's quick for those with a shorter attention span," she added. Wilson was glad to see two play options (scoring and non-scoring) and the suggested 'Educational Exercises.'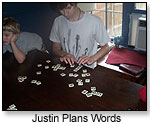 Lilova said, "It's portable and easy to get things in and out of it." She also liked the challenge of the game.

What the Kids Thought: Alyssa (11) and Ethan (8) had fun with this game and were excited to teach it to their visiting cousins. "There were funny words you could make when you saw what letters you had," said Ethan (8). Sister Alyssa (11) commented, "Sometimes we would make up sentences with the words we would make and the sentences were really funny!"
At the Estes household, Justin (13) and Sebastian (11) each paired up with a younger brother to play the game. "It was great that they could all play and learn together," their mom raved. The boys said the game was "fun, fast and easier than Scrabble." Although frustrated somewhat with the rules, Abbey (5) "enjoyed playing with the tiles on her own," observed Summers. Editor's Note: Bananagrams informed TDmonthly post-review that the age recommendation on this product changed to 6 and up.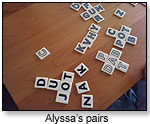 Radina (12) enjoyed racing to make her pair before her opponent. Steven (9) was relieved that an opponent's play did not affect his next planned play. Elise (10) liked the quick play of the game. Wilson observed, "Initially, the limitation of one set of alphabet letters in the Pairs in Pears manner was a drawback — too few vowels, no ability to repeat a consonant — but later they found this to be a welcome challenge."

What the Kids Learned from this Toy: "[Pairs in Pears] was a mind exercise and a way to think outside the box using 'school' concepts without being in school!" raved Tong. She observed that playing the game challenged her children in the areas of spelling and phonics.

Summers also noted that the game "reinforces basic phonics instruction." Justin (13), Sebastian (11), Parker (7) and Preston (5) strengthened their skills in sorting speedily, spelling and quick thinking.


How to Improve It: Estes and Summers would like to see the pear-shaped pouch be slightly larger. Clarify the instructions, recommended Lilova, "[to] make the game easier to understand." Wilson found the reusable scoring device did not keep score very well, as letters and numbers written on it would disappear. Since it also did not fit well into the pear pouch, she thought the game would be just as well without this item.

Would You Want Another Toy Like This? "This is a great tool for pre-readers and early readers," Summers concluded.

Roundtable participants are homeschool parent Audra Estes with Justin (13), Sebastian (11), Parker (7) and Preston (5); research scientist Kostadinka Lilova with Radina (12) and Victor (5); stay-at-home parent Crystal Summers with Abbey (5); homeschool parent Mildred Tong with Alyssa (10), Ethan (8) and Lexi (6); and homeschool parent Teresa Wilson with Tim (16), Andrew (14), Elise (10), and Steven (9).