---
Retailer Spotlight: The Tutoring Toy
Relationships Seal the Deal at This Store
"… if we say they should buy something, they buy it. It's not from a metric standpoint, but from a relational standpoint." — Bill Sartain, Tutoring Toy

A desire to work together as a family first led Diane and Bill Sartain to investigate opening a toy store, and the opportunity to help parents understand the value of play clinched the deal in 1988. Now, more than 20 years later, The Tutoring Toy in Salt Lake City, Utah, is still going strong.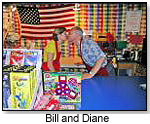 "As parents, we were often frustrated with buying a toy only to have our children play more with the box it came in than with the toy," the couple told TDmonthly Magazine. "However, when we began questioning why, it became clear that the toy was often either too advanced for where our child was developmentally, or not challenging enough. We decided to try helping parents, family and friends find the 'right' toys by organizing them based upon what developmental need they filled."

JUMPING INTO RETAIL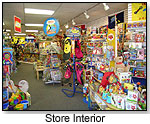 In the beginning, the venture wasn't easy. The couple faced challenges initially because of their lack of retail experience. Diane was a pediatric intensive care nurse, and Bill came from a corporate background.

"We were able to learn fast enough to survive," he noted. "It was by trial and error. There was no magic to it at all. If we got our fingers burned, we just changed direction. The key was that we worked with our customers, and they allowed us a certain number of mistakes."

There was also established competition within a five-mile radius of the store. Bill noted that at one point there were eight competing stores, including a KB Toys directly across the street in a mall. Bill was embarrassed to say that they didn't consider this when choosing their original location. But luckily, an emphasis on customer service has kept the store alive.

"What differentiates us from other toy stores is a genuine caring for our customers as people rather than commercial opportunities," Bill explained.

KNOWING CUSTOMERS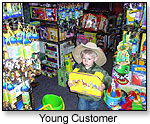 Several years into owning the store, the couple was too cautious and ended up with inadequate inventory. "Neither of us had a background in retail, let alone toys, and we went about it by using a trial-and-error approach," Bill said.

Over time, they learned to maintain their inventory levels and mix at a level consistent with customer needs.

"After being in business for 21 years, we know our customers pretty well," Bill said. "We go to shows, talk to distributors and vendors, then make evaluations as we go through catalogs and listen to pitches. We know what will work with our customers. We know them, both demographically and by their lifestyle. We can make an informed judgment."

It's important for anyone entering the toy industry to clearly and in detail identify the target audience, the couple emphasized.

"Understand what drives their purchasing behavior, such as sales, quality, personal attention/entitlement, or selection," Bill told TDmonthly. "Then, find a location that encompasses the greatest number of target audience within a five-mile radius. We used a zip code analysis provided by the Department of Commerce/Bureau of Census … it's free! We later verified it by comparing it with our voluntary mailing list."

TRAINING THEM TO BUY

Finally, Bill noted that it is important to "train" customers to buy what you recommend based upon your knowledge of the toy and what children need to further their development.

"We know our customers on a personal basis, and we know their kids names. The customers rely on us, and if we say they should buy something, they buy it. It's not from a metric standpoint, but from a relational standpoint," he said. "We also know about child development, and we organize our toys by what stage of development the kids are in."

See the Tutoring Toy's best sellers here.

Writer's Bio:
Brenda Ruggiero is a freelance writer from western Maryland.
Read more articles by this author
THIS BANNER IS AN AD:
---
---