---
TDmonthly's Music Expert
She'll Tell You Which Albums Hit the Right Notes
TDmonthly Magazine's Music Expert took a quick trip around the world to sample different ethnic styles of music and laughed at hilarious lyrics about family, bad days and rhyming in Lanny Sherwin's latest.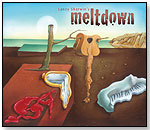 Meltdown by SANDMAN RECORDS
Age: 4 to 12
Gender: Boys and Girls
MSRP: $12.98

TDmonthly rating:




My Impressions: I have to hand it to Lanny Sherwin — this CD is really great! The lyrics are hilarious and the music is very inviting to kids of all ages. The style is easy to listen to, the words are clear, and each song has a great message. "Meltdown" is a neat tune aimed at helping kids deal with bad days and anger. In the clever song "I Can't Rhyme," each of the words that would have rhymed is replaced by another word that means the same thing. This kind of humor is great for grade school-aged kids. I have to say, though, that my personal favorite is "Granny's Got a Guitar." It talks about a grandma who takes up rock and roll guitar and drives her family crazy, and it's really funny.

Kid's Perspective: My 3-year-old daughter really liked this CD. She was involved in listening from the very beginning, was dancing, and even tried to sing along.

My Recommendation: I honestly cannot think of anything that needs improvement in this album. The cover art is great, the music sounds awesome, and the messages of the songs are easy to identify with. This is one CD that I can imagine families listening to in their cars and singing along to while having some laughs. It would make a great present for any kid.

---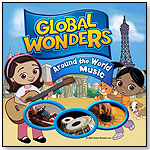 Global Wonders: Around the World Music by GLOBAL WONDERS INC.
Age: 2 to 7
Gender: Boys and Girls
MSRP: $9.99

TDmonthly rating:




My Impressions: This CD comprises original songs also found on the "Global Wonders" DVD series. The main thrust of this CD is to give kids an appreciation of music from all different cultures. The songs are pretty brief — most only one or two minutes in length — which is nice, as kids' attention spans are not very long. I especially liked the jazzed-up version of "America." I was a little disappointed in the actual recording quality, though, as I felt that the vocals were hard to hear and understand on a couple of tracks and the sound increased dramatically on the third track in comparison with the first two.

Kid's Perspective: The first two tracks are songs with a kids' choir, which my 3-year-old daughter seemed especially drawn to. In fact, when some of the other songs did not have vocals, she asked, "Where are the kids on the CD?" I love it when children's music CDs include young voices, as kids are attracted to timbres that are closest to their own vocal range.

My Recommendation: This album has some really likable qualities and, all in all, offers a nice sampling of ethnic music. I think most kids will be able to gain an appreciation of various authentic musical styles by listening to it.

---

Grinning Streak by LINDA SEVERT
Age: 4 to 12
Gender: Boys and Girls
MSRP: $13.00

TDmonthly rating:




My Impressions: Winner of a Parents' Choice Silver award and a Seal of Excellence from Creative Child Magazine, this music is definitely creative and imaginative. I would describe Linda Severt's vocal sound as rather Broadway-esque, and the music has a bit of a folk twist. One listener described Linda as the "Beatles of kid's music." I think that, as with the Beatles, you will probably find people who either love or hate this style of music, since music is such a personal thing.

Kid's Perspective: While my 3-year-old daughter did not like this album, she is a bit under the recommended age range. I think grade-school children would enjoy this work the most.

My Recommendation: I don't think the songs themselves sound geared toward very young children, as the style and sound of the music strikes a more mature tone. Again, the distinctive style may not appeal to everyone.

Writer's Bio:
Anna Bendorf received her Bachelor of Music in Piano Performance in 2004 from the University of Oregon, where she gained extensive experience as an accompanist and solo performer. While studying music, she won several piano competitions and sang in the University audition choir and the Symphony Chorus. She has been teaching piano for the past 14 years, and she and her husband, Adam, run Alberti Publishing, a music publishing company. They co-authored a book for piano teachers called "The Right Notes" (November 2008). Adam and Anna have two daughters.
Read more articles by this author
THIS BANNER IS AN AD:
---
---