---
FREEBIES: No-Cost, High-Value Add-Ons
Give Your Customers More Each Month ... for Less!
TDmonthly Magazine now offers lots of unique, free ways for specialty retailers to help their customers learn more about what makes their toys and games an incredible value. From videos to reviews to reports, these add-ons will help answer customers' questions before they even walk into your store. Bookmark this page so you can check our FREEBIES article each month for new offerings. And if you use one of our links, don't forget to email us, so we can link back to your store's site, too!


SEPTEMBER UPDATE:
TOY VIDEOS ... GAME VIDEOS ... AND MORE VIDEOS!



"The vast majority of toy buyers (78 percent) say they prefer to buy in stores versus online because they want the ability to see the products before purchasing them," according to an
NPD Group study
. But what if you DO sell online and you can actually SHOW your customers the products there?
This month marks
TDmonthly
's first-ever in-house
VIDEO BLITZ
! We've filmed more so that you and your customers can watch more to help with those ever-important holiday buying decisions. See something you sell? Copy the code in the video player window to
broadcast the demo from your own website
. You can freely communicate with vendors, too. See something you like? Just click the "Add to my inquiry basket" link at the bottom of the product description and send a message straight to the manufacturer.


AUGUST UPDATE:
SHOW CUSTOMERS A FUN ART PROJECT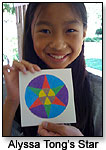 Do you carry
ArtiSands
? If so, tap into the positive feedback
TDmonthly
's Roundtable moms and kids gave about these fun and virtually mess-free sand-art projects. Share their enthusiastic comments with shoppers in your store, so they know what to anticipate when they take a kit home with them! If you don't stock the item currently, find out why kids ages 7 to 11 enjoyed working with the sand in
"Families Praise ArtiSands for Simplicity and Sharp Designs."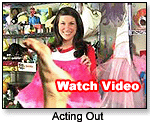 LIVEN UP YOUR WEBSITE WITH TD'S TOY VIDEOS!
Don't wait any longer to bring your website into the 21st century! You can broadcast
TDmonthly
's toy videos from your store's site, so your customers can get a better idea of a product before they buy. This month, use the videocode available in each video pop-up window to show shoppers
Babalu's Pirates
, what
Aurora's Learn With Me Ball
has to offer, and how
Acting Out's skirts for girls
get dancin'!

MAY UPDATE:
NEW CONTEST TO GENERATE PUBLICITY FOR YOUR STORE!
One of your customers may win the chance to give away
100 Schoenhut My First Piano IIs
to needy children in your community.
A Colorado retailer
has already offered $100 in gift certificates to the winning child if he or she is from Colorado, plus will donate a
Schoenhut
Baby Baby Grand piano to a local charity. You can post the contest details and video on your website, Facebook and Twitter pages, plus send out the press release to your clients and local media. Let us know how you've used the
TDmonthly Charitable Kid contest
to help generate business for your store!


PRODUCT SAMPLES FOR YOUR STORE!
Take a look at
TDmonthly
's
Weekly Toy Giveaway Sweepstakes for Storeowners
to see what the buzz is all about. Entering the sweepstakes is free, and you can enter as often as once per day to increase your chances of being randomly selected as one of 10 winners! As outlined in the
official rules
, to enter, you must own a retail store that currently sells toys.
Find out more
!

FREE VIDEO REVIEW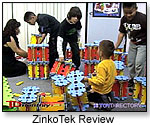 What's better than actually seeing how kids play with a toy? If your customers are considering fun, safe construction toys for their children, show them how the four Flamenco brothers built a house with

Zinkotek

! It's captured in a

five-minute video

accompanied by a detailed review and comments from other consumers. You can also introduce shoppers to the

13-year-old inventor of Snap Caps

interchangeable bottle cap necklaces by

M3 Girl Designs

— trendy pieces that seem to be sweeping the nation!


MARCH UPDATE:
FREE COROLLE DOLL VIDEO


When people come to your site, shopping for shower gifts, let them see how high-quality your offerings are by letting them watch a video straight from Toy Fair 2009 ... on your site! You can share the excitement of your new order by letting them see Corolle's new rag doll for babies, almost the same way you did at the show. To post the link to any TDmonthly video on your site, simply copy the code that appears in a box when you play the video and paste it on your site (see website terms of use). Scroll down to find the new video.



FEBRUARY UPDATE:
FREE ARTS & CRAFTS TOP-10 LIST for MEDIA


Let local parents know what kinds of kits can keep their kids occupied for hours by sending TDmonthly's Top-10 Most-Wanted Arts & Crafts article to your neighborhood paper. Moms and dads will be glad to learn that there are even some craft kits that boys love, too.




JANUARY UPDATE:
FREE DOUBLE SHUTTER VIDEO


If you're one of the retailers who had great holiday sales with Blue Orange's Double Shutter game, scroll down to find the video. Just copy the code you see below the video when you play it, and paste the code onto your website so your online browsers can watch the game in play. Access all 1,500 product videos, arranged by category, here.



JANUARY UPDATE:
FREE SAFARI JEEP KIT REVIEW


Parents who haven't been able to find a decent craft or building kit for boys will want to know more about Woodland Magic Import's Safari Jeep Kit. Post the review on your site, or print it out (use the printer icon at the top of the article, next to Article Tools) and display it next to the toy in your store.




DECEMBER UPDATE:
FREE BAKUGAN VIDEO


Bakugan Battle Brawlers by SpinMaster! Please scroll down if you want to add a video of this hot boy toy to your store's website.



FREE PUBLICITY:
"TEACH KIDS TO CHOOSE QUALITY "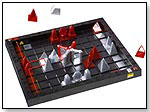 Alert your local media about the virtues of specialty toys during hard economic times by sending them this link* to an article by Susan Ledford,
TDmonthly's Roundtable Editor.
She explains how children who've been asked to evaluate toys closely begin to look past the hype to recognize the real play value in a toy or game
(pictured at right,
Khet: A Laser Game).
Don't forget to mention that
your s
tore carries the kinds of toys she and the other Roundtable participants learned to appreciate!
FREE REPORT:
"POSITIVE TOYS FOR A PROMISING FUTURE"


If you're a featured specialty retailer in TDmonthly's 2008 Specialty Toys Report, "Positive Toys for a Promising Future,"™ give your customers the answers they need by emailing them a link*! They'll read about more than 200 new and classic specialty toys, including how often they're tested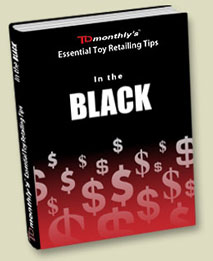 and what kinds of tests they receive. By exposing your customers to a wide variety of established and emerging companies in this unsponsored, unbiased report (no companies paid to be included), they'll have a richer sense of the possibilities that specialty toys can offer their families. And they may even alert you to new toys that will make your fortune in the New Year! If you're not a featured specialty retailer in the report, be sure to email us the products you carry so we can try to include you.

There's also a free Retailer version of the report, plus a paid Premium Access version that gives you detailed info on wholesale prices, shipping and terms, plus access to our eBook, "In the Black: TDmonthly's Essential Toy Retailing Tips."



Link to TDmonthly's 2008 Specialty Toys Report, consumer version.


FREE HOLIDAY VIDEO:
TOP-20 HOLIDAY TOYS



Browsers on your website can now get insightful answers to the question that's foremost in their minds:
"What are the most exciting, highest-value toys I can get this holiday season?"
Answer them by posting one of these two videos on your site. And if they want a toy that you don't yet have, you'll know what to order next! Just
read the accompanying transcript
to learn more about each toy and company featured, check out your
Specialty Toys Report,
or conduct a
PRODUCT SEARCH.
The top video highlights 20 toys and runs approximately 10 minutes. The bottom video concentrates on the top-10 toys and runs about 4 minutes.

To post the link to either video on your site, simply copy the code that appears in a box when you play the video and paste it on your site
(see website terms of use)
. You can then copy the photo, too, so customers will get a hint of what the video looks like before they watch it.
Or, if you don't have time to update your website, just
email your customers a link* to the article and transcript.
FREE VIDEOS FOR BEST SELLERS:
Without Headaches


Have you heard that adding videos to your website can slow it down? That will never be true for a

TDmonthly

video! The links we give you go straight to a pop-up window that plays the video, so your customer never leaves your site and your site doesn't slow down for an instant. To post a link to a video on your site, simply copy the code that appears in a box when you play the video and paste it on your site

(see website terms of use)

. We'll be adding new videos each month, so check back and scroll down.

* To send a link, simply click to the article, then copy the URL code at the article's address line at the top of the page. It should look something like this: https://www.toydirectory.com/monthly/article.asp?id=3487












This 12" doll has a soft beanbag body and eyes that close when she's "sleeping." She can wear clothing from Corolle's Mon Premier collection.
— "Our premier line is Corolle ... [it] always does best," noted Lynn Sanchez of Wiz Bang Toys in Lake Oswego, Ore., in summer 2008.
— The 32 of 64 specialty retailers that named Corolle as a best-selling doll line in their stores said they sell between 4 and 72 Corolle dolls each month.
— "The little Calins move the best," Jennifer Vanderish, co-owner of Picayune Toys in Dunwoody, Ga., told TDmonthly in summer 2008.

ToyDirectory Product ID#: 19473

(added 6/19/2008)

.

AD
---






The fast-moving word game consists of 144 ivory-like letter tiles in a zippered banana pouch. Players place the tiles face down on the table and randomly select 21 tiles. They turn their letters right-side up simultaneously and proceed to form as many intersecting and interconnecting words as possible, rearranging their own letters as many times as desired throughout the game.

Awards: TDmonthly Top Seller 2007

; 2009 TOTY Game of the YEAR, 2006 Oppenheim Toy Portfolio Gold Seal; 2007 iParenting; 2007 Parents' Choice Recommended; 2007 Dr. Toy Best Products. (

Read Review

)

— This product has been making the

TDmonthly

Best-sellers lists since 2007.

— As of 05/13/2011 this product had 4.8 out of 5 stars from 456 reviews on Amazon.com.

— Eight of 66 retailers vouched for its best-selling status in May 2008; seven of 63 did in Sept. 2008. Shani Watmough of Planet Toys in Rockland, Maine, said her store sells 60 per month. Fifteen of 38 named it a top-selling game in Feb. 2010.

— As of April 5, 2010, Bananagrams had spent 570 days in the top-100 best-selling toys and games on Amazon.com.

— According to owner Brett Sommer of Figpickels Toy Emporium in Coeur d'Alene, Idaho, "It was the 2009 game of the year. The brilliant packaging definitely helps this product."

ToyDirectory Product ID#: 8301

(added 6/19/2006)

.

AD
---




Wholesale Price: (Log in to view)

MSRP: $19.99

Age Range: 8 and upSKU or Item #: 00291Launch Date: February 2008Gender: Boys And Girls





In this challenging game, players roll two dice, add the dots and find the best combination of numbers to shut two rows of nine tiles. Players cannot touch tiles in the second row unless the tile in front of it has already been shut. The goal of the game is to shut all the tiles and close the super box. Awards: TDmonthly Top Toy 2009. Launch date: February 2008.

Where to Buy: Poopsie's; Aunt Jean's Toys

ToyDirectory Product ID#: 18256

(added 4/4/2008)

.

AD
---




MSRP: $14.95

Age Range: 6 and upLaunch Date: February 2008Gender: Boys





Bakugan is a strategic card game played with magnetic, spring-loaded marbles that transform into robots. The game spawned an animated series on Cartoon Network, Bakugan Battle Brawlers, which debuted on February 24, 2008, according to Wikipedia. Launch date: February 2008.

— Barbara Vininsky, owner of Blossom & Harry in Montreal, Canada, said in early 2008 that this is her hottest item by far: "It's out of control; I've never seen anything like it." Boys 6 to 9 are snatching it up as fast as she can order, even though her store specializes in clothing and she rarely has hot toys for boys.

— Two of 63 retailers named Bakugan when asked about their overall best-selling toy in September 2008. Tim Hayes, owner of

Learning Express

in Sudbury, Mass., told

TDmonthly

in November 2008 that his store sells 500 to 600 units of Bakugan monthly. "We've been very fortunate in having shipments," he said.

— David Marks, owner of Learning Express of Westport in Westport, Conn., lauded Bakugan for its wide range of appeal. "I've been in this business for 13 years and I've never seen a product appeal to kids as young as 5 and as old as 13," he told

TDmonthly

.

ToyDirectory Product ID#: 18227

(added 4/3/2008)

.

AD
---

Writer's Bio:
ALISON MAREK is an award-winning writer, director and cartoonist whose work has been published by Fairchild Publications and DC Comics (Piranha Press), broadcast on Showtime and other cable networks, and viewed worldwide in film festivals. See her short films and print work on www.alisonmarek.com. Watch her nefarious villains in the web series www.MuggsMovers.com. Get inspired by her cartoons "Daily ARFFirmations to Unleash Your Inner Fido" at www.ARFFirmations.com. Phew! And then ...
Read more articles by this author
THIS BANNER IS AN AD:
---
---