"Oh, my gosh … there are real, live frogs inside!" — Jessica (7) and Alexander (9)
TDmonthly Magazine's Roundtable participants recently adopted new pets and created an eco-system with Wild Creations' Classic Water Garden Starter Kit Eco-Aquarium. All five moms reported that "the kids enjoyed watching the frogs," and many other aspects of the kit were unanimously appreciated.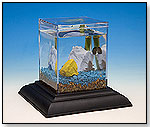 Classic Water Garden Starter Kit Eco-Aquarium by WILD CREATIONS
Gender: Boys and Girls
Category: Science & Nature
MSRP: $30.00

TDmonthly rating:


Did the Eco-Aquariums maintain their 4.5-star rating?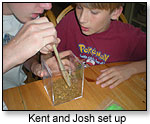 What It Is: The kit includes two African dwarf frogs, two snails, live bamboo and all necessary supplies to feed, clean and maintain the pets and their eco-system. The kit is low-maintenance; cleaning only needs to be done twice a year.

What the Moms Thought: "I love that this is an ecosystem, and I love the minimal care required," raved Christensen. She also appreciated the availability of information online. "If we have questions about our eco-aquarium, we can find answers (or ask) on the website."

All of the moms enjoyed the clear directions and inclusion of necessary items. Flamenco and Ledford were pleased that the live animals arrived alive in the dead heat of summer. Victoria (14) previously had a pet frog that lived for two years; however, her brothers Joe (9) and Griff (3) were too young to remember, so these frogs were new pets to them.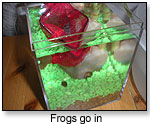 "It was refreshing to get something simple!" enthused Richardson. "It appears to be a company that is very focused on the environmental balance — so no need for fancy packaging," she continued. Tong said, "Live pets are just cool." She also liked the fact that the tank requires little maintenance after set up.

"My favorite quality about the toy was that both my children and I learned something new about creating a small sphere of environmental balance," Richardson commented. The compact size of the assembled tank allowed her family to keep it on the kitchen table to enjoy throughout the day. Ledford called the size "perfect for a child's desk or dresser."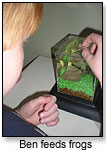 What the Kids Thought: "Oh, my gosh … there are real, live frogs inside!" Having unsuccessfully tried to nurture tadpoles into frogs in the past, Jessica (7) and Alexander (9) were "thrilled to open the box and find live frogs." The directions were so clear and simple, they were able to set up the tank themselves. "They really are enjoying observing them," enthused Richardson.

"The kids liked that they can observe the frogs at any time and from different angles," Flamenco noticed. Matthew (11), Jonathan (10), Emilio (9) and Brandon (7) were also captivated by the diminutive size of the frogs. Christensen reported, "Ben (8) likes watching the frogs, especially when they are very still and then start jumping around energetically."

"I don't know how many times I heard exclamations of cool and awesome during assembly," Christensen observed. Assembly took her sons only 20 minutes to complete. Kent (14) was "intrigued by the 'living gravel.'"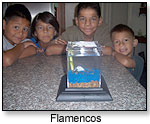 Since the kit arrived while Joe (9) was away at summer camp for another two days, Griff (3), with only a bit of assistance, set up the Ledford's tank. "As a result, Griff felt more pride and took more interest in the frogs since he felt ownership," Ledford noted.

Alyssa (10), Ethan (8) and Lexi (6) liked that the pets are "unique" and are easy to care for. "They enjoyed watching two frogs interact with each other," Tong commented. They observed personality differences between the two frogs, and another frog they also own.

What the Kids Learned from this Toy: "Do they breathe air or water?" Joe (10) asked. The 'Living Gravel' caught his interest. "He did guess somewhat what may have made it different from the colored gravel, since we've started tanks several times over the years and he's familiar with the concept of establishing good bacteria," Ledford said.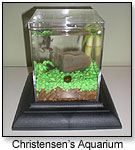 Matthew (11), Jonathan (10), Emilio (9) and Brandon (7) learned the responsibility of pet care to ensure happy, healthy pets. They also learned about a frog's habits and habitats.

Richardson overheard Jessica (7) and Alexander (9) explain the frogs' and snails' symbiotic lifestyles to their friends: "how every piece of the aquarium has a specific role to play," she said. "They are fascinated that we don't have to clean the cage all the time, as we have had to do with previous pets, and that frogs can live off of such small amounts of food."

"We have only scratched the surface of learning opportunities presented by this eco-aquarium," noted Christensen. Her sons have touched on eco-systems, African dwarf frogs and water quality, and look forward to exploring these topics more.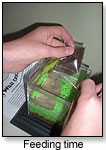 How to Improve It: Flamenco would like to see the educational aspect utilized by including specific science terminology and lesson plans. "It could also be helpful to include a non-fiction book on eco-systems and how the creatures, plants and everything else makes these systems work," she added.

Tong suggested a "quick fact sheet" be included, which was echoed by several other moms. Ledford thought an explanation of the concept of living gravel should be provided; a leaflet included in the kit would provide more immediate answers to questions than a website, she noted.

Since Griff (3), who turns four in two weeks, was able to set up the tank with only a bit of adult assistance, Ledford thought the target age should be lowered to at least five, if not four. Richardson, Ben (8), Josh (11) and Kent (14) all agreed that a bigger tank would give the frogs more space. Richardson lowered her rating due to the frogs' small space; "I feel guilty," she explained.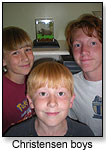 Would You Want Another Toy Like This? It was unanimous that the children enjoyed watching the frogs, the directions were clear and simple, and the kids were able to set up the tank with minimal or no assistance. All of the moms also commented on the educational opportunities offered by the kit as well as the fact that all supplies were included.

"The eco-aquarium is a big hit in our house, and we hope to enjoy it for years to come," summed up Christensen.

Roundtable participants are stay-at-home parent Sue Christensen with Mac (15), Kent (14), Joshua (11) and Ben (8); substitute teacher Veronica Flamenco with Matthew (11), Jonathan (10), Emilio (9) and Brandon (7); Susan Ledford, editor of the "Homeschool Resources Directory for SC," with Victoria (14), Joe (9), and Griff (3); World Bank policy advisor Gail Richardson with Alexander (9) and Jessica (7); and homeschool parent Mildred Tong with Alyssa (10), Ethan (8), Lexi (6), Erik (3), and Henry (1)