---
Learning Resources Keeps Teaching in 25th Year
Educational Toys Supplement Academic Core With Hands-On Learning
"Our products don't replace textbooks, but they help students become engaged …" — Etienne Veber, president and CEO of Learning Resources
In 1984, Jane Woldenberg realized a need in the educational market for hands-on elementary school math products. Her solution was creating Learning Resources, a company that now provides products for teaching math, language, science and classroom organization in pre- and elementary education.
TD
monthly Magazine spoke to Etienne Veber, president and CEO of the 25-year-old, Chicago-based company about where Learning Resources came from and where it is going.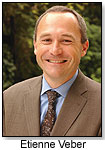 Learning Resources started with two people in a garage. Now the company employs just shy of 200 people and develops 80 to 90 new products every year. Twenty-five years later, we are the global leader in hands-on teaching material for the classroom.

Our products tend to be on the premium side — high-quality design and durable. Typically, they teach at the national standard required for the grade level.

CLASSROOM TOYS HEAD HOME

A little over 15 years ago, we realized that about half of our products would appeal to parents who want to provide educational opportunities for their kids, so we entered the specialty toy and home market. The same philosophy and concepts apply — some of our products are more fun and kid friendly, but they all have rich educational content.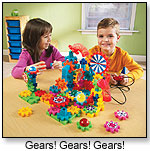 In 1994, we established a European division to distribute the large part of our product line that fits the international market. While there are some differences — for example, in Europe, centimeters and meters rather than feet and inches are used — we've learned how to deal with that.

In 2006, we expanded for the first time through the acquisition of Educational Insights, a well-known specialty and educational toy company based in Los Angeles. We've run both companies in parallel for the past three years and intend to keep it that way. We think we have a unique platform, as both companies provide multiple brands that stimulate kids at school and at home.

CASHING IN ON EDUCATION

One of our evergreen best sellers, which continues to do well more than 10 years after its introduction, is the Teaching Cash Register. It teaches kids calculation skills, how to count money, and how to identify coins and bills. Kids can play supermarket realistically.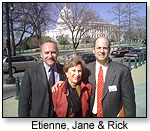 The Gears line is a series of products that teaches construction and fine-motor skills. Various models can be built — a cart, a dog — and the child learns the relationships of gears and how force is transferred from one wheel to another.

We conduct focus groups with teachers who use our products, and talk about products, concepts, issues that they face, and needs that they have. Our staff is made up of teachers who've been in the educational system and they keep up with pedagogy and classroom focus.

We test with local schools if we have concerns. On occasion we're not successful, but we've been nurturing our product portfolio over the years.

STAYING ON SUBJECT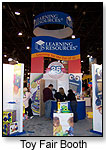 We have a strong presence in math, reading, science, classroom management and social studies. We intend to stay focused on the 3- to 12-year-old age range. There will be a push on science in the next few years, and we intend to focus on that.

We believe we're unique in our fidelity to our core values — providing new products every year that must meet a certain threshold, along with customer service. Our products don't replace textbooks, but they help students become engaged by providing a hands-on learning experience.

We're coming out next year with the same amount of products despite the tough economic time. We haven't reduced our investment.

The above-pictured "Rick" is Rick Woldenberg, chairman of Learning Resources.

Below are some products from Learning Resources:







.

AD
---






Kids can splash into undersea adventures with friendly creatures that engage them in early learning games. It includes a treasure hunt and plays eight children's songs. They press the gem notes to create original tunes. The mat is designed to keep kids on the move with floor play, or for play on a table. It features high-quality audio, automatic shut-off, adjustable volume and Activity Guide. It wipes clean and is for one to three players. The mat measures 34" L x 30" H and requires 4 AA batteries, not included. Launch date: May 20, 2009.

.

AD
---






Color Caterpillars are designed as a captivating way to introduce children to colors, patterns and sizes. The big, bright, snap-together pieces are made for little hands to manage as they build cute, colorful, caterpillar friends, develop fine motor skills, and engage in early exploration at the same time. Color Caterpillars encourages creativity with 15 mix-and-match pieces and includes a convenient plastic storage jar. Launch date: February 15, 2009.

.

AD
---






.

AD
---






.

AD
---






.

AD
---






The plastic play fruits separate into pieces to help children learn number sense, number recognition, counting (one to five) and part-to-whole relationships — a key early fractions concept. The five-piece set also encourages fine motor skills, healthy snacking and imaginative play. Embedded magnets (orange, apple and plum) and friction fitting (banana) make numbered pieces easy to assemble. All five fruits store in 7-3/4" bowl. Launch date: January 2008.

.

AD
---






.

AD
---
THIS BANNER IS AN AD:
---
---