---
TDmonthly's Book Expert
One Educated Bookworm's Opinion
In these latest book reviews, TDmonthly Magazine's Book Expert enjoys "glowing" artwork in a touching story, helps Chester the Raccoon deal with the loss of a friend, and watches a shy little girl become courageous.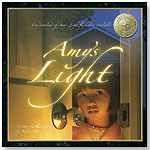 Title: Amy's Light
Author/Illustrator: Robert Nutt
Publisher: Dawn Publications
Gender: Boys and Girls
Age: 4 to 8
MSRP: $8.95

TDmonthly rating:




What It Is: In this delightful, beautifully illustrated book, the author takes readers back to a time of innocence, of "riding bikes and skinning knees, of endless days and porch swing nights, watching flickering dancing light." The story tells of a young girl who's afraid of the dark in her room but then discovers the magical light of fireflies through her window. She then runs downstairs to a sight of spectacular beauty — millions of glowing lights that she captures in a jar, takes to her room, and eventually sets free.

The story is told in simple, rhyming text, and would make a soothing goodnight story. The artwork — photographs taken by the author of his daughter that have been digitally enhanced to resemble paintings — glows in the pages, and the illustrations are particularly noteworthy for their simplicity. The author includes a valuable "Did you know?" afterword, which provides interesting scientific facts about fireflies, as well as website links.

Why You Should Carry It: Adults and children alike will be enchanted by the gentle message of this nostalgic book, a story that inspires young and old to share the delights of nature together. This is a book children are likely to ask for again and again.

What Kids Think: Emma, age 5, really enjoyed this story, especially the part where Amy was able to capture the fireflies in her hands. She also liked the way the fireflies look almost like fairies in the pictures.




Title: Chester Raccoon and the Acorn Full of Memories
Author/Illustrator: Audrey Penn/Barbara L. Gibson
Publisher: Tanglewood Press
Gender: Boys and Girls
Age: 4 to 8
MSRP: $16.95

TDmonthly rating:




What It Is: This sensitively done picture book features Chester Raccoon, familiar to many children from the beloved story "The Kissing Hand." In this story, Chester comes home from school upset because his friend Skiddel Squirrel has had an accident and will never return to school. His mother takes him in her arms and explains that Skiddil is dead. To deal with his grief, Chester learns how to make a memory, with his mother's help. They remember the things that Skiddel liked — butterflies and acorns — and go to the pond accompanied by Skiddel's other friends, where they hold an impromptu memorial service in his honor

Why You Should Carry It: This book is designed to help children who are dealing with death and grieving. Although the story deals with a classmate who has died, the book could apply equally well to the passing of a grandparent or pet, since the concept of memorializing someone would translate to coping with any type of grief.

What Kids Think: This is not a book designed to be read aloud at a typical story time, or for a bedtime story, but rather for children who are dealing with grief. The gentle tone, loving warmth of the mother and child relationship, and concrete ways to memorialize a lost loved one are expertly targeted to comfort children and help them heal.




Title: Really, Really Big Questions about life, the universe, and everything
Author/Illustrator: Dr. Stephen Law/Nishant Choksi
Publisher: Kingfisher/MacMillan
Gender: Boys and Girls
Age: 9 to 14
MSRP: $16.99

TDmonthly rating:




What It Is: Written by a British professor of philosophy, this book on life's big questions is aimed at the junior philosophy set. It features a lively text and a retro 1950's cartoon-style design that, while it doesn't seem to have anything to do with philosophy, adds a quirky look and feel to the text. The book covers a wide range of topics: the big bang, what happened before the big bang, the meaning of life, whether some people are psychic, how can we tell right from wrong, what is knowledge, and whether fairies exist. The author attempts to answer 57 separate scientific, philosophical and moral questions, and the book also includes a glossary, an index and suggestions for further reading. In addition, the author supplies "thinking tips" and a short list of websites to explore.

Why You Should Carry It: This is a good book for sparking discussion of major questions with older children, and gives parents a starting point for answering some of the many questions kids ask. The author manages to take very serious topics and present them in an entertaining and interesting way. The design of the book, with its bright colors and retro cartoon-like people, adds to the appeal. This is definitely not a book that will appeal to all kids, but it's a useful addition to a family or school library.

What Kids Think: Eli, age 14, enjoyed skipping around in the book and looking at the different questions, which can be read in any sequence. He was eager to discuss some of the issues presented.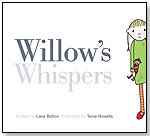 Title: Willow's Whispers
Author/Illustrator: Lana Button/Tania Howells
Publisher: Kids Can Press
Gender: Boys and Girls
Age: 3 to 7
MSRP: $16.95

TDmonthly rating:




What It Is: This is a very well-done book about a shy little girl whose words always come out in whispers, leading to a host of troubles at school, including having to drink orange juice at snack time when she really wants apple juice, just because no one can hear her. When Willow makes herself a magic microphone out of materials from the recycling bin, her problems are temporarily solved, until the microphone falls apart. In the end, she learns to make herself heard by relying on her own courage and initiative. The book features charming, simple and whimsical illustrations that enhance the story, and effectively uses varying font sizes to suggest Willow's whispers or talking loudly with the "microphone."

Why You Should Carry It: This book is a good read-aloud for all preschool and kindergarten children. Many children will identify with the shy heroine of this story, and will root for her when she overcomes her problem. This book is an excellent addition to any child's library, and will be especially appreciated by children who struggle to overcome shyness on a daily basis.

What Kids Think: This book was a hit with a class of 4- to 5-year-old preschoolers. It's an excellent book for sparking discussion, and kids can even make their own magic microphone as a craft activity! Story time activities (including a template for the microphone) can be found at the publisher's website.

Writer's Bio:
A member of the American Library Association, Margo Tanenbaum was formerly employed by an independent children's bookstore and has published book reviews on Amazon Vine and Goodreads. She is pursuing a master's degree in library science and writes about historical fiction and non-fiction for children and teens on her blog,
The Fourth Musketeer
.
Read more articles by this author
THIS BANNER IS AN AD:
---
---