---
Mayfair Games Plays to Hobbyists and Families
Publisher of Catan Expands Settlements, Sells Serious Fun
"(Settlers of Catan) is like the intro drug into gaming."—Tim Peiffer, Games & Gizmos

This article is a paid advertorial.

The world's largest publisher of railroad games is building a bridge between families and hobby gamers.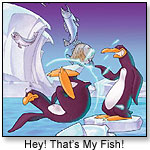 Mayfair Games hopes to make titles such as Hey, That's My Fish appeal to both uber-gamers and to those who simply want something fun and inexpensive to do on a Friday night.

There's a learning curve to every game, Bob Carty, Mayfair's vice president of sales and marketing, told TDmonthly Magazine, and the company's recent goal has been to make it as gentle as possible.

SIMPLIFYING SOPHISTICATED GAMES

According to Tim Peiffer, owner of Games & Gizmos in Redmond, Wash., Mayfair is part of a crossover movement to pull Monopoly players into the gaming scene.

"Board games are becoming more mainstream and not just a hobby anymore," he said.

A hobbyist will open the most complicated of games and tackle it in a night, Carty explained, but a game with instructions a little too detailed might scare off casual gamers.

Mayfair Games considers these responses with many of its releases — for example, cutting components and streamlining the rules for a family edition of Settlers of Catan due out in 2011. There is also a Settlers of Catan card game being released this year.

REFUSING TO SETTLE

"(Settlers of Catan) is like the intro drug into gaming," Pfeiffer said.

There are more than a dozen Settlers products in the line. Each expansion adds a new dimension or takes it in a new direction, such as a travel version. This year will see the addition of Settlers of America, the first Catan product to be published in the United States first.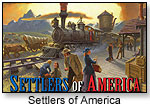 "Settlers of America is going to be a big deal," Carty told TDmonthly.

If sales perform for the new edition as they have for the line, he'll be right.

"Catan is either No. 1 or No. 2 in terms of board game sales for the store," said Chris Walsh, owner of The Whiz Store in Westborough, Mass. "People will pick up a copy. They take it home and play it. Then next week, everyone comes in from that gaming group to buy one for themselves. We don't really have to push it; it takes care of itself."

GROWING SALES AND RETAILER LOYALTY

Business is up about 40 percent year-to-date for Mayfair and its 130-game portfolio, shielded perhaps by the recession-resistant nature of gaming.

"We watch (the economy) pretty closely," Carty said. "But games have always been a very economical form of entertainment. They tend to be recession-proof."

One of the company's main goals this year is to expand its Authorized Retailer Program, Carty told TDmonthly.

"This allows us to put reasonable restrictions on discounts to no less than 20 percent," he explained, preventing online dealers from buying tons of games and dumping them at a small margin and taking sales away from a brick and mortar retailer.

In exchange, Mayfair provides a retailer locator, demos, events, game nights and access to graphics files.

"There was much hate and discontent" when the program started in 2007, Carty said, but since then, the game manufacturer has almost doubled its sales.

See products from Mayfair Games below:







.

AD
---






In Nuns on the Run™ you explore the exciting nocturnal world of a grand abbey filled with intrigue and deception. As the old abbess, the noble prioress, or a simple novice you become hunter or prey. Everyone gets a special "blessing," but only the novices try to fulfill a "secret wish." They must sneak through the dimly lit halls, corridors, and gardens, seeking keys and treasures unique to their goal. Meanwhile, the vigilant abbess and prioress patrol their routes, ever watchful of young novices who should be fast asleep in their austere cells. Are you wily enough, or sneaky enough to fulfill your quest and win the night?

.

AD
---






.

AD
---






You control a faction in beautiful Atlantis, the glorious civilization built upon the sea. No other city rivals its power. None command such riches. Now, the link between the land and your beloved home of Atlantis is crumbling! You must race to move your people along the great bridge to the mainland before it disappears into the thundering waters below. AtlantisT is a very casual, social game for 2-4 players ages 10 and older.

.

AD
---






Brave Arkham Detectives Battle the Elder Evil Step back to early 20th Century New England. Here, the horrible "Great Old Ones"-mysterious inhabitants of a dark, unfathomable void-seek entry into our world. One of their imprisoned overlords gathers them, just as his worldly servants open portals throughout Arkham for the coming onslaught. Only Salem's master witch, Robert Craven, holds the key to safeguarding mankind.

.

AD
---






.

AD
---






In this subtle competition, the forest is ablaze, the smoke is thick, and the flames are spreading. The only inhabitants seem to be a few courageous firefighters, their supporting planes and fleeing animals. Ablaze consists of three distinct games. In Wild Fire!, one to four players lead a crew of firefighters who are attempting to contain a rapidly spreading wildfire. The crew must cover the largest area of forest while always maintaining a link to water. In Volcano!, players pilot an air tanker struggling to help extinguish a conflagration initiated by an erupting volcano. They extinguish or isolate the most forest fires to earn honor and victory. In On the Run!, a lighting strike has started an intense brushfire, forcing fluffy forest fauna to flee the inferno in an effort to escape a fiery demise. Players shall decide the fate of some of the frantic forest fauna, and saving the most animals will win the game. Ablaze includes 48 pawns (firefighters) in four colors, 47 forest tiles, one volcano tile, one plane tile and rules. It is made in the USA and is not sold in the mass market, according to Robert T. Carty, Jr., VP of Sales and Marketing, Mayfair Games. Playing time is about 45 minutes. The game was designed by Heinrich Glumpler with art by Franz Vohwinkel. Launch date: March 11, 2010.

.

AD
---






This game has many possibilities, including determining the starting player, deciding who is going to pay for snacks, or more. Each Le Boomb! is presented in a small clamshell that may be placed on a shelf, or peg hooked. The rules are tiny and fit on the back of the information header card inside each clamshell. The bomb opens like an Easter Egg and the die can be stored within. Le Boomb! is packed in a display box of 12 pieces featuring seven different colors. Each display contains six black Le Boomb! and one each of six other colors: Blue, Red, Green, Yellow, White and Purple. Launch date: December 2009.

.

AD
---






In 1814, the withered French army, led by the brilliant and always inspiring strategist Napoleon Bonaparte, was finally defeated by the combined forces of Great Britain, Prussia, Russia and Austria. The army was disbanded and the emperor exiled to Elba. He soon escaped and on March 1, 1815, he landed in Marseilles and marched on Paris. The people hailed him as a hero, and he was soon reinstated as their leader. His New Empire was to last only 100 days.

.

AD
---






In Steam™ you build railroads and deliver goods along an ever changing network of tracks and stations. You build the tracks, upgrade towns, improve your train, and grab the right goods to make the longest, most profitable deliveries. Score your deliveries and add to your income or victory points, balancing your need to invest against your quest to win the game. Steam contains a beautiful, double-sided game board. The map on each side depicts terrain, towns, and cities at the start of the railway age. The map of the northeastern USA and neighboring Canada is ideal for 3 or 4 players. Use the map of Europe's lower Rhine and Ruhr region when playing a 4- or 5-player game. One can play Steam on any number of current and future variant and expansion maps from Mayfair Games, so game pieces for up to 6 players are included.

.

AD
---






Culture, Conflict, Civilization! This revised edition contains a new 2-sided game board, 4 new civilization buildings, and a new advanced scenario. Step back to the dawn of recorded time. Take command of a young dynasty in fertile Mesopotamia. Here, between the Tigris and Euphrates rivers, lies the cradle of civilization. Here, as the Bible tells, rose man's first cities: Ur, Nineveh, and fair Babylon. Play a part in the epic saga of the rise of these great urban centers. Guide your dynasty to develop and control the most vibrant culture in the rich land between the two rivers.

.

AD
---






Pack & Stack is designed to be a fast and funny, wild and crazy game about moving stuff on all sorts of odd trucks. Every interactive turn is a new adventure, where all the players discover new loads, grab new trucks, and then gamble on their planning and packing skills. Launch date: June 4, 2009.

.

AD
---






Discover the curious civilizations and wild lore of the wondrous, neighboring red planet Mars. Celebrate one of the mankind's most vital and enduring passions: railroads. Use your initial investment to build track. Then pick up commodities where they are grown, mined, or manufactured and deliver them to a lucrative place of demand. Complete a delivery and make the money you need to buy larger, faster trains, and expand your railroad empire. Win the game by building and operating Mars' most effective railroad empire. With over a million variations, Martian Rails™ never grows old. You decide where to lay your tracks. Your only obstacles are rival tracks and Mars' great mountains, canals, deserts, and jungles. So, dominate a whole new planet. Capture the pioneering spirit on the sands of Mars and learn to build an empire.

.

AD
---






England in the 12th Century. The players take on the roles of Prior Philip and Bishop Waleran. Philip wants to build the most beautiful cathedral in England. Waleran is planning his own project, a mighty fortress. Both players are trying to simultaneously build their buildings. To construct your building, you must obtain raw resources and convert them into building materials. You are supported by your friends and powerful allies, but are constantly opposed by dangerous foes. If you manage to overcome and build your building first, you win!

.

AD
---






Fabulous caves containing the artistic legacy or our ancient ancestors were discovered in a cave complex at Lascaux in the southwest of France. In testament to their struggle for survival, our forefathers created these stunning images that capture your imagination. Fantastic paintings of large animals long extinct leap from the walls of these caves--animals known only from fossils and seen only in dreams. In the game Lascaux, you try to win majorities of animal cards by spending stones at the right moment and cleverly outfoxing other players.

.

AD
---






1853 is a railway building game using the 18XX game system, set in imperial India. It was originally published in 1989 by Hartland Trefoil. Contrary to many other 18XX games, 1853 does not require aggressive stock trading, but skills in engineering the best possible routes.

.

AD
---






Be the boss in this fast-paced card game of survival on the mean streets. "Family Business" pits mobsters against each other, all who are working to make sure theirs is the last family standing. A player's gang members get placed on the Hit List. Can your "Family Influence" save them? Will they "Take it on the Lam", seek "Police Protection", or perhaps up the ante with a "Double Contract"? Family Business is fast, furious, and fun! Your goal of the game is survival.

.

AD
---






.

AD
---






It is 37 AD and Caligula is the extravagant Emperor of Rome! It is a time of excesses. It is a time of intrigue. And the latest gala in Caligula's short reign is starting tonight—Bacchus' Banquet! As a player, you are one of the nine "honored" guests—each with his or her own secret objective. You might be a glutton who is only there for the food and wine. You might be an avaricious opportunist longing for the presents that are often bestowed. You might be a conspirator in one of the many plots to kidnap or assassinate the Emperor. You might even be Caligula himself, exploiting the all too human foibles of his groveling subjects.

.

AD
---






In this 5th Edition of Empire Builder®, players use their initial investment to build track, then pick up commodities where they are grown, mined, or manufactured and deliver them to a lucrative place of demand. Complete a delivery and make the money you need to buy larger, faster trains, and expand your railroad empire. Win the game by building the most effective railroad empire! The game features over a million variations, so the game never grows old.

.

AD
---






A Game of Discovery, Geography, and History in the land of Poets and Thinkers. Explore and settle the storied land of Germany using the elegant, award-winning game design from The Settlers of Catan®. Here, you will find great social interaction, simple rules, beautiful German geography, rich history and lore, and 12 wonderfully-sculpted landmarks. "Catan Geographies: Germany" is a game about trade, building, and settlement. Start with town halls in 3 cities. Then build roads to neighboring cities, where you can purchase landmarks and new town halls. Town halls create resource production, while the unique landmarks generate special awards. Both yield victory points— as do the Longest Road, Largest Army, and the historically-based victory point cards.

.

AD
---






The Catan Dice Game™ is a fast, fun way to experience Catan on-the-go. Play it in only 15-30 minutes! It's a great casual introduction to the world of Catan. With 6 colorful, high quality, embossed plastic dice, a generous pad of full color double-sided score sheets featuring two maps for alternate play, and an exquisite lidded leather dice cup. the dice cup will hold dice, rules and score pad. Roll your way to victory. So get ready to toss! Challenge the odds and discover a fresh way to master Catan.

.

AD
---






A House Divided simulates the epic struggle of the American Civil War that was fought over the twin issues of slavery and states´ rights. The period from 1840 to 1861 saw these issues brought to a boil, and in 1861 the nation became tangled in a terrible war that lasted four long years.

.

AD
---






Some of the fun and frivolous uses found for this game are determining the starting player, or deciding who is going to pay for snacks, or dinner. It can be played with a large group of people to spark a bedlam of humor. Le Boomb!™ is available from any of Mayfair's distributors or directly from Mayfair. Each Le Boomb! ™ is presented in a small clamshell that may be placed on a shelf, or peg hooked, depending upon your needs. The rules are tiny and fit on the back of the information header card inside each clamshell. As a side note, the bomb opens like an Easter Egg and the die can be stored within. Le Boomb! ™ is packed in a display box of 12 pieces featuring seven colors. Each display contains six black Le Boomb! and one each of six other colors: Blue, Red, Green, Yellow, White and Purple. Launch date: December 2009.

.

AD
---






Rise of Empires play is divided into three eras. Choices made early in the era are repeated late, so your decisions must have both short-term and long-term benefits to be successful. This process requires tough decision-making and promotes an atmosphere with nail-biting suspense. Victory points are rewarded for building cities, having an empire, for progress in science, and for trading goods.

.

AD
---






Journey to Ancient Egypt's sacred Nile valley! Great kings compete to forge mighty kingdoms in a struggle to control the land of "Kemet." Along the banks of the great river they expand their influence and explore new territory. And they hope to earn the favor of the great falconheaded god Horus. Are you the one to unite the valley into one great kingdom? With clever use of card and tile play, you guide the course of the sacred river, and the lands that surround it! You determine where the desert will give way to the green marshes, red hills, and rich black farmlands of this ancient land. Using your influence, you gain control of valuable regions. You may even build a holy necropolis to thwart the expansion plans of your foes. If true and noble, you might even earn the blessings of the Horus temple!

.

AD
---






Descend deep into the interior of the earth, as you lead the three adventurers from Jules Verne's classic novel: Professor Lidenbrock, his nephew Axel and their guide Hans. Begin your amazing journey with entry through the crater of the dormant Icelandic volcano Snaefells. Explore a dense forest of giant mushrooms, traverse a turbulent underground ocean, before you are hurled out of an Italian volcano to return to the earth's surface. On your journey, collect fossils both small and large, collect gold and overcome obstacles through the prudent acquisition and use of select equipment. Explore the many parts of the subterranean cavern, using equipment and luck are critical to overcoming the obstacles within your path. The player who can escape with the best collection of artifacts is the winner. Will you direct our heroes on a journey of danger, discovery and fortune?

.

AD
---






Two elk (Jule and Ole) stare at each other across a river. Longing for the greener grass where the other elk is, they set out to beat each other to the opposite bank! In Elk Fest, move your elk to the other bank by flicking wooden disks across the table and balancing your elk on them. Can your elk get to the greener grass across the river? Good grazing is just a stone's flick away!

.

AD
---
THIS BANNER IS AN AD:
---
---