---
Retailer Spotlight: Dancing Bear Toys Ltd.
Evers Family Sticks to "Just Toys" in 17-Year Business
"We have lots of play tables and invite kids to come in and play. In a mall, this turned into moms dropping their kids off for us to babysit while they shopped!"

The Evers family dubs Dancing Bear Toys Ltd. in North Carolina an "upside-down" family business. In 1989, Sarah Evers began working for the store's previous owner, and four years later the shop went on the market.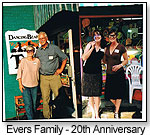 "Without much thought, and definitely no business-owner experience, our family made an offer," she told TDmonthly Magazine, noting that her parents, Mary and Dave Evers, sold a duplex to finance it. "The offer was accepted, and on Dec. 10 we owned a toy store."

TAKE NOTE OF TIMING

Sarah, then 21, and her sister, Erika, 25, worked there together, immediately confronting the challenges of Christmas buying at the peak of the holiday season.

"We kept the name and thought, mistakenly, that we would retain credit with the previous owner's suppliers," Sarah explained. "Opening in December, we had to pre-pay for orders we wanted at once. Also, taxes, bankroll and billing were systems that we not only had to learn, but create. Since we bought the store in December, the customers were rolling in, but the previous owner had not stocked the store for Christmas, so we were scrambling around trying to find some toys. That was the year that our local Woolworth store closed, and I remember Mom and I buying rolls of beading to make necklaces to sell as dress-ups. Needless to say, our second Christmas was much smoother!"

ASK INDUSTRY EXPERTS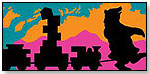 To become more familiar with the toy industry, the sisters asked many questions, primarily of reps.

"We asked them where to find certain toys that people were asking for, how to set up the systems for billing, which toys sold well, how to get displays for merchandise (for free), and basic questions about the industry," Sarah told TDmonthly. "We also read trade magazines, went to trade shows, and mostly listened to our customers. If they wanted it, we tried to find it. If business was slow, we tried to think of something fun to do and invite the public."

DON'T BABYSIT OR OVERCOMMIT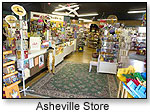 In 1996, the family agreed to run a temporary store in the Asheville Mall for Christmas.

"This turned out to be an excellent plan, as Beanie Babies were all the rage that Christmas, but alas, a mall is no place for the Dancing Bear," Sarah said. "We have lots of play tables and invite kids to come in and play. In a mall, this turned into moms dropping their kids off for us to babysit while they shopped!"

For their next venture, the sisters agreed to take over the lease for a toy store in Hendersonville, half an hour from the original Asheville location. Soon after, Mary and Dave retired from their careers as early childhood educator and psychologist to join the team at Dancing Bear Toys.

For a short time in 2003, the Everses also had a small retail space in a children's museum, but soon realized they were spread too thin. They closed down and settled on the two locations.

KEEP YOUR FOCUS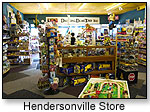 Early on, the team decided on the importance of a clear mission statement for the business, opting to focus on quality educational toys mixed with fun-spirited toys that appealed to all ages. They kept their focus on toys, never straying into clothing, gifts, or collectibles

"We have been tempted, but usually pass," Sarah said. "Our customers seem to respond to our selection of 'just' toys. … We are more likely tempted by new weird varieties of toys, like child-sized bagpipes, 8,000-piece jigsaw puzzles, handerpants (yes, underwear for your hands), and yodeling pickles."

In addition, they think of their stores as their "living room," and their customers as their "guests," with a welcoming layout that includes wood floors, oriental carpets and large chairs.

OWN MISTAKES AND MOVE ON

Form the beginning, the Everses decided as a family that if a mistake was made, they would own up to it, learn from it, and try to move on without placing blame or fault. One example is when Sarah learned she had been figuring sales tax incorrectly and paying too much…after four years in the business.

"We calmly discussed the problem," she told TDmonthly. "I explained what I had been doing wrong and why, and how to do it right. Then we contacted the tax collector and asked for an audit (eek!). We were able to get a refund on three of the four years."

Mary withheld too much for insurance one year.

"When she realized, we got reimbursed and laughed at Mary's new savings strategies … always thinking of the family!" Sarah said. "We all do our best, and beyond that, mistakes happen!"

Writer's Bio:
Brenda Ruggiero is a freelance writer from western Maryland.
Read more articles by this author
THIS BANNER IS AN AD:
---
---