---
TDmonthly's Music Expert
She'll Tell You Which Albums Hit the Right Notes
TDmonthly Magazine's Music Expert heard a frog's rock story, learned about functions of the brain, and enjoyed a jazzy spin on classic children's songs.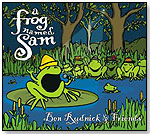 A Frog Named Sam by BEN RUDNICK AND FRIENDS
Gender: Boys and Girls
MSRP: $14.95

TDmonthly rating:




My Impressions: This award-winning album is the seventh by this band. I would call the style "folk rock," as there is a mix of instrumentation that includes harmonica, accordion, mandolin, and traditional rock and roll instruments. The tunes are all upbeat, on the quicker side. The first song is about a "Frog named Sam" who didn't like the water and went to live in the city and started a rock band. This is a great album and a joy to review. As a side note, the band performs often, and if you listen to the music you can see why they are busy!

My Recommendations: Kids are likely to enjoy not only the cute story about Sam the Frog, but also the familiar themes of the other songs: trains, animals, cars, etc. There are also a couple of traditional tunes with original arrangements, "Erie Canal," "Greensleeves" and "Old Joe," that broaden the album's appeal.

---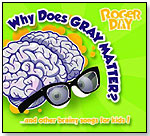 Why Does Gray Matter? by ROGER DAY PRODUCTIONS
Gender: Boys and Girls
MSRP: $15.00

TDmonthly rating:




My Impressions: This original CD with a science/educational theme has a contemporary pop-rock sound that is easy to connect with. The instrumentation and composition of the tunes is creative and well done. There is variety in tempo and style that I think is refreshing! The messages of the songs cover wondering why our brains are gray in color, procrastination, math, eating healthy, concentration and using your head, just to name a few.

Kid's Impression: I have to also mention that the packaging of this CD is unique. The CD jacket folds out into a small poster with lyrics on one side and a picture of a guy with a guitar and drums on the other. My preschool daughter immediately loved the poster and didn't want to share it with Mom!

My Recommendations: "The Brain Train" and "It's a No Brainer" songs would both work well in a classroom setting for teaching math and science in a fun and easy way. I love how "The Left Brain/Right Brain song" illustrates with music the differences between the two sides of the brain. The left brain is depicted with classical sounding string music and the right brain with rock and roll — a great way to make the differences clear and memorable. Elementary kids will really love this music!

---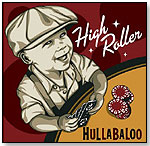 Hullabaloo by HIGH ROLLER
Gender: Boys and Girls
MSRP: $12.00

TDmonthly rating:




My Impressions: This is an adorable folk/country children's album with fun lyrics. The simple and classy album cover shows a baby playing poker. I personally love the mix of traditional and original tunes. "London Bridge," "Old Dan Tucker," "This Land is Your Land" and "Oh, Susanna!" were all familiar, but with new jazzy arrangements. The lead-singer duo has a quality, classic county sound that won't disappoint. I personally wished to hear more variety in tempo from song to song — they all sounded pretty similar to me — but the style was well done.

My Recommendations: I think all country fans will tap their toes to this music. And I dare say that parents will enjoy listening to this along with their kids. To me, that is the mark of a great album!

Writer's Bio:
Anna Bendorf received her Bachelor of Music in Piano Performance in 2004 from the University of Oregon, where she gained extensive experience as an accompanist and solo performer. While studying music, she won several piano competitions and sang in the University audition choir and the Symphony Chorus. She has been teaching piano for the past 14 years, and she and her husband, Adam, run Alberti Publishing, a music publishing company. They co-authored a book for piano teachers called "The Right Notes" (November 2008). Adam and Anna have two daughters.
Read more articles by this author
THIS BANNER IS AN AD:
---
---