---
New Year, New Look: 5 Signs Your Store Needs a Makeover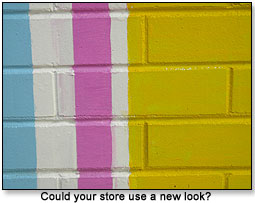 When you opened your business however many years ago, everything was fresh: your paint, your signs, your racks and all of your merchandise. People loved shopping there. Time has passed and your store is still chugging along, but that once shiny layer of paint is now faded, the shelves are chipped, and the merch isn't looking too good.


Does this sound familiar?

Your store may still be completely functional, but as new stores have opened over the past several years, they've upped the bar, and you may be turning off potential customers without even knowing it. Here are 5 questions to ask yourself to see if your store needs a redesign.

Question 1: In terms of store set up, how do you conform to customers' natural traffic patterns?
In North America, people walk into a business and turn to the right, walking counter-clockwise through your store. If your cash wrap desk is on the right, in front, customers constantly have to cross against other each other to get where they're going. This limits and degrades the shopping experience for all.

Question 2: Does your store lack consistency?
Do you have some signs in color, some hand written, some black and white? Elements like paint colors, fonts on signage, and overall design should be consistent throughout your store to show you pay attention to detail.

Not sure what I'm talking about? Go visit a major retailer and take a look at their displays, signage, etc.

Question 3: Does your merchandise scream sensory overload?
If everything is stacked to the gills, all on shelving, and all lit the same, nothing will stand out. Are you like the gallery I worked with recently in Maryland, who mixed every style, period, and color in the same room? If so, you could be overwhelming customers who are trying to figure out what to look at. Information overload will prevent sales because it trips the, "I can't figure this out, I'm an idiot!" switch, and they leave.

Take a minute to try to see your store as a new customer. Make relationships between your products obvious.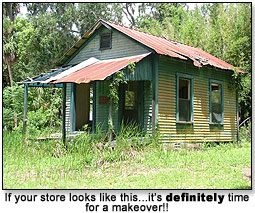 Question 4: Does your store look old?
Just like hairstyles, jean styles and lapels change, so do stores. Your store may have been styled to represent the highest standard of interior design in '03 – but it probably isn't what's hot right now. You can simply repaint, but look at the color choices in your local paint store; they seem warmer and cozier than in years past. Since a great retail space is like an idealized home, you should take cues from magazines, TV shows, and even the majors who have spent a lot of money trying to figure out how to look "new."

Question 5: Are your display areas the same as they've always been?
Change them around. 80% of your sales tend to come from the first third of your store, so highlight all the "wants" at the front and all the "needs" in the back with the sale stuff.

So, how'd your store do? If you need to revamp, don't worry. Whether it's a nip and tuck here and there or a complete surgery, devise a plan, a timeline and a budget around it.

If you need help, remember the Retail Doc makes house calls.

Writer's Bio:
Bob Phibbs is the Retail Doctor®, a best-selling author and speaker who has helped thousands of independent businesses compete. His new book, The Retail Doctor's Guide to Growing Your Business has received praise from both Inc. magazine and USA Today and can be found at your local bookstore or ordered at http://www.retaildoc.com/guide. He and his work have been featured in the New York Times, the Wall Street Journal and Entrepreneur magazine. Questions? Contact Bob at info@retaildoc.com.
This article was reprinted with permission of the author, Bob Phibbs, aka The Retail Doctor®.
Read more articles by this author
THIS BANNER IS AN AD:
---
---