---
Q&A With Thierry Denoual, co-founder of Blue Orange
Blue Orange Games may only be ten years old, but since its founding, the company has been creating high-quality, eco-friendly games that could arguably be called "new classics." Spot It! has been named a best seller by retailers surveyed by TDmonthly more than 12 times since 2010, and has spent 350 days in the top selling 100 toys on Amazon.com as of January 10, 2012. Gobblet, the company's first game, has won more than 20 awards. TDmonthly was lucky enough to have the opportunity to speak with Thierry Denoual, creator of Gobblet and co-founder of the company. Below, he talks about the design process, and how the balance of creativity and marketing savvy can make or break a game.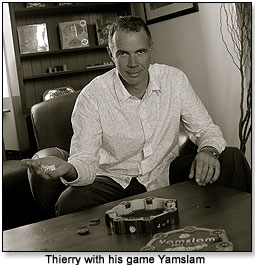 Q. What career path did you originally envision for yourself? Did you ever anticipate working with children's products?

A. I have always been interested in creating things. Games represent an endless outlet for a creative mind, so I feel very comfortable in it. Working with children's product helps me stay young at heart.

Q. How did you come up with the idea for your first product?

A. My first game was Gobblet. This game is a tic tac toe based game. Each player has little cups of different sizes that can be used to cover the opponent's pieces. I got the idea while having my coffee at a local coffee shop in Mill Valley, CA at the end of last century. I was day dreaming while looking at their different size coffee cups.... It came as a flash. I asked them for some cups and I started playing right there in the coffee shop.

Q. How long did it take to go from the original spark of an idea to actual production?

A. I takes between 1 and 2 years.

Q. How much money did you need to create the first prototype?

A. None, all of my game prototypes are made from recycled parts.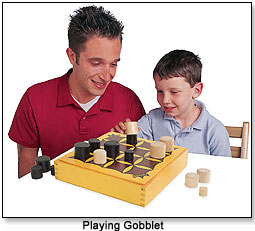 Q. What other games have you designed for Blue Orange?

A. I have designed games like Bendomino, Yamslam, Sumoku, Pengoloo and a couple of dozen more.

Q. Do you work as a team of designers, or do you come up with ideas on your own?

A. I mainly work alone in the creative stage, then I work closely with the Blue Orange marketing team to finalize the themes and the rules of the games.

Q. How many games do you invent each year? Of those, how many actually make it to store shelves?

A. 10 to 20 creations per year. 2 to 3 make it to store shelves.

Q. How do you play test your products?

A. I test them with friends and family. If they pass that first stage, then we test them at Blue Orange. Finally, if they are still good to go, we start to test them with kids in selected schools and key accounts.

Q. What do you think is the key to creating a successful, popular game?

A. You have to come up with simple, easy to learn and easy to play concepts that are also fun. Then you need to develop an excellent marketing around them.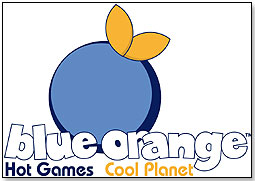 Q. What did you do before starting Blue Orange?

A. I had my own business in home decoration.

Q. What is your educational background?

A. International business.

Q. What were the top two or three most significant obstacles you had to overcome to achieve success and how did you do it?

A. You have to feel the market to adjust your initial idea into a sellable item. You cannot just come up with a good idea. A lot of good ideas go to waste because they are not well marketed. This is the main obstacle: being able to match the creative process , which is very free, with the marketing aspect, which responds to very strict rules and demands.

Q. What one piece of advice would you offer to someone just starting out in the toy industry?

A. Study the history of the industry, learn from successes and failures, then put that aside and try to be as creative as you can be.

Q. What obstacles did you have to overcome in your formative years, and how have they helped your persevere in business?

A. As in all businesses, you make mistakes, you learn from them, learn from the market responses, and try to improve. This market is based a lot on continuous innovation so you always have to be alert and ready to adapt.

Q. Are there any trends you notice in games on the market today that you try to avoid? If so, why?

A. We try to stick with classic games that stay away from electronics and or batteries. The less gimmicks the better : the game has to be good by itself to stand in the long term.

Q. What is your favorite game?

A. Backgammon.


You can check out some of Blue Orange's hit games below, and see what new games they are offering for 2012 at American International Toy Fair booth #311







.

AD
---






.

AD
---






.

AD
---






.

AD
---






.

AD
---






.

AD
---






.

AD
---






.

AD
---






.

AD
---
THIS BANNER IS AN AD:
---
---