---
2012 New York Toy Fair Toy Trends, Toy Buzz, and Toy News
TDmonthly Magazine kept track of the latest Toy Industry news during the 2012 New York International Toy Fair and closely monitored the hot new trends being spotted on the floor of the Javits Center. You can see a recap of the news and trends from all four days of the show below.

February 16, 2012

Toy industry analyst Lutz Muller got the scoop on Toy Fair 2012 from two national toy buyers at very large toy retailers. He has generously shared his and their insights and opinions with TDmonthly Magazine, below.

1. The Skylanders videogame showed that there is a synergy between toys and digital games. What the toy manufacturers – notably Mattel and Hasbro – tried to do was to pre-empt this. In so doing, Mattel was successful with their Apptivity range because they were cohesive and consistent; Hasbro's attempts were less so. However, neither buyer thinks that the Apptivity range, or Hasbro's zAPPED entry, will have a major influence on either companies' sales. However, indirectly, they may well have a positive influence on toy sales by the retailers selling products from the brands that have been "apped".

2. Hasbro's deal with Zynga is, too, of relatively little consequence. My best guess is that Hasbro will add about $70 million to their tip line by Year 3 (which may sound a lot, but that represents a mere 1.75% of Hasbro's $4 billion sales). There is considerable conflict in the U.S. (where Hasbro has the Zynga license) between Scrabble and Zynga's Words with Friends app. However, there is no conflict internationally, as Mattel holds the Scrabble license there.

3. Mattel is focusing its offerings on licensed Batman, Brave, and Monsters products, and does an excellent job there. Interesting at what is not prominent – Barbie, Thomas, and preschool movie properties (Madagascar, Nemo, Ice Age).

4. Hasbro's main focus is on movie-related action figures, other licensed toys, and Girls. Nice line extenders for Beyblades and Nerf. Very little on board games and preschool (other than Sesame Street).

5. Jakks Pacific has an astonishing number of Disney licenses including some "owned" by Hasbro and Mattel - Star Wars, Batman, Men in Black, Spiderman and Avengers. Both buyers thought that Jakks' line-up this year was streets better than what they had seen in the past five years. The buyers were very impressed with the new Monsuno range and what they had seen of the TV series; they think that the range will do very well.

As always, there is no way of knowing what will be the break-through products this year - the "ZhuZhu pets". The opinion of the two buyers today is that they have seen nothing in the lineup of the three major manufacturers that suggests that there is one such toy amongst the products they were shown.

Click here to see more articles by Lutz Muller.

DAY FOUR February 15, 2012 updated 8:09 AM PST
TDmonthly Magazine had the opportunity to interview toy industry trend expert Reyne Rice about the hottest trends at Toy Fair, and what to look out for in 2012.

Q. What are the top trends you are seeing this year?

A. APPS are Everywhere: Apps to Toys, Toys to Apps, AppCessories.

Body Fitness and even more stunts and outdoor activities for tweens and teens. Some involve the use of scooters and active sports tools, and others involve dance and performance.

Customization and Creativity: Do It Yourself trend continues to flourish and combines both digital interactive media and hands on creative activities. Kids as Creators and Kids as Makers continues to be an important influence.

StoryTelling: From last year's Transmedia Storytelling to the rich iconic stories of SuperHeroes (Avengers, Spiderman, BatMan) and Classics such as TMNT, GI Joe lore, and the new storytelling, which brings families and friends together, weaving their own personal stories and connecting them with these personal memories.

Tech continues to be a key influence and has infused itself into every category of toys. Entertainment and Licensing also continues to influence, although there are twists with what is working and what isn't. Pop Culture, celebrities and other urban trends and influences also continue to play a role in shaping which brands will succeed.

Q. What do you think will be the key to the Toy industry's success, both domestically and globally, as countries around the world struggle through economic recessions?

A. Continuing to offer fresh innovations, to continue to appeal to the mobile consumers, and to offer relevant products that appeal to today's kids and families' lifestyles. Connecting families through entertainment, music and sports, plus social gaming, is important to this more inter-generationally focused demographic.

Q. How worried should toy manufacturers be about the rising costs associated with operating factories in China?

A. Many manufacturers are also looking outside China for alternative manufacturing options. This is a bigger discussion also. Many factors are involved, not just price.

Q. Should retailers expect to see any significant raises in msrp's this year due to the rising costs of manufacturing?

There will be some price increases, absolutely. Manufacturers cannot absorb all of these costs. Pricing will continue to be a concern in this economy, although innovative product is still driving into the marketplace. The outstanding success of the LeapFrog LeapPad last year at $100 per item shows that consumers are willing to trade up, for the right
products.

A big thanks to Ms. Rice for taking the time to speak with TDmonthly Magazine!

The Toy Industry Association's charitable organization, the Toy Industry Foundation, is conducting a Toy Drive at Toy Fair, and expects the donations collected to be able to reach out to 25,000 kids.

DAY THREE 2/14/2012 12:40 PM
TDmonthly's reporters are at Toy Fair, connecting with retailers to find out what toys look promising for specialty stores. Jeff Dronzek, co-owner of Learn All About It Toys in Warwick, R.I., told TDmonthly that two of the most promising toys he's seen are the Roll & Play by ThinkFun, and Spooner Boards.

Roll & Play is a first game for young toddlers that teaches them the basics of game play, while promoting fun, interactive play time with parents. On the Spooner Board, kids can simulate the movements they might make on a skate, surf, or snowboard, increasing their agility, core muscle tone, and balance. It can be used indoors or out (even on snow) and is safe for kids 3 years and up.

2/14/2012 9:00 AM PST
According to a report by the National Retail Federation, retail sales for January were up 4% from last year. "As a traditionally slower sales month for the industry, it's encouraging to see such sustained growth in consumer spending and sentiment," National Retail Federation President and CEO Matthew Shay said in a press release. The unseasonably warm winter across the country is thought to have helped boost sales.

2/14/2012 8:23 AM PST
Happy Valentine's day! In holiday-appropriate news, Mattel has announced their new William and Catherine Royal Wedding Barbie Giftset, which will launch in April 2012 in honor of the Royal couple's one year wedding anniversary. The romantic set features the Royal twosome in outfits inspired by their wedding day attire.

DAY TWO February 13, 2012 updated 3:05 PM PST
The Toy Industry Association has released what it expects will be the six top toy trends of 2012.

Generation App — This year's fair has seen a huge amount of new toys emerge that integrate apps with physical components. According to the TIA, "Toymakers are using technology to enhance classic play patterns – not erase them." Examples are abundant and include AppGear from WowWee and Hot Wheels Apptivity™ from Mattel Inc.

Glowing Wild — Toys that glow in the dark or which have LED components to enhance play value. Examples include the Rockboard Radiate from M.Y. PRODUCTS LLC, Laser Pegs, and the LEGO Monster Fighters Ghost Train.

Little Learners — These educational and developmental toys engage a younger age group than usual: infants and toddlers. Products in this category include Roll & Play by Thinkfun.

Many Ways to Play — These engaging toys include toys that combine multiple play patterns (i.e. active play, role play, game play, etc.) and customizable toys (playthings become a unique reflection of a child's individuality).

Save 'N' Splurge — This trend is based on recent consumer buying patterns that include big-ticket purchases interspersed with value-inspired buys. For instance, new LEGO Lord of the Rings items include The Battle of Helm's Deep play set at $129.99, and smaller sets, like Gandalf Arrives, at $12.99.

Young Maestros — An abundance of musical products are set to hit the market in 2012. According to the TIA, this trend is being driven by television shows like American Idol and Glee. Toys in this category include the Glammerati Pop Star Electric Guitar by IMPERIAL TOY LLC, and the elegant yet fun Schoenhut® Ukulele.


2/13/2012 2:34 PM PST
Hasbro has announced that it will cancel the release of certain action figures from its Transformers Dark of the Moon series, according to tformers.com. The figures will still be available in Canada and Asia, but Hasbro cited low demand for the products in the US.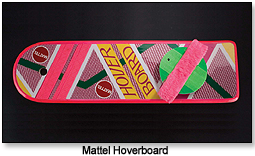 Mattel has announced that it will be releasing a 1:1 replica of the hoverboard seen in the classic Sci-Fi comedies Back to the Future 2+3. The board "includes multiple whooshing sounds and will glide over most surfaces (does not actually 'hover' – check back in 2015 for that feature)," according to Mattel's press release, and doesn't work over water. The item is expected to be shipped in late 2012, if the required minimum of orders is placed.

2/13/2012 9:08 AM PST
Publisher's Weekly is reporting that publishers at Toy Fair are experiencing strong foot traffic.

Frederick August Otto Schwarz, founder of iconic toy store FAO Schwarz®, has been inducted into the Toy Industry Association's Toy Industry Hall of Fame.

2/13/2012 6:52 AM PST
In the midst of the New York International Toy Fair, the NPD Group has released the results of its asking the question, "What one item did your child play with most this week?" They received 2,958 responses, reflecting the play choices of kids ages 0-14. The two top spots had 4% of mentions: LEGO and laptops. At 3% was Wii and toy cars, followed by Xbox, books, video games, Nintendo DS, Barbie, and iPod at 2%.

Though the top 10 products include 6 tech products (laptop, Wii, Xbox, video games, Nintendo DS, iPod), NPD reports that Toys was still the top category, with 54% of mentions falling into that category. Video Games got the number 2 spot with 20%, while consumer electronics rounded out the top 2 categories with 12%.

The top five properties mentioned were LEGO (check out our LEGO videos from Toy Fair 2012!), Barbie, Crayola, LeapPad, and Thomas & Friends.

Anita Frazier, industry analyst for the NPD Group, said, "Not long ago, the image of play was dominated by thoughts of kids playing only with toy items, but now consumer electronic devices and video games play a prominent role in their 'play' time. That said, toys were mentioned more than twice as much as any other category in this survey."

It's interesting to wonder where the lines between toys, consumer electronics, and video games begin and end, especially as we see the rise of the "Appcessory" at this year's Toy Fair. 54% of the products mentioned were Toys, but is a product like the new Hasbro Lazer Tag Blaster a toy (the physical laser gun), a video game (the app), or a consumer electronic (the iPhone)?

It will be interesting to see in the coming year how we in the Toy Industry redefine our key terms to include this new category of play things.

DAY ONE February 12, 2012, updated 5:22 PM PST
Hasbro has announced the launch of Kaijudo, a trading card game, online game and animated TV show. The show will be featured on The Hub channel, brainchild of Discovery Communications and Hasbro Studios.

According to Kaijudo's website, the premise of the franchise is this: A boy named Ray must enter the "Creature Realm" and go to battle to save humanity, all with his creature pal Tatsurion the Unchained - whom he calls Bob - by his side. There are five different civilizations in the Creature Realm, based on Nature, Water, Fire, Darkness, and Light. Ray and his two friends become Duel Masters, and must fight to keep their creature friends, and humanity, from the clutches of evil.

Toy industry expert Reyne Rice told the New York Times that "by investing in their own properties, [Hasbro is] making the company more profitable. It becomes a revenue stream for them in the form of royalties from licensed products."

This strategy can be seen at work in the May 2012 release of the motion picture Battleship, based on the Hasbro board game, which is sure to spawn new toys and products that will tie in to the movie, creating another stream of revenue from the property aside from the board game itself.

Hasbro also announced in a press release on February 10th that it has entered an agreement with CBS Consumer Products to manufacture and globally market a variety of products based on the STAR TREK property beginning in 2013. The line of toys will coincide with the Star Trek movie sequel slated for release on May 17, 2013. Hasbro plans on introducing a line of Star Trek Kre-O construction/action figures. Kre-O was introduced at last year's Toy Fair and featured Transformers characters and building sets; Hasbro also plans to launch Kre-O Battleship sets to coincide with that movie's release this Spring.

2/12/2012 4:39 PM PST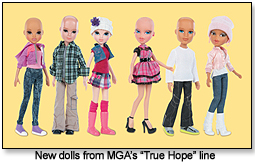 MGA Entertainment has announced that it will launch a line of bald "True Hope" Bratz and Moxie Girlz dolls in June 2012. For every one of the dolls sold, MGA will donate one dollar to City of Hope to promote cancer research.

In a press release, Isaac Larian, CEO MGA Entertainment, said, "We have a responsibility to children and we take that responsibility very seriously. The Bratz and Moxie Girlz 'True Hope"' dolls are designed to support and comfort young girls and boys who so bravely endure cancer treatments. MGA also wants to be an active supporter in the fight to develop lifesaving treatments for children."

Though this is certainly good news for the thousands of children and families across the country for whom cancer is an everyday part of life, one has to wonder if MGA's sudden decision to produce the dolls is fully philanthropic.

In the past month, a huge PR buzz has surrounded the Facebook group "Beautiful and Bald Barbie" and their attempt to get Mattel to produce a bald Barbie that would promote cancer awareness and boost self-esteem in young cancer sufferers.

So far, Mattel has not agreed to produce such a doll, saying only, "We receive hundreds of passionate requests for various dolls to be added to our collection. We take all of them seriously and are constantly exploring new and different dolls to be added to our line."

MGA Entertainment and Mattel Inc have a well-documented rivalry, which stemming from a years-long legal dispute over which company was the rightful owner of the Bratz doll brand. In 2011 a court ruled in MGA's favor, but the years of litigation between the two companies have damaged the Bratz brand, a line of dolls that was once poised to take over Barbie's place in the spotlight.

As Mattel struggles to navigate the PR storm caused by their reluctance to commit to producing a Bald and Beautiful Barbie, MGA Entertainment's well-timed announcement of their new line seems a not-so-sublte slap in the face to their biggest rival.

2/12/2012 3:30PM PST
Wondering what the hottest toys of 2012 will be? TDmonthly has begun compiling it's list of buzzworthy toys - the products that are getting the most mentions across various media outlets during Toy Fair. Check the list throughout each day of Toy Fair as our reporters scout out 2012's likely hits. See the hot toys here!

2/12/2012 1:39 PM PST
Last year at Toy Fair we saw the first real introduction of children's tablets to the market with the LeapFrog LeapPad Explorer. Then, the introduction of Activion's Skylanders: Spyro's Adventure brought a new sort of technological innovation to the toy industry: physical toys that interact directly with digital games. This year, one of the hottest trends seems to be toys that integrate physical components with apps for tablet computers and smart phones.

"Today's gamer is looking for experiences in games that include the marriage of digital and analog, face-to-face, and off the board gaming," Hasbro Chief Executive Brian Goldner said in an interview with Reuters.

Skylanders has already announced their follow up to last year's hit game, Skylanders Giants. New, larger figures that interact directly with the video game will be released. Hasbro is revamping some of their classic games under the new zAPPed line; for instance, the Game of Life zAPPed, which uses an app to perform most of the action based moves like spinning for turns and reading action cards, while holding onto the physical game board.

Other toys more directly integrate the smartphone with the toy. For instance, Spin Master's appfinity AppDrive is a steering wheel with a mount for the smartphone directly on the toy. Users simply download the app and get to playing.

At the 2012 London Toy Fair, this trend was also apparent, with toys like the appBlaster from Apptoyz International Ltd. making a splash across the pond.

This is all well and good for the mass market, but what will it mean for specialty manufacturers and retailers, who have long veered away from electronic toys? TDmonthly Magazine will keep an eye out for specialty toy makers who are utilizing these innovations.

One company, Kidz Delight, is offering tablets for kids that focus on education rather than just a gaming element. The licensed Smithsonian Kids Dinosaur Tablet for kids 3+, launching in September 2012, offers 4 activities that help kids learn about dinosaurs; comprehensive facts about 15 dinosaurs, and 21 smooth touch icons, retailing at just $29.99. Arthur's Little TV, for kids 2+, will help kids learn about colors, quantities, observation skills, and more, and retails at $29.99.

2/12/2012 12:39 PM PST
Teenage Mutant Ninja Turtles is returning to television screens thanks to Nickelodeon's new CG-animated relaunch of the series, and Playmates Toys is unveiling a new line of TMNT toys tying into the series at Toy Fair. The new action figures contain more than 12 points of articulation and range from 4.25 to 4.75 inches.

2/12/2012 12:05PM PST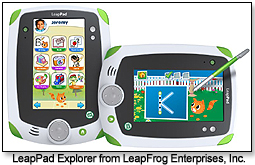 The Toy of the Year awards were presented last night. The LeapPad™ Explorer by LeapFrog Enterprises was named "Toy of the Year," as well as Educational Toy of the Year and Preschool Toy of the Year. Of interest to TDmonthly's specialty retailers, the Specialty Toy of the Year was awarded to the HEXBUG® Nano® HiveHabitat Set TM by Innovation First Labs, Inc. You can see the press release announcing all of the winners here.

2/12/2012 11:31 AM PST
According to TDmonthly's correspondents and reporters at the Javits Center in New York, the press room and media presence at Toy Fair seems to be much greater than in previous years.

According to the TIA, there will be about 1,300 worldwide media representatives at the show this year.

Exhibitor space was also larger this year- a full 366,339 square feet are devoted to exhibit space. This will help accommodate the more than 1,000 exhibitors, as well as the expected 34,000 visitors to the show, a 4% increase over last year's attendance.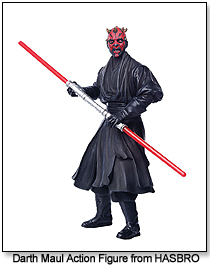 Hot Properties

Video reporters on the ground were overheard talking about Darth Maul and other new Star Wars action figures and collectibles, launching this year in correlation with the 3-D theatrical release of "Star Wars: Phantom Menace." Hasbro has several new highly anticipated products launching including new 3.75" Star Wars action figures, according to Collider.com. LEGO will also be releasing upwards of 20 new Star Wars sets, including a new TIE Fighter, X-Wing Starfighter (both available now), The Malevolence, and Jabba's Palace (available in August), retailing between $54.99 and$ 119.99, according to a press release.

LEGO also has a line of products coming out to support the release of The Hobbit, in theaters this fall. In June, they will release six building sets based on the three Lord of the Rings films, ranging in price from $12.99-$129.99.

With attendance of licensors up 11%, and entertainment executive attendance up 41%, expect to be hearing a lot more about licensed products that tie into movies and television at the 2012 fair.

Writer's Bio:
Justina Huddleston graduated Magna Cum Laude from Emerson College with a BA in Writing, Literature, and Publishing in 2009. After graduating she was the on-site director of the Boston Children's Museum gift store for a year, selling educational, developmental, and creative activity toys that tied in with the museum's exhibits. Justina also interned at children's book publisher Candlewick Press before moving from Boston to Los Angeles, where she is now Editorial Director of
TDmonthly Magazine
.
Read more articles by this author
THIS BANNER IS AN AD:
---
---