Article Archive: Licensed Products

Hello Kitty – a cat on life support?

Hello Kitty has been a doll icon for the past forty years but her reign may slowly come to an end unless some fearless knight comes riding to her rescue...

11/1/2015
Top-10 Most-Wanted Licensed Toys

From construction sets to sticker puzzles, check out the Top-10 licensed toys according to retailers interviewed by TDmonthly...

6/1/2015
The Western Toy Market

This review of 2014 will look at the two largest toy markets – the United States and Europe; for the latter, the focus will be on the four keystone countries France, Germany, Spain and the UK...

2/1/2015
Top-10 Most-Wanted Licensed Toys

Almost half of the retailers surveyed by TDmonthly Magazine in May 2014 told us that they carry little to no licensed toys. Those that did, however, reported lots of success with offerings from LEGO...

6/1/2014
Are Fashion Dolls Old Hat?

Fashion Dolls have dominated the U.S. doll market since Barbie came onto the scene back in 1959 and they have reigned pretty much without challenge since then...

6/1/2014
Disney – is Infinity leading the way?

Disney is the largest media conglomerate in the world and its avowed goal is to be a major player in every sphere of endeavor in which it operates. The company is engaged in four distinct Segments and is dominant in three of them. The question is – what about the fourth?...

1/1/2014

Action Figures in the Doldrums

Action Figures represent about 6% of the U.S. toy market and are completely dominated by Hasbro. This is how the picture has developed since 2007...

11/1/2013
Happy Birds: May the Force be With You!

Latest data from The NPD Group, a global information company, reveals Angry Birds Star Wars as the best new toy license in the big five* European toy markets in 2013 so far (year to date July 2013)...

10/1/2013

Construction Toys - LEGO vs. Everyone Else

The construction toy category continues on its phenomenal growth path. This is extraordinary because all the other toys – with the exception of the Electronic Learning segment of Preschool – continue to flag...

8/1/2013
Top-5 Most-Wanted Licensed Toys

In a May 2013 survey, TDmonthly Magazine learned that many specialty retailers are still reluctant to carry licensed products...

6/1/2013

How is the toy space shaping up for 2013?

few days ago, TDmonthly ran an article "2013 Toy Fair – a Review by Lutz Muller" in which I reported the impressions that five national buyers for very large retail chains, three from the U.S. and two from Europe, took away from Toy Fair. I just now went back and asked them how they saw things shaping up for the leading North American public companies for 2013...

3/1/2013

Movies and Toys 2013

Movies are big business. Here are the box office estimates over the past few years...

2/1/2013

Rovio – Birds and Piggies Eat Competition

It does not happen too often that an unknown software company from a small European country becomes a major force in the toy space in one year. But this is exactly what happened in the case of Rovio...

11/1/2012
DISNEY TO ACQUIRE LUCASFILM LTD.

ontinuing its strategy of delivering exceptional creative content to audiences around the world, The Walt Disney Company (NYSE: DIS) has agreed to acquire Lucasfilm Ltd. in a stock and cash transaction. Lucasfilm is 100% owned by Lucasfilm Chairman and Founder, George Lucas...

10/1/2012

20 Top-Selling Mass-Market Toys

You may sell specialty, but it's important to watch the mass-market to keep abreast of new trends. See our list of mass-market best-sellers, updated weekly...

10/1/2012

20 Top-Selling Mass-Market Toys

You may sell specialty, but it's important to watch the mass-market to keep abreast of new trends. See our list of mass-market best-sellers, updated weekly...

8/1/2012
Licensed Toys

Summer blockbusters and Saturday morning cartoons are a much-loved part of summer vacation - but most parents aren't as keen on all that screen time...

6/1/2012
Top-10 Most-Wanted Licensed Toys

When TDmonthly Magazine interviewed retailers about their best-selling licensed toys, three of the 12 we spoke with said that they don't sell licensed products at all...

6/1/2012

News from The NPD Group - The Hottest New Things for Kids

Following are the results from The NPD Kids Industry Data Service (KIDS) survey that was fielded for four weeks in February 2012 in response to the unaided, open-end question: , "What would the kids you know say is the hottest new thing these days?"...

3/1/2012

Top-10 Most-Wanted Licensed Toys

In late Spring 2011, TDmonthly interviewed 12 retailers about their best-selling licensed toys. There was one property that was mentioned almost across the board: Star Wars...

6/1/2011
The Battle Over Bratz

Now that MGA has full control of the Bratz brand again, CEO Isaac Larian is ready to get back in the game...

4/1/2011

Disney and Warner – who is winning?

In September 2009, just after the acquisition of Marvel by Disney, I suggested that this acquisition was a defensive move from the side of Disney because they saw Time Warner encroaching upon their territory. Where are the two companies now, 16 months later?...

2/1/2011

Which Movie-Themed Toys Will Rock 4Q

You could not imagine the toy department in any major retailer without LEGO Star Wars, Iron Man action figures, Hannah Montana fashion dolls...

9/1/2010
In This Issue

See brief article summaries for this summer's August issue of TDmonthly Magazine...

8/1/2010
Top-10 Most-Wanted Dolls

A recent survey conducted by TDmonthly Magazine polled 43 retailers nationwide about the sales in their doll departments...

7/1/2010
LEGO and Star Wars Prepare for Stardom

There's no shortage of Star Wars toys and novelties this year — lightsaber chopsticks, anyone? Mattel gets WWE figures into the ring to fight, while Bachmann Trains hits the tracks with large-scale sets...

5/1/2010
Toys in the News: 4-30-10

Electronic Arts EA Play is set to release a number of games for Hasbro's Littlest Pet Shop brand this fall. EA has already launched an interactive website, Littlest Pet Shop Online...

4/1/2010

Toy Fair 2010: Toys With the Most Buzz

Zhu Zhu Pets, TIA's Toy of the Year Award winner for 2010, stands poised to cause quite a squeak this year with its expanded product line. The Zhu Zhu Wild Bunch from Cepia adds a skunk and bunny to the line of hamsters, and the new Hamster Babies promise even more cuteness...

3/1/2010
Toys in the News: 1-27-10

The U.S. Consumer Product Safety Commission, in cooperation with Regal Lager Inc., has announced a voluntary recall of about 1,100 CYBEX Strollers in the United States and 90 in Canada because when opening or closing, the hinge mechanism may amputate a child's fingertip...

1/1/2010

Toys in the News: 12-30-09

The U.S. Consumer Product Safety Commission, in cooperation with Dorel Juvenile Group, has announced a voluntary recall of about 213,000 Safety 1st Disney Care Center™ Play Yards and Eddie Bauer Complete Care Play Yards...

12/1/2009
Hasbro Faces Big Threats on the Gaming Field

Back in April, I said in this space: "Hasbro's board game business declined last year despite strong demand for the category. I predict this will happen again in 2009 and 2010."...

12/1/2009

Video Games: Year-End Projections

February 2009 was the last month in which the video game industry in the United States showed growth. That is why everybody was eagerly anticipating September as the first month in which this negative spell would be broken,...

11/1/2009

Holiday Price Wars: Toys for $10 and Under

Wal-Mart, Target, Kmart, Toys "R" Us and other mass merchandisers have embarked on their usual seasonal price cuts on toys and other items for holiday sales...

11/1/2009

New Trading Card Games Make "Magic"

Good friends. Fantastic images. Evolving play. Collectible card games have quite a draw. Experts in competitions and novices hanging with friends both come for quick fixes of addicting games...

10/1/2009
Private Labels Are Coming to Toy Land

A Nielsen report from late November 2008 states that sales of private-label brands in the United States in all categories grew to $81 billion in 2008, a 10.2 percent year-on-year increase versus 2007...

10/1/2009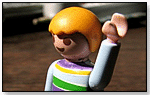 Toys in the News: 9-29-09

The Toy Industry Association and American International Toy Fair were honored at Trade Show Executive Magazine's "Gold 100" awards recognizing the largest U.S. trade shows...

9/1/2009

Disney Makes Defensive Move With Marvel Acquisition

The news that Disney was acquiring Marvel hit the entertainment industry like a thunderbolt. Yes, there had been plenty of rumors about a large Disney acquisition, but the betting by insiders had been on Electronic Arts...

9/1/2009

Liv and Moxie Girlz Gang Up on Barbie

For decades, Mattel's Barbie reigned supreme in the fashion doll world, until the saucy upstart Bratz from MGA Entertainment made its appearance in 2001 and challenged the queen...

8/1/2009

From the Big Screen to the Toy Aisle

Just as a movie starring an A-list celebrity will bring in big bucks opening weekend, toys tied to famous licenses can also have smashing premieres. Experts warn, however, that it's important to be smart when buying...

6/1/2009

Top-10 Most-Wanted Licensed Toys

In April 2009, TDmonthly surveyed specialty toy retailers around the country about their sales of licensed product. Here are the top-10 best-selling licensed toys...

6/1/2009
Economy Puts Toy Sales on Clearance

January typically accounts for about 5 percent of yearly toy sales. If these first 31 days are any guide for the future, we are looking at a really difficult year...

2/1/2009

Hollywood ToyBoy: Partnering Up in a Recession

As everyone with a checkbook knows, money is tight, and despite government intervention, the recession isn't going away anytime soon. Does this mean sad times for the movie and toy business? Hardly...

2/1/2009

Harry Potter Movies Will Lead in Toys

Most of the very successful toys in 2008 were driven by movies — "Star Wars: The Clone Wars," "The Dark Knight," Wall-E" and "Iron Man" – and it hence behooves us to look at what films are awaiting us this year and next...

1/1/2009
Even Video Games Can't Win Against Crushed Economy

The NPD numbers that came out for the video game space in October did not make for nice reading. After a disappointing August, September recorded negative growth rates for all three main categories: software, hardware and accessories...

11/1/2008

In This Issue

Ready to watch? Check out TDmonthly's toy video demos, with highlights on one of our featured categories...

7/1/2008

What Not to Turn Down in a Downturn

Tempting as it may be, a potential economic downturn is not the time to turn tail and run. As my Granddad always told me, "You'll never win the kitty if you sit out the hand."...

7/1/2008

Hollywood ToyBoy: The French Connection

"Why did it have to be the French?" Yeah, yeah ... we all joke about Parisians' rich food and snooty attitudes, but who doesn't want to see the City of Lights? Me, that's who...

7/1/2008
Toys in the News: 7-31-08

Christmas decorations, handbags, food and apparel are likely to face prices hikes of up to 15 percent for the holiday season...

7/1/2008
Yesterday's Marketing is Dead: Part 3

Today, we're witnessing a collage of poor marketing that seemingly duplicates one another's unoriginal poor marketing. The culprit? Platitudes.....

6/1/2008
TDmonthly's Top-10 Most-Wanted Licensed Goods

Most of the 50 specialty retailers who spoke with TDmonthly Magazine revealed that licensed products — more common in the mass market — make up at least 1 percent of their merchandise.....

6/1/2008
Indiana May Trump Iron Man at Toy Sales

When I first wrote about toy-related films roughly six weeks ago, I overlooked the fact that there is yet another entrant into the toy sweepstakes — "Wall-E" by Pixar.....

6/1/2008

Yesterday's Marketing is Dead: Part 2

The reason most strategic advertising and marketing does not work today is that most companies' inside reality and outside perception do not match...

5/1/2008
'08 Films are a Match for Merch

This year brings an unprecedented lineup of films designed to affect toy sales — seven in the action figure arena and two in other toy categories:...

5/1/2008
Video Games are Nothing to Cry Over

Analysts have been crying "woe is me" all week, looking at the April numbers for video games from the NPD Group and lamenting that the end is nigh...

5/1/2008
When the Going Gets Tough, the Tough Get an Endcap

There is little doubt that things are tough in toy land. By the end of April, my retailer panel reported declining sales by 5 percent over all categories compared to the same period last year...

5/1/2008
Boost Store Traffic With Evergreen Toys

Some of today's hottest evergreen properties are celebrating milestones in their brand heritage with creative marketing plans and new products, manufacturers told TDmonthly Magazine...

5/1/2008

Branding Toys Isn't a Game

Kids are growing up faster, drastically shrinking the shelf life of toys and challenging manufacturers to create innovative items that capture interest quicker and earlier...

4/1/2008
Yesterday's Marketing is Dead: Part 1

Dramatic social, economic and technological forces have transformed our modern day business culture so it barely resembles that of yesterday...

4/1/2008
Which Movies Will Win?

Consensus among my retailer panel and the buyers I speak with has it that the nine movies in the table below will be instrumental in providing growth in a variety of toy categories this year.....

4/1/2008
The Babes Keep Battling

Last month I reported on a change hitting the fashion doll aisles. Jakks Pacific's Hannah Montana was teaching the two reigning queens, Barbie by Mattel and Bratz by MGA Entertainment, that there was a new kid on the block...

3/1/2008
The Battle of the Babes

Last year marked, for the first time in years, a real change in the fashion doll category — the ascent of Hannah Montana...

2/1/2008
Toy Sleuth: Partying With Plumbers

Super Mario Brothers? Yup. That little animated plumber just keeps on chuggin'. Mario's everywhere. So without further ado, TDmonthly Magazine's January Toy Sleuth looks at the wide world of new Mario toys...

1/1/2008

Six Predictions for the Toy Industry in 2008

Here's a glimpse of what the toy industry can expect in 2008 — a year of increasing costs and decreasing demand that may favor innovation within the specialty market, but squelch risk-taking in the industry overall...

1/1/2008
Hollywood ToyBoy: Walt Goes Wild

"Get thee to a toy store!" I yell at my assistant as she brings me my mocha latte. "I can't keep track of all of this."...

11/1/2007
How to Create a Licensed Character

It's tough to create a character that connects with fans and successfully draws them to theaters, bookstores and Sunday comics...

10/1/2007
How to Find and Develop a License

With thousands of available properties, from cartoons to comic books to big-screen icons, finding the right licensing match for your company and your target consumer requires research and patience...

10/1/2007

Hollywood ToyBoy: Cartoon Network

My ol' pappy used to say, "Nothing creative ever comes out of a committee." And since Hollywood is one big committee ... where does that leave everyone who depends on its toys?...

9/1/2007
Sports Action Figures Cast a Spell

Sports fanatics don't just go out and wear their favorite team jerseys or add to their baseball card collection anymore. Sports action figures are becoming a popular way for fans to support their local teams on and off season, sources told PlayZak, and just as kids are with Pokémon, many have to collect them all...

9/1/2007
Becoming Ubiquitous

If you have a scintillating character you know would be a great licensed product, how do you go from idea to reality?...

9/1/2007
Marvel-ous Heroes Conquer Toy World

Characters new and old still drum up business in some parts, and manufacturers keep tuning in to toons and film stars to determine their next licensed steps...

6/1/2007

Foreign Is Fresh for Kids' Licenses

Whether it's the lure of something new and different or what's popular on television at the moment, foreign licensed products are hot commodities in the toy industry...

6/1/2006

Little Kids Duplicates Success

James Engle, a Hasbro veteran, established Little Kids in 1989, with 12 years experience in sales and marketing...

4/1/2006

Tween Boys Have Riot

A new tween boy brand called Riot Media Inc. is set to rule tween boys' world...

11/1/2005
Sports Licenses Score Big With Boys

From NASCAR to the NFL, sports licenses hit a home run with boys of all ages. In a recent License Tracker survey conducted by KidzEyes and Funosophy Inc., 3,700 boys ages 6 to 17 were asked to rate 21 of the top boy licenses on the market, including several sports licenses, in terms of popularity for holiday gifts...

10/1/2005

Hands on to Sales

So how can parents and store owners fight the humungous amount of advertising dollars pushing licensed toys?...

8/1/2005

Selling Kitty Ö or Not

With licensed products ranging from stationery to bed sheets to electronics devices, it seems safe to say that Hello Kitty fever continues to rise. Yet, while Sanrio dealers should be happy to sell the popular product, some are grumbling...

8/1/2005
Toy Fair 2005: Licensed Products

The following product summaries were mainly supplied by manufacturers, who selected their top product per product category to highlight in 2005...

7/1/2005
The Hollywood Toyboy

So whatíre the kids watching, gonna watch and donít even know about yet? Whatís in store for your store? Hereís the flash...

6/1/2005

Small Companies Enter Licensing Arena

Though licensed products have been hot for at least 20 years, gone are the days when only the oldest and largest toy companies had a shot at top titles. Today, fledgling companies are crafting toys that feature characters from hit shows like "SpongeBob SquarePants."...

5/1/2005

TDmonthly's Top 10 Most Wanted Licensed Games

2004 was a banner year for child-driven movies and television shows. Characters from these stories have been ubiquitous, as their creators tackle every marketing corner available. Games provide a logical tie-in, resulting in a plethora of "must-have" licensed games for little ones...

4/1/2005
Todd McFarlane Opens Showroom and Store in Tempe, Arizona

In October 2004 Todd McFarlane, who has an 11-year history in the sports and movie licensing markets, held the official grand opening of a showroom and store in Tempe, Ariz. With Phoenix the hub of his business and his family living in the outlying area, Tempe seemed the most logical location...

1/1/2005
Jay and Silent Bob´s Secret Stash: Kevin Smith Opens Westwood Store

Bob Chapman, co-owner of the new Jay and Silent Bob´s Secret Stash in Westwood, Calif., has worked with cult figure and partner Kevin Smith for the last six years on movie licensing. He produces T-shirts and toys for the comic book market with Graphitti Designs, a business he started in 1982. Though he has friends in the retail business, Chapman never thought he would open a store...

1/1/2005
Cast of Characters: Children Ages 5 to 8 Find Familiar Playmates

Article Synopsis With licensing agreements expanding to every facet of the toy industry, children aged 5 to 8 years old are delighting in toys with familiar faces.Hasbro has taken advantage of box-office hits by creating Shrek and Donkey dolls as well as The Incredible Mr. Incredible action figures.Popular items which...

1/1/2005
Getting the Word Out: Advice from MouseShoppe

MouseShoppe is an Internet-based store that carries low-end licensed Disney mechandise, while its physical counterpart, CharmingShoppe, is a brick and mortar store that sells high-end Disney collectibles. Strategically located near Disneyland in Anaheim, Calif., Adrienne Vincent-Phoenix may have an edge on her competitors, but even this experienced retailer must advertise to draw sales...

1/1/2005
Monogram International: Batman Begins to the Future

Monogram International is known for movie collectibles; everything from items based on animated tales to their newest licensing contract with Warner Brothers for the live action film "Batman Begins."...

1/1/2005

Three Things You Should Know to Protect Your Toy Designs

So, you've come up with the next best toy design since the Yo-Yo. Hello tropical adventures! But wait: The idea is so good that it's bound to spawn similar designs from other well financed, but less clever, competitors. What can you do to protect your design?...

1/1/2005
Plush Keep it Fresh Yet Familiar

While many toy makers are using licensed products to deliver soft, familiar pals to young children this year, others are reaching deeper into their imagination to create new friends from scratch. Either way, the following assortment of huggable buddies remain eye-catching and supportive, hard for young hands to resist...

1/1/2005
Children´s Media: Taking the Movies Home

Today's movies remain in audiences´ minds long after the final credits roll, thanks to hundreds of film-related licensed products available. According to Michael Redman, who tracks toy and video game trends for NPD Funworld, 25-30% of total toy sales are licensed product sales. The Licensing Letter puts the profit that film studios realize from licensing at $7.6 billion per year. Of course, this revenue is realized across hundreds of different products and categories. How do children choose which licensed products they want?...

11/1/2004
Anime: Another World on Earth

The 2003 Academy Award for Best Animated Film went to "Spirited Away," the Hayao Miyazaki feature about a young girl's adventures in a fantasy world. The win bolstered the popularity of a phenomenon already embraced in the United States. Enthusiasm for anime and all things related isn´t going to subside anytime soon...

11/1/2004

TDmonthly's Top 10 Most Wanted Sports Action Figures

Every sports fan has fantasized about running towards the end zone to score the winning touchdown, delivering a bone-crushing blow in a WWE title bout, or hitting a grand slam in the bottom of the ninth to win the World Series...

11/1/2004
Licensed Products Drive Back To School Market

Slip a Disney Princess lunchbox into the Spider-Man 2 backpack, throw in some Care Bears stationary and zip it up--the kids are ready for back-to-school. Licensed products are the hottest items on the market, and sporting the latest characters is a fashion must for mini trendsetters. Today the 3-5 year...

10/1/2004
Delta Enterprise Brings the Magic Home

Delta Enterprise Corporation has built an imaginative world around its licensed characters. There´s a magical enthusiasm kids experience when they see Delta Enterprise´s licensed furniture...

10/1/2004
LICENSED TOYS, CLOTHING & FURNITURE

dSit On Plush LumiSource is introducing a variety of plush furniture at Toy Fair, including: a Dolphin Chair and Whale Chair made of plush flannel, with a convenient flip-up storage compartment to store toys, books and more; a Cell Phone Chair ($140) , shaped like a cell phone,...

3/1/2004
Since 02/01/05 people have visited this page.

Advertisement: