"Every girl should have a copy of this wonderful book ["Ladie's First"]."

Beth Carroll, Psy.D., is a professional psychologist who specializes in child intervention and development. She works with children in many capacities, including providing early intervention services to infants and toddlers and conducting play therapy and psycho-educational assessment with children and adolescents. She has also provided private childcare for families for more than 22 years. Her diverse experience working with children has enabled her to see first hand how playing with toys can be one of the richest sources of learning and communication for kids. In the following review, Dr. Carroll shares her toy recommendations with

TD

monthly Magazine

.

Ruth

by

CANDY BOX KIDS INC.

(

ToyShow

)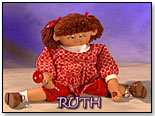 Age:
3 and up

Gender:
Boys and Girls
Price: $24.99
First Impressions
Ruth, a sweet, 21-inch-tall rag doll with ponytails and a freckled face, is one of 26 "Candy Box Kids." The tale of how the Candy Box Kids were created is told in a storybook and accompanying cassette tape.
Developmental Stage
Playing with dolls enables children to practice social skills and reenact real-life interactions. Ruth provides endless possibilities for imaginative play. She can act out parts of the Candy Box Kids story or kids can create their own scenarios for Ruth to star in. Additionally, the experience of hearing the story on tape encourages listening skills, as children need to wait until they hear a jingle sound before turning the page.
Recommendation
Ruth is a terrific, high-quality rag doll with great special features, such as shoes with real laces and a removable lollypop in her hand. One of the toddlers with whom I work was easily able to find Ruth on many pages of the book. It took a few pages for her to understand the concept of waiting to hear the jingle on the audio tape before turning the page, but she caught on quickly and was fascinated by listening to the cassette tape.
Playing with Ruth while listening to the Candy Box Kids story seemed to take the reading experience to a new level. However, some of the pages in the book that illustrate the process of making the Candy Box Kids were odd — particularly the first step in which the main character "Granny Mae" created a pile of little doll heads! The child I was with didn't seem alarmed by the image, but I found it disturbing and some children might, too.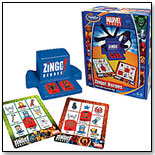 Age:
4 to 8

Gender:
Boys and Girls
Price: $16.99

First Impressions
What do you get when you cross super heroes and Bingo? "Zingo! Heroes," of course! This game is Bingo with a super twist. Each player selects a card that has multiple pictures of super heroes (as opposed to traditional Bingo numbers.) The dealer slides the zinger back and forth to reveal two tiles with super heroes on them. If one of the exposed tiles is needed to cover a spot on his playing card, the player must call out the name of that super hero as fast as he can. If two players need the same super hero, whoever calls out the name first gets the tile. If there is a tie, the dealer places the tile back in the zinger.
Developmental Stage
This game requires a mixture of luck, concentration and speed. Word association skills, short-term memory, and processing speed are targeted by Zingo! Heroes. Each playing card has two sides — the green side has fewer pictures in common, for a less competitive game, and the red side has more pictures in common, creating a competitive challenge for the players.
Recommendation
I like the way this game requires children to simultaneously pay attention, respond quickly and remember which super hero tiles they need to complete their board. It is a great game for any super hero fan, although you don't need to be a super hero fan to be a Zingo! Heroes fan.

---
Roll 'n Multiply by EMINES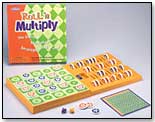 Age:
8 and up

Gender:
Boys and Girls
Price: $24.99

First Impressions
Learning can be fun! Roll 'n Multiply is a board game with two goals: to help kids practice multiplication and to outwit the opponent by placing four chips in a row or diagonally across the board. Each player takes turns rolling the dice and multiplying the two numbers on the dice. Once he or she has the answer, it is checked against a multiplication table. The player then gets to select the chip with the numeric answer on it and place it on the board. The other player then rolls the dice and does the same, not only attempting to place four of his or her own chips in a row, but also trying to prevent the opponent from successfully doing so.
Developmental Stage
Whether a child is just learning to multiply or needs to expand his/her ability, this game is suitable for "multiple" levels of math skill acquisition.
Recommendation
One strength is that even kids who are just starting to learn multiplication are able to play by using the assistance of the multiplication table. This feature also enables younger kids to play with older siblings or parents who have more advanced multiplication skills. Roll 'n Multiply is a fun way for kids to practice multiplication. Parents and their kids will appreciate the practical design, which is easy to use and clean up as all of the chips, dice and instructions fit neatly inside the board.

---
Alaska Scramble Squares by b. dazzle, Inc. (ToyShow)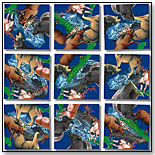 Age: 4 and up
Gender: Boys and Girls
Price: $8.99


First Impressions
At first glance this 9-piece puzzle appears deceptively simple. However, because there is no clear edge, kids get drawn into a brain "scramble." A panel of historical facts about Alaska and a trivia question are included on the packaging.

Developmental Stage
Puzzles help build cognitive development by teaching children to pay attention to visual cues. Kids enjoy the challenge of figuring out the right placement of the pieces and the feeling of accomplishment when they solve the puzzle.Visual-spatial skills are put to the test with this fun, complex puzzle. Patience, perseverance, critical thinking and fine motor skills are targeted as well.

Recommendation
This is one of the most unique puzzles I have seen in a while. Alaska Scramble Squares was challenging even for one 10-year-old I work with. While the suggested age range is 4 and up, younger kids will most likely require assistance from parents or older siblings to solve this brain teaser.With only nine pieces, it is lightweight and easy to take anywhere. It kept the kids fascinated for quite some time!

---
In-Jean-Uity by KIDS CAN PRESS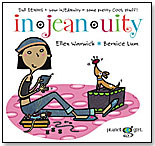 Age:
10 and up

Gender:
Boys and Girls
Price:
$12.95
First Impressions
"In-Jean-Uity" is a book full of creative ways to turn old jeans into cool new stuff. Detailed instructions enable kids to make numerous articles of clothing and accessories including skirts, halters, purses and much more!
Developmental Stage
Kids of all ages enjoy the opportunity to get creative. And as they grow older, kids take a more active role in deciding what to wear. This book encourages kids to participate in creating their own sense of style. "In-Jean-Uity" targets multiple skills, including planning, sewing, reading and creativity.
Recommendation
This book comes with a strong recommendation. Directions for each project are clearly stated and easy to follow. Colorful pictures illustrate each step, making this book very user-friendly. While most projects are simple enough for teens to complete independently, younger kids may need assistance from parents for tasks that require scissors.
Kids love clothing and accessories made of jean material. Parents love the idea of recycling old, worn out jeans and turning them into something their kids will use. And teachers can use projects from this book for classroom or small group activities. Sewing can be a positive shared activity and provides a bonding experience for children and adolescents. I am planning to use this book for a girls group.
---
Ladies First
by
NATIONAL GEOGRAPHIC SOCIETY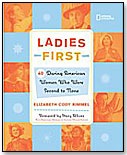 Age:
10 and up

Gender:
Boys and Girls
Price: $18.95

First Impressions
"How is it possible that a woman who is unfit to vote, should be the mother of, and bring up, a man who is?" — a quote by Carrie Chapman Catt (1859-1947), the first woman to call for a League of Women Voters. "Ladies First" is a book full of inspiration. The lives and achievements of 40 of America's most impressive women are explored in this book. Phillis Wheatley, Pearl S. Buck and Katherine Graham are a few of the women with famous firsts who are celebrated in this book.
Developmental Stage
During pre-adolescence and adolescence, role models become very important for girls to develop a positive sense of self. This book ignites the belief that girls can do just about anything then put their minds to. "Ladies First" is a great self-esteem builder for girls. Reading skills and historical knowledge are targeted as well.
Recommendation
This book can be used as an educational tool, for history projects and pleasure reading. Every girl should have a copy of this wonderful book. And as one of my female clients stated: "Boys should read this book, too!"

---
This Little Piggy and Other Rhymes to Sing and Play
by
CANDLEWICK PRESS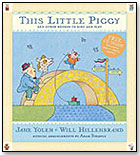 Age:
1 to 5

Gender:
Boys and Girls
Price: $19.99

First Impressions
"This Little Piggy and Other Rhymes to Sing and Play"is a beautifully illustrated book of nursery rhymes, songs and games. Included are popular sing-along games like "Where is Thumbkin?" and other lesser-known songs and rhymes such as "Snip a Nose Day." The book comes with a cheerful CD, which is a great accompaniment to the book.
Developmental Stage
The games and songs are targeted for infants and preschoolers who are just starting to develop an interest in reading and singing. Listening skills, learning songs and social skills are enhanced with this book. It is a great way to engage young children in an interactive reading experience.
Recommendation
The short, silly nursery rhymes are captivating for toddlers who are expanding their attention spans. The CD songs are also fun for kids to move and dance to. The little ones with whom I work were delighted by the songs and games that involve hand motions, and requested to do them over and over again. This book is a great resource for parents, teachers, and anyone else who works with babies and young children.
---
Dogs Wow Dogs
by
Animal Wow Entertainment, Inc.
(
ToyDirectory
)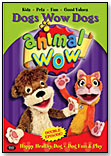 Age:
3 to 7

Gender:
Boys and Girls
Price: $19.95

First Impressions
This funny, musical DVD is a terrific tool to teach children about how to properly care for and treat animals. Puppets, real children and dogs, animation, and songs are combined to provide a playful, educational experience. "Stately," the mutt, and "Remix," the cat, are the two main characters who answer kids' questions such as "What kinds of dogs are there?" and "How do we prepare to bring home a new dog?"
Developmental Stage
Knowing how to care for and interact with pets in a safe, responsible way is important for children of all ages. This DVD teaches kids how to be kind to pets. Animal safety is also covered, including topics such as how to ask for permission before petting a strange dog when out in public.
Recommendation
The clever combination of puppets, fairies, and real children and dogs make the Dogs Wow Dogs DVD stand out from typical kids' videos. There is also a 10-page Animal Wow coloring book that can be printed out from the computer. Dogs Wow Dogs is great for families with pets or families who are considering bringing a new pet into their home. What an entertaining way to teach children valuable lessons about how to interact with animals!
---
Street Smarts
by
K.C.'s PRODUCTION
(
ToyDirectory
)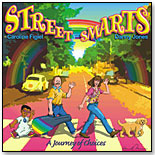 Age:
3 to 9

Gender:
Boys and Girls
Price: Not specified

First Impressions
Street Smarts is a CD full of songs that address common problems and social issues faced by kids. Informative messages are disguised in quirky, playful lyrics. Some of the topics include standing up to a bully, saying "sorry" after making a mistake and table manners.
Developmental Stage
Understanding how to handle everyday challenges, such as being teased by peers and learning to be polite, are skills that children need to be taught. Music is a great way to reinforce these skills because kids enjoy listening to the songs over and over again.
The lyrics from Street Smarts are catchy and kids can easily sing along: "No pickin, no drippin, no double-dippin, no slurpin, no burpin, no French-fry flippin, no screechin, no scratchin like the animals in the zoo, use your table manners ¾ you know what to do!"
Recommendation
Children love to sing and dance along to music — what a clever way to educate them at the same time!
---
Diary of a Worm & Friends Finger Puppets Playset
by
MerryMakers
(
ToyShow
)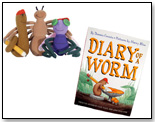 Age:
3 and up
Gender:
Boys and Girls

Price: $
15.00
First Impressions
A worm, spider and fly are not the most typical finger puppets — which is exactly why this trio is so appealing. The characters are based on the books "Diary of a Worm," "Diary of a Spider" and "Diary of a Fly."
Developmental Stage
Preschoolers and young kids can use these finger puppets for imaginative play and to act out scenes from the books. These finger puppets encourage creativity, imagination and social interaction. They can also be used to enhance a reading experience when they are played with in conjunction with the "Diary of a Worm" books.
Recommendation
The younger kids needed assistance putting the puppets on their fingers, but this did not stop them from exploring and initiating pretend play with the puppets. One of the toddlers with whom I work was instantly drawn to the colorful fly. The creepy crawly legs of the spider were a big hit as well.