---
Toy Sleuth: Opposites Attach
Robots Go Wooden and Light Embraces a Dark Side
This month,

TD

monthly Magazine's Toy Sleuth got taken up with some odd juxtapositions: wooden robots, ice sports in the living room, potatoes that transform … even the lighter side of death! We've got it all ... and many of these haven't even hit American shores yet.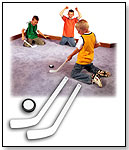 Wholesale Price: (Log in to view)

MSRP: $9.99

Age Range: 3 and upSKU or Item #: 29/08-03Launch Date: October 2006Gender: Boys And Girls





This hockey set brings hockey to a new playing field. It includes two 18" hockey sticks and The Carpet Puck, designed to create hours of indoor knee hockey fun. The puck is made of friction-resistant plastic to glide over carpet and durable soft foam to bounce off walls. It works on hard floors, too, and received The National Parenting Center Seal of Approval 2006. Launch date: October 2006.
— Kate Tatem, Junior Account Executive for Productivity Inc. said, "I've played around a bit with it in the office, and it's really fun! Probably the best thing about it is how it lets you practice a game indoors that is typically confined to a hockey rink." Just don't check against Mom's china cabinet or Dad's flat-screen TV.

ToyDirectory Product ID#: 12231

(added 4/6/2007)

.

AD
---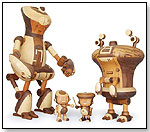 Wood Punk? Lumberbots? What does one call these finely crafted, amazingly designed wooden robots created by toy maker Takeji (Take-G) Nakagawa, whose motto is "to bring wooden beauty and quality into life in my own style"? Stylish they are. One almost wouldn't mind these robots destroying one's city, they look so good. "Trees take [a] long time to grow and show us their beauty. I think that I have responsibilities as a craftsman and an artist of breathing new life into these trees. I have a job to link 100 years in the past and 100 years in the future through my work." Not yet to the shores of the U.S.A., it's only a matter of time before these stunning robo-timbers invade our land.

ToyDirectory Product ID#: 13899

(added 7/3/2007)

.

AD
---






First there was Darth Tater, evil potato emperor. Now, on the heels of the Transformers comes Optimash Prime, the rock 'em sock 'em leader of the Autospuds who have come to Earth to save us from a severe mashing by the Deceptipotatoes (or some starchy situation like that). They are selling well at first invasion: Vicky, a sales associate at the Culver City, Calif., Target said, "They're flying off the shelves ... kids and adults both like them."

ToyDirectory Product ID#: 13901

(added 7/3/2007)

.

AD
---






Have a goth teen with an all-black room to accessorize? The Hanging Harry Light Pull puts a dark "click" to turning on the lights. With the limp, lifeless silicone rubber body of Harry just sagging and 6.5" of string/rope to pull, it's an interesting focal point to any interior designer's statement. Plus, it makes a great novelty gift.

ToyDirectory Product ID#: 13902

(added 7/3/2007)

.

AD
---
Writer's Bio:
Mark Zaslove is an entertainment industry veteran in developing content (writing, directing and producing television and feature films) for the major studios, including Disney, Universal and Warner Bros. A two-time Emmy Award winner for writing and recipient of the Humanitas Prize (for writing uplifting human values in television and movies), Mark is also Head of Content Development for Nice Entertainment.
Read more articles by this author
THIS BANNER IS AN AD:
---
---