---
This Issue's Highlights
What to Read in August
Skim these

TD

monthly Magazine stories to find out what you need to know for the ordering season. Read the summaries, then click the links to find out more.

Cover Photo: Calin by Corolle



TOO MUCH OF NOT ENOUGH

Got a toy that's too big for its britches? Driven mad by demand you can't supply? Afraid a current toy craze will turn off your customers for good? Retailers advise patience, rectitude and the courage to be uncool in How to Survive a Monster Hit.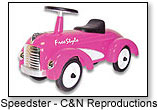 GET READY TO ORDER

If your baby and toddler lines are looking skimpy,

TD

monthly's selected some products for you in New Toys for New Folks (0 to 4 Years). There are individual plush stuffing kits from StuffySoft, an elephant stacking toy from Rich Frog Industries, a twisty dominoes set for little ones by Blue Orange … and more!



Slightly older kids might appreciate mind-bending mosaic puzzles from Paradoxy Products, transparent giant building "blocks" from Tinker Minds, a yoga-inspired board game from Spiraling Hearts … and more in Gifts for Real Kids (5 to 8 Years).

Kids who've seen it all but still want more might be tempted by a flight school in a box

from Tree Toys Corp., a new NASCAR racing board game by Griddly Games Inc., an engineering kit from Thames & Kosmos and more in Gifts for the Jaded (8 to 12 Years).


TOYS WITH STAYING POWER



Everybody loves a new toy … when it's new. But what about tomorrow? Or next week? Or next month?

TD

monthly's Roundtable moms and kids went back and re-rated the toys they'd tested from March to July, based on how often the toy was played with each week. Winners included Ernie Fire Engine by Wow Toys, Cub Cadet Lawn Tractor With Trailer by Peg Perego, Touchdown by K&T Toys Inc. and Karito Kids Ling by KidsGive. Find out what else kept kids' interest in Roundtable Roundup: Our Favorite Toys.



And to see how all the toys fared, read Roundtable Roundup: When New Toys Get Old.


ASTRA MARKETPLACE ON TDMONTHLY'S TOYTV

Find out what a great show you missed in Las Vegas by letting

TD

monthly's ToyTV show you the best of the new products and new companies at the ASTRA Marketplace. We have toy demonstrations by more than 50 manufacturers, a TDmonthly Video Top-10 New Toys list, and highlights from the Marketplace seminars. Plus, your peers share their favorite toys and pointers from the show.

We also shot 20 new TDmonthly ToyTV in-house demonstrations to help you finalize your ordering decisions.




BEST OF 650



TD

monthly Magazine uploaded more than 650 new products since last month. Because you might not have time to browse them all, we picked out some favorites for you. Here are a few; read

TD

monthly's August Staff Picks to see the rest:
Papermill Complete Kit
by
ARNOLD GRUMMER'S PAPER MAKING
Other products from ARNOLD GRUMMER'S PAPER MAKING
Shop for It!







Arnold Grummer's Papermill turns household wastepaper into stationery, cards, paper ornaments and more in just minutes. Easy to use, set up and clean up, this kit makes 5.5" x 8.5" paper and comes complete with supplies needed to form, press and dry paper. All supplies are high quality and reusable. Individuals can learn how to use botanicals and paint with pulp in Arnold Grummer's Guidebook, a step-by-step guide with three decorative techniques, directions for six projects and tips on product care.

ToyDirectory Product ID#: 13887

(added 7/3/2007)

.

AD
---




Wholesale Price: (Log in to view)

MSRP: $16.95

Age Range: 3 and upSKU or Item #: 00250Launch Date: February 2007Gender: Boys And Girls





In this observation game, players race to get the farm animals home by calling the animals by name ("Pig! Cow! Duck!") or by making the animals' distictive sound ("Oink! Moo! Quack Quack!"). The adorable tri-colored farm animals all coincide with different combinations of the three dice. All the components are made of quality wood and are housed together in a wooden carrying box. "The wooden box makes a nice addition to the kid's room and the cotton pouch is convenient for carrying Quack Quack wherever you go," Blue Orange Games Sales Manager Adeline Bertrix told TDmonthly. This product is a winner of the 2007 Oppenheim Toy Portfolio Gold Award, the 2007 Dr. Toy Best Product Award, the 2007 Parents' Choice Foundation Parents' Choice Recommended Award and the 2007 Creative Child Award Preferred Choice Award. Launch date: February 2007.

ToyDirectory Product ID#: 13751

(added 6/27/2007)

.

AD
---

Writer's Bio:
ALISON MAREK is an award-winning writer, director and cartoonist whose work has been published by Fairchild Publications and DC Comics (Piranha Press), broadcast on Showtime and other cable networks, and viewed worldwide in film festivals. See her short films and print work on www.alisonmarek.com. Watch her nefarious villains in the web series www.MuggsMovers.com. Get inspired by her cartoons "Daily ARFFirmations to Unleash Your Inner Fido" at www.ARFFirmations.com. Phew! And then ...
Read more articles by this author
THIS BANNER IS AN AD:
---
---