---
Homeschoolers: Hands-On Science
Families Feel the Heat and Take on Physics
TD

monthly Magazine's Homeschool Roundtable experimented with hands-on kits this month, growing a desert from the ground up with DuneCraft's Desert Hothouse and putting the principles of physics into action with Thames & Kosmos' Physics Workshop.

Roundtable participants were Julie Petoia, RN, with Cabot Lee (12), Talia (11), Malynne (9), Jacob and Gabriel (6) and Jeremiah (5); Alison Shanahan with Elizabeth (14), Emily (12) and Katie (7); Teresa Wilson, editor of "HOMES Newsletter," with Timothy (14), Andrew (11), Elise (8) and Steven (6); Jill Zuidema, former retail manager, with Alyssa (7); and Susan Ledford, editor of the "Homeschool Resources Directory for SC," with Victoria (12), Joe (7) and Griffin (1).

Desert Hothouse from DUNECRAFT INC.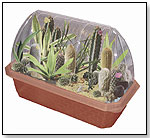 Gender: Boys and Girls
Category: Science & Nature
MSRP: $14.99



TD

monthly rating:





What It Is: A self-contained plastic terrarium kit featuring cacti and succulent seeds, natural desert sand and gravel, appropriate planting mixture, and an instruction sheet and information booklet. After planting the seeds, the desert scene can be decorated with the included desert boulders and three plastic desert animals. Instructions include long-term maintenance tips, information on varieties of cacti and succulents, plus an explanation of how terrariums work and their history.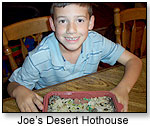 What the Moms Thought: Petoia enjoyed the kit's compact size and quick planting results. Ledford said, "Joe (7) could do the kit independently." Wilson raved, "Low maintenance!" And Zuidema agreed, also noting "the simplicity of the terrarium." Shanahan commented, "We do not live in a desert area, so cacti were more interesting than some other more common plants might have been."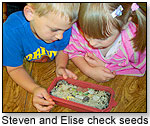 What the Kids Thought: Jeremiah (5) asked, "Will animals live here?" Wilson said, "The children were very curious about the types of plants included in the kit and the reference to bonsai." Shanahan said of her girls, "They were surprised at the amount of water required to germinate cacti." Zuidema reported that "Alyssa enjoyed setting the desert scene." And Joe (7) said, "The instructions were clear and simple, and it was easy for me to do." He also raved, "Cool! I've never seen cactus seeds before!"

How to Improve It: Petoia suggested a more substantial base. Zuidema suggested "increasing the size of the terrarium and perhaps having the seeds sorted by variety." Joe (7) recommended "including more sand" and "using a clear smooth plastic cover so you can see inside easier since you can't take the lid off to see your plants growing."

Roundtable Roundup: Joe said, "It was fun growing new plants you might have never seen." Shanahan said her children "enjoyed the project."

---
Physics Workshop from THAMES & KOSMOS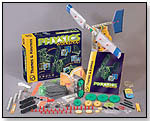 Age: 8 and Up
Gender: Boys and Girls
Category: Science & Nature
MSRP: $49.95



TD

monthly rating:





What It Is: A kit that makes it easy to learn the fundamental laws of physics. It contains more than 300 pieces used to build 36 models and conduct 37 experiments. Included is a full-color 64-page manual featuring assembly instructions, experiments and real-world physics applications, as well as fun activities. It can be used to build simple machines, a pendulum clock, a sail car, a Mars robot, a wind-power generator and more.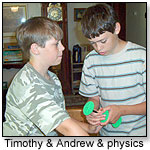 What the Moms Thought: Petoia said, "Children can do the projects independently and understand some basic concepts [of physics] as a result." Shanahan commented on the convenience of having pre-packaged experiments to go along with the physics instructions. Wilson called the 64-page manual "wonderful for science curriculum." Ledford appreciated the opportunity for her children to use and become familiar with the metric system.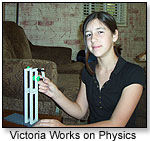 What the Kids Thought: "Talia (11) and Malynne (9) immediately gravitated to it and were excited to do the projects," said Petoia. Shanahan's daughters found the kit pieces frustrating to use. However, "Alyssa (7) tried to anticipate the outcome of the experiments and participated enthusiastically," said Zuidema. Wilson reported that "Timothy (14) liked being able to apply what he learned and being able to 'tutor' his younger siblings." Victoria (12) loved the booklet "because it explained concepts very clearly; I could understand everything easily."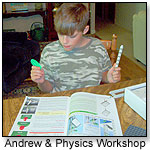 How to Improve It: Wilson suggested the kit come inside a plastic carrying/storage case. Zuidema and Ledford both would like to see more detailed building instructions. Of the items not included but necessary to complete the experiments, Ledford said, "We found that coming up with a wooden match, tea candle, thick plastic, etc., took time away from the experiments." Shanahan added, "If I am going to spend a significant amount of money for a prepackaged kit of experiments, I am very unhappy to find that not everything is in the box."

Roundtable Roundup: "This is so cool!" raved the Petoia children. Zuidema said, "The experiment manual really sparked Alyssa's interest in the experiments." Victoria (12) would tremendously enjoy another kit like this. "It's easier to learn physics by doing hands-on experiments than by reading a textbook," she explained.

Photos of children by SUSAN LEDFORD

Writer's Bio:
Susan Ledford is the writer, editor and publisher of the "Homeschool Resources Directory for S.C." She has been evaluating toys and games for
TDmonthly
's Roundtable reviews since 2005. She also is a homeschool veteran of seven years.
Read more articles by this author
THIS BANNER IS AN AD:
---
---