---
Why b. dazzle, inc. Chose North America
Company's Principles Drive Quality Production
"We do not want to have our customers' orders delayed while we wait for transoceanic freight." — Marshall Gavin, b. dazzle, inc.

Since the founding of b. dazzle, inc. in 1993, Marshall and Kathie Gavin have built their company into one defined by hard work, excellent customer service and uncompromising quality. Their two product lines, Scramble Squares® and Color 'n Seek®, are respectively manufactured in Canada and the United States. Marshall recently shared with

TD

monthly Magazine why b. dazzle, inc. prefers to keep production on American soil, and how they do it successfully:

In order for b. dazzle, inc. products to compete with products made in Asia and other very low-cost labor markets, we work very hard to maintain a very low overhead.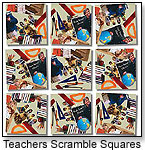 ALL IN A DAY'S WORK

Kathie and I each have the responsibilities and duties of what would be at least three full-time jobs in the usual corporate setting.

In addition to our executive management, product design and literary duties, both Kathie and I staff our wholesale trade show exhibit booths for at least 20 trade shows annually. We work an average of 12 hours per day, six days per week, and generally work from four to six hours on Sundays.

Because we have a commitment to outstanding customer service, but must maintain very tight staffing, we are careful to employ and keep in our employment only those persons who consider service to be a virtue and who are eager to be of help to others, especially to our customers!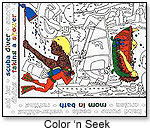 PRACTICALITY IN PRACTICE

We have both altruistic and practical reasons for producing our products in America.

On a practical basis, we believe that quality sells, and we believe that we have a much better control over the quality of our products when they are made in America.

In addition to maintaining high quality standards, our service standards require that we maintain in stock what our customers want to order. For that reason, we do not want to have our customers' orders delayed while we wait for transoceanic freight to arrive and clear customs.

ALTRUISTIC CONCERNS

Our altruistic reasons are themselves practical when one considers the big picture. Many products sold in America are made offshore in factories that are little more than sweat shops. Some even employ child labor, housed in dormitories.


Some of these factories make a business of producing cheap copies of original products created by entrepreneurs who have invested their ingenuity and great amounts of their money, their energy and their time.

We believe that greed spawns a vicious circle of greed, which ultimately undermines our economy and society, ironically costing the jobs of the very American workers who have chosen to support offshore manufacturing by buying cheap copies of products innovated in America.

We cannot imagine a circumstance that would cause us to abandon our values. There are principles more important than profits.

Here are a few of b. dazzle, inc.'s North American-made products: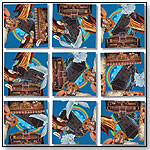 b. dazzle, inc.'s Noah's Ark Scramble Squares nine-piece brain teaser puzzle is based upon literal translations of the Bible's Book of Genesis, supported by archeological finds and historical research. This hopeful and optimistic approach to the classic theme shows the ark at the end of The Great Flood.

ToyDirectory Product ID#: 9643

(added 10/6/2006)

.

AD
---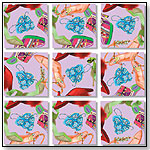 What girl doesn't love to play dress up? "Ladies' Shoes" Scramble Squares brain teaser puzzle is the stylish answer for any fashion-conscious mother or daughter. Award-winning Scramble Squares nine-piece puzzles, in more than 120 exquisite styles, teach patience, perseverance, fine motor skills and critical thinking, and help maintain mental agility while providing stimulating entertainment.

ToyDirectory Product ID#: 9642

(added 10/6/2006)

.

AD
---






"Playing with dolls" takes on a whole new meaning and challenge with this pretty, but tough, Dolls Scramble Squares® puzzle. At under $10.00 retail, Scramble Squares® puzzles make inexpensive, but highly entertaining and valued gifts for anyone, ages 4 to 104, for Halloween, Christmas, Hanukkah, Easter, Father's Day, Mother's Day, birthdays, get well, graduation and travel.

ToyDirectory Product ID#: 14000

(added 7/9/2007)

.

AD
---
See other articles on b. dazzle, inc. and Scramble Squares®:
How a 5-MINUTE CHALLENGE® Trumps Challenging Times: Scramble Squares® Puzzles Offer Elegance and Economy (VIDEO article with merchandising tips)
b. dazzle, inc.'s Dazzling Rise: Ancient Egyptian Inspiration Brings 21st Century Success
b. dazzle, inc. and its 21st Century Business Model
b. dazzle, inc. Introduces a New Exciting Puzzle for All

Writer's Bio:
Julie L. Jones has written articles for both newspapers and magazines. Before joining the staff of TDmonthly Magazine, she worked as a communications writer and provided editorial support for a market research company.
Read more articles by this author
THIS BANNER IS AN AD:
---
---