---
PRESCHOOL ROUNDTABLE: Art to Go
Kids Travel With Dora and Portable Chalkboard
"[The Roll 'n' Go Chalkmat] reinforced our belief that simple entertainment is the best kind." — Heather Jones, mother of three

TD

monthly Magazine's Preschool/Early School Roundtable has been active in the arts, exploring products that put innovative twists on classic items: crayons that do more than color from International World of Toys, and a portable chalk "mat" from Flourish.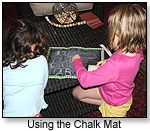 Participants were World Bank policy advisor Gail Richardson with Alexander (7) and Jessica (5); stay-at-home mother Heather Jones with Reece (8), Cameron (6) and Meg (4); stay-at-home mother Shannon Harris with Tripp (6); and sales executive Stephanie Kirby with Sarah (6) and Emma (5).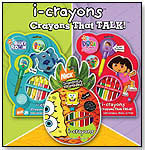 Dora Talking iCrayons by INTERNATIONAL WORLD OF TOYS
Age: 3 and Up
Gender: Boys and Girls
Category: Educational



TD

monthly rating:





What It Is: These interactive crayons feature Dora the Explorer. At the push of a button, the Dora theme song plays and a specific color of crayon is requested. When the correct color is placed in the talking Dora "head," the color is spelled in both English and Spanish.

What the Parents Thought
"Dora is such a recognizable and appealing character for the 3- to 6-year age group that there is instant attraction when anything Dora-branded is produced, no matter what the actual content," Kirby said. Harris, whose son is bilingual, raved, "We loved the Spanish-speaking crayons."

Jones thought the crayons an "interesting concept" but found the high-pitched voice made the words difficult to understand. Richardson also called it a novel idea and liked that "there were enough [colors] that a child had a full complement of choices in order to do a nice drawing and keep themselves entertained."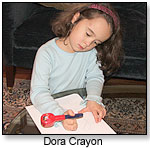 How the Kids Reacted
Instantly attracted to the crayons, Shannon's son Tripp (6) "loved hearing the crayons say what their color was." Jessica (5) laughed when the crayons "sang" and "was certainly encouraged to continue drawing," her mother said.

Although initially eager to hear the crayons talk, Jones's three children were quickly disappointed when they couldn't understand the words. "Can you make her say that again?" Meg (4) asked.

How to Improve It
Harris thought the actual color produced by the crayons was dull, but Richardson thought the colors "nice." The Jones and Kirby children wound up using the crayons without the "cumbersome" attachment.

Jones suggested having Dora speak more slowly, in a lower-pitched voice. Gail found that when crayons fell off the table, "several of them broke off into the singing element, which meant they did not work as singing crayons again." She suggested giving the crayons a square shape to prevent rolling and subsequent breakage.

---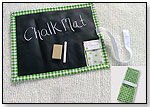 Name: Roll 'n' Go Chalkmat
Company: FLOURISH
Gender: Boys and Girls
Category: Arts & Crafts



TD

monthly rating:



What It Is:
Portable and practical, the Roll 'n' Go Chalkmat features a placemat on one side and a reusable, erasable chalk surface on the other.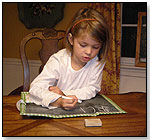 What the Parents Thought
"It is quaint, practical, simple and quite functional," Richardson said, noting its utility for travel or dining out. She also found its simple design refreshing: "This is a toy that allows a child to explore through creativity — their own creativity — since it is a blank palate until the child fills it up."

Jones "loved how the placemat wraps up, carries its own chalk, and is colorful and kitschy!" She also called it a classic toy, "one that encourages their imagination, caused them to interact with us by providing a surface on which to play games, and reinforced our belief that simple entertainment is the best kind!"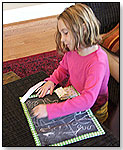 Harris found that the chalk dust made it too messy to use inside the house.

How the Kids Reacted
"It was a great surprise for the kids to open up the mat and find a chalkboard inside," Richardson reported. "Being a chalkboard, it was familiar to [Jessica (5)] and she could immediately start to play with it."

"Look what I drew!" yelled Meg (4), who liked being able to erase and start over. "It certainly made for good tic-tac-toe games!" reported Harris, whose son, Tripp (6), enjoyed taking it to restaurants.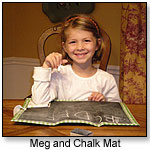 How to Improve It
Richardson suggested offering placemat design choices to personalize the product. Jones and Harris would like to see a larger surface offered for older children. Jones also suggested that the packaging could be redesigned to appeal more to boys.

Kirby suggested including different colors of chalk, and pointed out that the specific instructions to properly prepare the mat before use should be very visible upon opening the package to ensure that they are seen and followed. "This is important or you cannot erase," she explained.

Writer's Bio:
Susan Ledford is the writer, editor and publisher of the "Homeschool Resources Directory for S.C." She has been evaluating toys and games for
TDmonthly
's Roundtable reviews since 2005. She also is a homeschool veteran of seven years.
Read more articles by this author
THIS BANNER IS AN AD:
---
---