---
DOLLS ROUNDTABLE: Love Is Green
Brightly Colored Doll Makes Perfect Playmate and Quality Collectible
"Every little girl is going to want the one with pink hair and the one with lavender hair to go with her." — Virginia Davis, doll collector

The participants of

TD

monthly Magazine's Dolls Roundtable appreciated the bright color and small, cuddly nature of Eva, a 12" cloth doll from Ella and Friends, though some believe the suggested retail price might be too high, even for a quality doll.

Ella and Friends dolls are designed by New Zealand's Kate Finn, whose daughter Margo James, a fashion design major, eventually took over the business. The dolls are available in Australia, New Zealand, Europe and the United States.

Roundtable participants included Ruth Mandt with granddaughter Paige (6); Barbara Smith with grown daughter Amanda Forrest and granddaughters Sydney (7), Savannah (6) and London (2); Collette Shockley, owner of the Littlest Princess Doll Shop in Norcross, Ga.; Kim Hobbs, owner of Hobbs House of Dolls in Marietta, Ga.; and doll collector Virginia Davis.


Ella and Friends Dolls - Eva by Kate Finn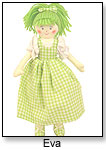 Age: 6 months and Up
Gender: Girls
MSRP: $24.00



TD

monthly rating:





PLAYABILITY

"Easy to pose and play with!" exclaimed Paige (6). Both she and London (2) played with the doll extensively.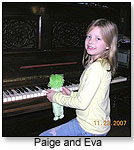 "(Paige) loves to dress and undress it," reported grandmother Ruth, who said "The dolls are designed for children to actually play with." She liked that the clothing can be easily removed and washed.

London (2) called it "cuddly and snuggly," reported mom Amanda, who appreciated that the doll is easy to transport. "It is great for [my daughters] to sleep with," she added.

The green hair was a hit with several participants. Savannah (6) and Paige (6) both loved it. Smith commented, "I think the green hair makes it something different from the other dolls they have." Collette was reminded of "the 'green' environmental projects to save the planet."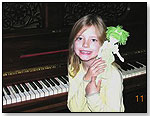 "Because of their heirloom quality and their reputation for longevity, these dolls are sought by collectors," commented Virginia. "Every little girl is going to want the one with pink hair and the one with lavender hair to go with her."

"The doll is exceptional in detail and quality," Kim said.

Collette, also a storeowner, commented, "Parents who are looking for toys not made in China will love this."

VALUE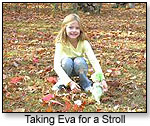 Ruth and Barbara agreed that the doll is worth its price. But Collette fears parents may not want to pay so much for a small cloth doll. "I've had dolls similar to this in my shop and they don't seem to sell. I don't know why," she explained. Kim agreed: "I'm afraid parents would go for the less expensive ones."

Virginia dissented, however. "Parents who want quality toys for their children that are safe, washable and not made in China should expect to pay this much," she said, "It is made for rugged play and could last through a whole family of children."

IMPROVEMENTS



Amanda said she would like to see extra outfits sold separately, or a three-pack of the dolls featuring the three hair colors. She and Virginia suggested the company develop a storyline to make the dolls more interesting to older children.

"I would also like to see the three sizes as sisters … dressed alike," Virginia said. "That way, siblings could have the same doll but in a size appropriate for them and this would promote playing together."

Kim and Collette think that lowering the MSRP might be an alternative to having the dolls placed in more retail stores.

Writer's Bio:
Virginia Davis is a freelance writer who is considered an expert in the area of dolls and collectibles. She has written hundreds of articles on dolls and toys, as well as other subjects, for numerous publications. She lives in Georgia.
Read more articles by this author
THIS BANNER IS AN AD:
---
---