---
Retailing Tips: Is "Hot" Too Hot for You?
How to Determine if Trendy Toys Are a Fit
"So often we turn people on to something before the majors (big-box stores), and then once they bring it in, we can't get it." — Fred Meyer, Meyer's Toy World/USA Baby

Specialty toy stores aren't the traditional place to find the "hot" toys seen in TV commercials and plastered throughout holiday advertisements, but every once in awhile, a toy will steam-up in even the most sedate mom-and-pop store (anyone heard of Ganz's Webkinz?).

Here's what retailers told

TD

monthly Magazine about stocking these toys … or escaping the heat:

1. Understand Your Clientele. "A lot of customers don't want computer-based toys (such as Webkinz). That's why they come to our stores," Bruce Beck, owner of BJ Beck's Toys in Cedarburg, Wis., told

TD

monthly. "Our customers want toys that use imagination, not electricity."



2. Stick to Your Philosophy. Terri Bracken, owner of Earth Explorer Toys in Zionsville, Ind., has no regrets for avoiding the Webkinz frenzy. "My philosophy is 'no screens,'" she said. "I looked at Webkinz because they were plush. But when I went to the show, there were two kids fighting over the computer for a half-hour, and I decided it did not fit with our philosophy."

3. Know Your Competition. In the specialty toy market, if the competition carries an item, you might want to ignore it or favor something comparable. "We decided not to carry Webkinz when we moved to our new location because a competitor was already doing that," said Cathy Gabay, owner of The Toy Parade in Salina, Kan. "It just didn't make sense."

4. Consider Your Source. "Can we make money? Can we get the toy from our source if it does get hot?" asked Fred Meyer, owner of Meyer's Toy World/USA in Battle Creek, Mich. "So often we turn people on to something before the majors (i.e.g, big-box stores such as Toys R Us, Target and Wal-Mart), and then once they bring it in, we can't get it."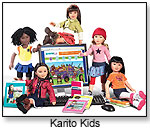 5. Fit Your Niche. "We need to make sure each toy fits with the others we carry, that they blend in well," said Katie Frederick, owner of The Wooden Rainbow in Cedar Rapids, Iowa. "We have Karito Kids [by KidsGive] and those are hot, but they fit with our other lines."

6. Understand Consumer Buying. Cathy Albrow, owner of Creative Learning in Grand Rapids, Mich., said that since the Ty Beanie Babies craze, she's been more careful with collectible toys. "We don't like to see our customers spending a fortune to get each piece," she told

TD

monthly. "We stand for conscientious consumerism."

Knowing your customer and supplier, and sticking to your store's philosophy can help you make smart decisions about the next hot toy — and whether or not your customers will go for it. For Owner Greg Larson of Larson's Toys and Games in Columbus, Ohio, the equation for success is simple: "It's a gut instinct and timing," he summed up.

Writer's Bio:
Terri Hughes-Lazzell is a freelance journalist based in Ossian, Ind. After spending nearly a decade as a daily newspaper reporter, she has worked as a freelance journalist for more than ten years, writing about a variety of topics. Her work appears in newspapers, magazines and specialty publications nationwide.
Read more articles by this author
THIS BANNER IS AN AD:
---
---