---
Six Predictions for the Toy Industry in 2008
Mass-Market Innovation May Falter Under Pressure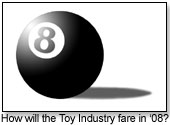 Here's a glimpse of what the toy industry can expect in 2008 — a year of increasing costs and decreasing demand that may favor innovation within the specialty market, but squelch risk-taking in the industry overall.

1. Costs Will Rise

• Chinese currency will continue to rise against the dollar, estimated at between 6 percent and 8 percent.
• Chinese manufacturing costs are increasing. "[They] will become one of the important overhang issues starting in 2008," one Goldman Sachs analyst said.
• Tougher safety standards are likely to add to the cost of manufacturing toys abroad.
• Diversification to other low-cost countries is not a viable alternative. Even with the pressures mentioned above, China will remain the most competitive toy manufacturer.

2. Demand Will Decrease

These factors may lead to a further decline in toy purchases:
• Economic: Crude oil prices of $80 per barrel will result in gasoline prices averaging $3.23 per gallon and home heating costs of $3.40 per gallon, marking an increase over 2007 of about $500 per year per family, which is half of the $1000 annually spent by the average family on toys. On Jan. 2, oil hit $100 a barrel.
• Demographic: The U.S. birth rate has steadily increased since 1976, when it stood at 1.7 births per female. It reached 2.1 births per female in 2006 — a number that's expected to remain unchanged for 2008. The continuing KGOY [Kids Grow Older Younger] syndrome also contributes to a shrinking consumer group.
• Competitive: The penetration of electronic products — video games, cell phones, iPods, etc. — at the expense of toys into the younger age brackets will continue. The average age at which children begin using consumer electronic devices was 8.1 years in 2005 and 6.7 years in 2007. It's projected to fall to 6 years in 2008.
• Innovation: The ups and downs of the toy market relate to the presence or absence of innovation on the big-box retailer level (e.g., Toys R Us, Target and Wal-Mart) — the availability of must-have toys. The emergence of such a toy in 2008 is unlikely, given the product portfolio showcased at the Toy Industry Association's Fall Toy Preview in October. (See also No. 6 below.)

3. Consolidation in Channel Market Shares Will Continue

In 2007, these channels held the following approximate shares of the U.S. toy market:


| | | |
| --- | --- | --- |
| Big-Box Retailers | Wal-mart, Target, Toys R Us | 55% |
| Other Mass Retailers | Costco, Walgreens, Meijer, Shopko, etc. | 19% |
| Specialty Retailers | Learning Express, etc. | 20% |
| Internet Retailers | | 6% |


• Big-box retailers increased their share in 2007 by 1 percent from an estimated 54 percent at the expense of other mass retailers. This trend is likely to continue given big-box retailers' advantages in terms of pricing, efficiency and assortment.
• For the first time in years, specialty retailers successfully defended their market share and are expected to continue doing so in 2008 for two reasons: Consumer fears over 2007 toy recalls put the onus on big-box retailers, and only specialty retailers were in a position to offer a sufficient variety of non-Chinese toys.
• The internet will continue to grow rapidly in 2008.

4. Innovation in Materials Will Accelerate

Buyers say there is increasing discussion among big-box retailers on how to exploit mounting ecological and safety concerns by consumers. This concern is clearly shown by the sharp increase in Google searches: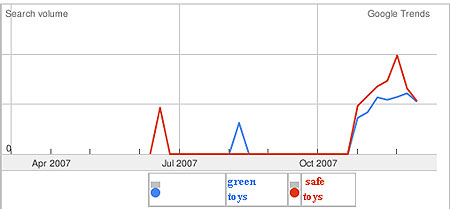 • Eco-friendly packaging is likely to become an important proposition because global warming concern will bring wasteful and recycle-resistant packaging into the spotlight. Also, minimal packaging improves shelf space usage.
• A switch to "green" toys —using natural materials — will not only appeal to environmentally sensitive consumers but also to those concerned about toy safety.
• RFID (radio frequency identification) usage will increasingly be mandated to ensure that unsafe toys can immediately be tracked to their origin and production and distribution can be shut down before reaching consumers.

5. Consolidation of Manufacturers Will Accelerate

A number of small- to medium-sized toy manufacturers will be bought out or shut down in 2008 because of disappointing 2007 results. Two have already agreed to acquisitions and four others are either in active negotiations or in the crosshairs of would-be acquirers.

6. Product Innovation Will Languish at Big Retailers

Product development control has shifted away from manufacturers to big-box buyers, who tell the manufacturers what to make at what price based on costs from their private-label suppliers. Small manufacturers hence have less opportunity to meet these price targets, and large manufacturers have less incentive to innovate since any new product idea must represent a value similar to the one the product replaced.

Secondly, about one-third of toys sold at big-box and mass retailers are based on a license. Given the cost of the license, which typically cannot be passed on to the retailer, the trend is to see the license itself, not the product, as the main differentiator.

Product innovation will hence increasingly focus on small manufacturers and specialty stores.

Writer's Bio:
Lutz Muller is a Swiss who has lived on five continents. In the United States, he was the CEO for four manufacturing companies, including two in the toy industry. Since 2002, he has provided competitive intelligence on the toy and video game market to manufacturers and financial institutions coast-to-coast. He gets his information from his retailer panel, from big-box buyers and his many friends in the industry. If anything happens, he is usually the first to know. Read more on his website at www.klosterstrading.com.
Read more articles by this author
THIS BANNER IS AN AD:
---
---