---
TDmonthly's Book Expert
One Educated Bookworm's Opinion
If you want to know which books to sell in your toy store, find out what the kids have to say. Each month, children's book author Amy Downing reads new titles to children, gives her educated opinion on positioning and sales to

TD

monthly Magazine readers, and rates them with 1 to 5

TD

s (for

TD

monthly!), with "5" as the highest rating.

With the lineup below, she revved-up her IQ with a book about "everything," learned interesting facts about all sorts of monsters and took a journey to learn about travel.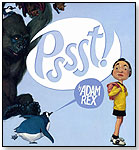 Title: Pssst!
Author/Illustrator: Adam Rex
Publisher: Houghton Mifflin Harcourt
Gender: Boys and Girls
Age: 7 and Up
MSRP: $16.00



TD

monthly rating:




What It Is: This creative picture book follows a girl through a trip to the zoo. As she visits each animal, that animal asks her for some kind of object. Youngsters will love seeing what these objects become at the end of the tale.

Why You Should Carry It: The art and the story are equally compelling. It will add a fun dimension to any kid's next trip to the zoo.

What Kids Think: Children loved this one.

---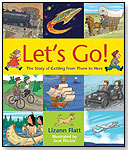 Title: Let's Go! The Story of Getting from There to Here
Author: Lizann Flatt
Illustrator: Scot Ritchie
Publisher: Maple Tree Press
Gender: Boys and Girls
Age: 6 and Up
MSRP: $16.95



TD

monthly rating:




What It Is: This full-color picture book on transportation shows how people first traveled to North America, then across it and beyond. "Let's Go!" begins with natives trudging across frozen land and then building canoes and sailing ships. It continues with trains and buggies, all the way through to planes and spaceships.

Why You Should Carry It: The illustrations are cute enough, and it introduces different modes of transportation in a fun way. However, there is nothing particularly noteworthy about this title. The concept is best for 2- to 4-year-old children, while the package fits more for a 7- or 8-year-old. This title would be most effective in a large, board-book format.

What Kids Think: Children over 6-years-old had no interest in even opening this book. However, "Let's Go!" does make a good read aloud with its simple, rhyming text.

---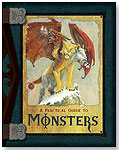 Title: A Practical Guide to Monsters
Author: Nina Hess
Illustrators: Emily Fiegenschuh, Beth Trott, Eva Widermann, Sam Wood
Publisher: Mirrorstone
Gender: Boys and Girls
Age: 10 and Up
MSRP: $12.95



TD

monthly rating:




What It Is: This collection of original and classic creatures features more than 30 crawling creeps, flying fiends, mythical monsters and classic ghouls. Each monster is pictured in a full-color illustration along with detailed habitats. There is also a sidebar highlighting basic facts, such as where the monster lives, what it eats, its language, and the best ways to defend oneself against it.

Why You Should Carry It: This title is a perfect fit for any fantasy display. It appeals to both children and adults with complex drawings and easy-to-read, entertaining text. The cover is not as compelling as competing books, but the interior is certainly worth viewing. Since the book is assembled as a source book on monsters, it really should include an index and, at the very least, a table of contents.

What Kids Think: The children could not get enough of this book. The 6-to 8-year-olds picked it up again and again, particularly to study the pictures and freak themselves out.

---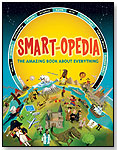 Title: Smart-opedia: The Amazing Book about Everything
Author: Multiple Authors
Publisher: Maple Tree Press
Gender: Boys and Girls
Age: 8 and Up
MSRP: $22.95



TD

monthly rating:




What It Is: This compendium on science, history, geography, famous people and more features over 85 interesting subjects divided into nine chapters, from Astronomy to The Arts. Entertaining sidebars on important people, cool number facts, and thought-provoking quotes are sprinkled throughout. Each chapter features a fictionalized newspaper called "The Know-It-All News" that highlights additional subject-specific information. As does any source book worth its words, "Smart-opedia" contains both an index and thorough table of contents.

Why You Should Carry It: Have you ever wondered how far a flea can jump? What country is considered the "breadbasket of Europe"? What "Pocahontas" means? How many books were printed within the first 50 years of the invention of the printing press? You'll find the answers to all these questions in "Smart-opedia!"

Teachers and parents will love having a single book that covers such a wide variety of information. Both children and adults will enjoy the fun format — lots of pictures, small blocks of text and many sidebars.

What Kids Think: Put this book in the hands of an 8-year-old or up who enjoys facts, and you'll have one smart kid when he or she is done reading. Those who looked through it for only minutes came away with a few favorite facts to share.

---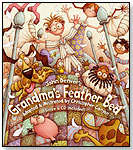 Title: John Denver's Grandma's Feather Bed
Illustrator: Christopher Canyon
Publisher: Dawn Publications
Gender: Boys and Girls
Age: 4 and Up
MSRP: $8.95



TD

monthly rating:




What It Is: One of John Denver's most famous songs (slightly revised) is put to clever, entertaining illustrations.

Why You Should Carry It: Almost anyone who has heard of John Denver knows "Grandma's Feather Bed." This title makes a great gift for adults who want to share this lively song with their kids or grandkids. The art is so creative and fun, the book is worth buying for the illustrations alone.

What Kids Think: The older kids enjoyed it, but the younger ones really giggled with the fun art and repetitive chorus. For any John Denver lover, this book is a must. I gave this gift to a 50+-year-old, and he adored it!

Writer's Bio:
Amy Downing has been in children's book publishing for more than 15 years. As the editorial director of a small juvenile publishing house in Los Angeles, she has developed hundreds of titles for trade, mass market, book clubs and fairs. She is also the author of more than 20 books for children, ranging from picture books to nonfiction titles for the library market.
Read more articles by this author
THIS BANNER IS AN AD:
---
---