---
Retailing Tips: Dealing with Insurance
Finding the Best Takes Work
"I'm getting ready to look (again) because we expanded the store and inventory and I want to make sure I have enough coverage." — Eric Masoncup, Geppetto's Toy Box

With additional reporting by Brenda Ruggiero, Virginia Davis and Ingrid Floyd

Deciding on insurance to ensure your business doesn't go down the tube after theft or fire — or even an accident that results in a lawsuit — isn't a job for the faint of heart. Business owners must take the lead and do their homework to find the right broker and the right coverage,

TD

monthly Magazine learned. Here are some tips:

1. Know State Requirements. "We're in Michigan, so the No. 1 thing we must carry is workman's compensation insurance," said Mike Castor, co-owner of Pentwater Toy Box in Pentwater, Mich.

2. Get the Right Kind: "Small- and mid-sized businesses can buy the business owners policy (BOP). Package policies are created for businesses that generally face the same kind and degree of risk," Loretta L. Worters, vice president of the Insurance Information Institute in New York, told

TD

monthly. "Some mid-sized businesses … may opt to purchase a more comprehensive policy."

3. Know What You're Getting: BOPs, for example, include the following: property insurance for buildings and contents owned by the company; business interruption insurance, which covers loss of income resulting from fire or another catastrophe that disrupts operations; and liability protection, which covers a company's legal responsibility for harm it may cause to others.


4. Buy What You Can. "Get as much liability as you can afford with a minimum of a $1 million policy," advised Manager Jon Sirugo of The Train Shack in Burbank, Calif. Njeri Snyder, owner of Blast Toys in Eagle Rock, Calif., also recommended "the most coverage you can afford with the lowest deductible."

5. Double-Up. Going through a company you already work with can be beneficial, as in the case of Snyder, who used the company that provides her homeowner's policy. "The place had a small-business policy, so we got a discount for having multiple policies with them," she said.

6. Check Brokers' Credentials. Check with rating agencies such as Standard & Poor's, Moody's and Best's to make sure the company is rated A or better, Worters suggested.

7. Find a Broker You Trust. "It was hard to find someone I could trust, and I'm not sure if I have that now," admitted Eric Masoncup, owner of Geppetto's Toy Box in Oak Park, Ill. "I'm getting ready to look (again) because we expanded the store and inventory and I want to make sure I have enough coverage."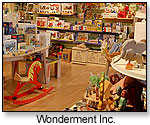 8. Shop Around. "We're too small to negotiate and I've found that associations are not always the best value," Castor told

TD

monthly. "We went with a local broker, but we got quotes from three."

9. Review Your Coverage Annually. "Make sure you get bids each year from multiple companies, and make sure you're comparing apples-to-apples," advised Co-owner Steven Aarons of Barston's Child's Play in Baltimore. "We have replacement, liability, property and inventory coverage. We look at it all each year," seconded Lisa McMartin, co-owner of Wonderment Inc. in Minneapolis.

In short, insurance is a necessary part of business, for meeting state requirements and protecting yourself and your business from loss. So take time to understand your coverage needs, and search until you find a good fit.

Writer's Bio:
Terri Hughes-Lazzell is a freelance journalist based in Ossian, Ind. After spending nearly a decade as a daily newspaper reporter, she has worked as a freelance journalist for more than ten years, writing about a variety of topics. Her work appears in newspapers, magazines and specialty publications nationwide.
Read more articles by this author
THIS BANNER IS AN AD:
---
---