---
TDmonthly's Expert Mom
Send Her Your Toys…If You Dare!
TD

monthly Magazine's Expert Mom, Sibylla Nash, is reminded of a mother's love for a newborn baby, gets out to explore nature with Hello Kitty, and questions the utility of a simple craft kit.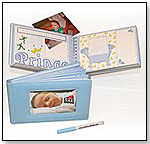 Little Love Book – The Story of a Boy's Beginning by The LisaLee Company LLC
Age: Newborn
Gender: Boys
Category: Gifts
MSRP: $25.00



TD

monthly rating:




Mom's Impression: The "Little Love Book" is a cute, little photo album. At 5.75" x 8.5", it comes with 20 pre-designed pages, double-sided tape and a pen. Its baby-blue cover with a slot for a 4" x 6" photo certainly makes it appealing and convenient to carry around.

Recommendation: While I applaud the effort, this seems to be more like a starter baby book. Its small size means one has limited space to show off those precious newborn moments. First-time parents will definitely want a bigger book with more room to write and to archive photos of that special first year. The $25 price tag seems a bit hefty considering the size.

---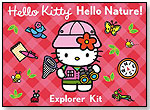 Hello Kitty Hello Nature! Explorer Kit by Abrams Books
Age: 4 to 8
Gender: Girls
Category: Kits
MSRP: $14.95



TD

monthly rating:




Mom's Impression: Hello Kitty! is popular in my house, so the Hello Nature! Explorer Kit caused quite a stir. The hardcover carrying case comes with binoculars, a compass, a magnifying glass, a butterfly net, a notebook, a pen and a storybook.

Kid's Perspective: The minute my 5-year-old daughter opened the kit, she was ready to go outside and explore nature. She really got a kick out of looking at ants with the magnifying glass and bird-watching with the binoculars. The kit allowed her to use her imagination and make up stories about what she saw.

Recommendation: This is a nice way to introduce children to nature. While the storybook won't win any awards, it does act as a guide since kids can follow along with Hello Kitty! as she explores her backyard. It includes working binoculars (not the distorted toy kind), and although the butterfly net is small, kids will enjoy the thought of catching something in it.

---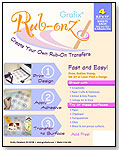 Grafix Rub-onz by Grafix Inc.
Age: 5 and Up
Gender: Boys and Girls
Category: Arts & Crafts
MSRP: $8.99



TD

monthly rating:




Mom's Impression: I was skeptical at first because Grafix Rub-onz only comes with eight clear sheets of paper and directions. Not being a big crafter, I could only wonder what in the world I was supposed to do with this.

Kid's Perspective: My 5-year-old daughter enjoyed the end result of the decals but didn't get a chance to be really hands-on with it because the adhesive is tricky to peel off. It's also very sticky, so you have to be careful when applying it.

Recommendation: This is an easy craft, but I'm on the fence in terms of why kids would want it. You print your image on one sheet and use the adhesive to attach it to something. The Rub-onz only sticks to paper, chipboard, transparencies, glass, wood and other non-porous surfaces; and since it's a clear sheet, the background on which it's placed needs to be light (which is limiting). Café Press, Snapfish and Shutterfly make it extremely easy (just point and click) to create personalized images on a variety of items. Grafix might be fun for older kids who are into scrapbooking or similar arts and crafts. But value-wise, it may be cheaper to use double-sided tape.

Writer's Bio:
Ms. Nash is a freelance writer and author of "Baby Modeling & Beyond: From the Stroller To The Red Carpet." She has a degree in journalism from the University of Southern California. She has a five-year-old daughter who has appeared in a number of commercials and print ads. They both enjoy stimulating games and toys that allow their imaginations to soar.
Read more articles by this author
THIS BANNER IS AN AD:
---
---