Not only did the weather cooperate during Toy Fair, trading in last year's snowstorm for light rain and higher temps, but attendance was up from 2007, seeing 30 percent more buyers on day one of the show, according to the Toy Industry Association. These positives complemented the healthy vibe on the trade show floor, where eco-friendly efforts met new approaches to active play, and virtual worlds tied to toys showed that they're nowhere close to going offline.

GREEN GOES MAINSTREAM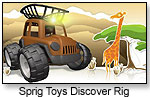 "Green" sprouted quickly at Toy Fair, evidenced in packaging made with soy-based inks and recycled materials, eco-themed games, natural wooden toys, environmentally conscious jewelry and battery-free toys with electronic capabilities. Fashion Angels and TOMY may have to battle it out for the Eco Angels brand name that currently represents their two new — and very different — product lines.
Some highlights? Sprig Toys' battery-free, kid-powered vehicles are made from recycled wood and equipped with light and sound capabilities in the form of audio adventures, and the H2Go car from Corgi runs on hydrogen power. Zen Design Group and Russimco also make battery-free toys, while Cadaco's biodegradable Enviro-Blox comes from corn.

Both Matter Group (XEKO trading cards) and Wildwood Media (Little Humbugs) have expanded their lines, and EcoDolls by E-Innovative Ideas as well as the cheery Idbids are designed to inspire environmental awareness. The Planet Care line of wooden and plastic toys from Toy Quest features recycled materials. Read more on eco-friendly toys here.
ONLINE'S STILL ON
While Webkinz by Ganz trek along, next to Russ Berrie's Shining Stars and Ty's Ty Girlz, the market has opened up to even more options for online play. Folkmanis' Web Wilds puppets give children secret codes to access an educational website developed in partnership with Globio that includes a Glossopedia of terms and videos of animals in their natural habitats.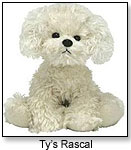 10VOX Entertainment is planning seasonal releases of Kookeys, including a ghost and candy cane dog, in addition to adding special edition plush. Ty, meanwhile, has put forth Beanie Babies 2.0, giving the beloved plush pals modern-day capabilities in Beanie Land. Play Visions' Zibbies also have a virtual world, though access is not dependent on purchasing the product. Other virtual friends include Granza's Adoptable Kinders, which attend school online, and Tomorrow Inc.'s Jellybean Friends.

Revnjenz and 10VOX's Tracksters will soon compete on the virtual raceway, giving kids opportunities to race and customize cars in online worlds. On the girly side, Bella Sara is staying strong with its collectible cards and corresponding virtual horses, and Disney Fairies Clickables — bracelets and other decorative accessories developed in partnership with Techno Source — encourage play with friends and give girls access to exclusive gifts in the Pixie Hollow world online.

FIT TO PLAY
The ME2 electronic handheld by Irwin Toys couples online play with exercise by doubling as a pedometer. An active lifestyle is rewarded, as each step grants a child one point for playing games in the 3-D ME2 virtual world, where he or she can interact with other avatars.
The indoor/outdoor Swinx gaming console also encourages movement, outfitting children in colored, microchip-embedded wristbands that interact with the main unit for various games that are downloadable from the company's website.
For daily reports from Toy Fair 2008, as well as other wrap-up articles, see TDmonthly's Toy Fair Highlights.