---
GeoPuzzle Teaches Homeschoolers European Geography
Colorful Jigsaw Puzzle Connects Learning and Fun
"Joe (8) will remember the shapes of the countries much better now, and … be able to relate their physical location and sizes to each other." — Susan Ledford

TDmonthly Magazine's Homeschool Roundtable studied geography the fun way by constructing GeoToys' GeoPuzzle Europe piece by piece. Their reviews show that the hands-on geography lesson was a huge hit.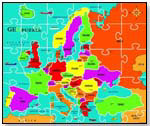 GeoPuzzle Europe by GEOTOYS LLC
Age: 4 and Up
Gender: Boys and Girls
Category: Puzzles & Skill
MSRP: $14.99

TDmonthly rating: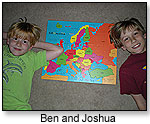 What It Is: Not your typical jigsaw puzzle, each GeoPuzzle has pieces shaped like individual countries. The Europe GeoPuzzle, measuring 19" x 16" when completed, has 58 pieces and features major bodies of water and capitals. Other puzzles in this series are Africa and the Middle East, the U.S. and Canada, Asia, and Latin America.

What the Moms Thought: "I loved that it taught geography tactilely and kinesthetically," Christensen raved. Dawson's favorite qualities were "the geography and the entertainment." Ledford agreed: "Joe (8) will remember the shapes of the countries much better now, and also he will be able to relate their physical location and sizes to each other."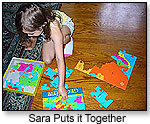 The website resources were a hit for Wilson. "A big bonus was the parent/teacher resource guide available for download," she said, adding that she also appreciated the reference tips given online. Ledford found that some pages in the downloadable parent guide were blank, but she loved what she did see.

Zuidema liked the puzzle's quality and finished size. Dawson appreciated that 90 percent of the product is made of recycled materials. Wilson was glad to see the resealable storage bag.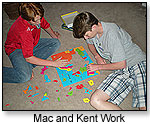 What the Kids Thought: "Look, I did it all by myself!" Sara (7) told her mom proudly. Steven (8) and Elise (9) liked the number of pieces, as they made it more accessible to younger children. "Alyssa (8) liked that a school lesson could take the form of a puzzle," Zuidema reported.

"Kent (13) liked that it was challenging (much to his surprise)," Christensen noted. Sara (7) and Ethan (9), both puzzle fans, found the country-shaped pieces "neat."

What the Kids Learned from this Toy: "Kent (13) and Mac (14) each got a good review of basic European geography," Christensen commented. "[Ethan (9) and Sara (7)] learned names and positions of European countries and bodies of water," Dawson said. Wilson pointed out that in addition to geography knowledge, her children worked on fine-motor skills and problem-solving. "Puzzles strengthen spatial-thinking skills," Ledford noted. Josh (10) learned "there are more seas than anyone realizes."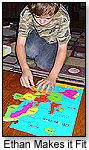 How to Improve It: Josh (10) and Kent (13) would like to see the pieces interlock while retaining their correct political shapes. Josh (10) would also like a way to match the capitals to the countries. Dawson recommended including the entire map surface on the box to aid the younger children in completing the puzzle. She would also like to see longitude and latitude lines, major rivers, and mountain systems noted on the pieces.


Wilson suggested the finished puzzle be larger, so the smaller countries (and the print on them) aren't so small. Timothy (15) would like for the separate continental puzzles to interlock, so a child can create "one huge world puzzle."

Zuidema wished for "a small booklet/pamphlet with additional information about the countries (flag, population, government and curiosities such as those countries that straddle continental borders) to further the educational appeal." Ledford thinks 4 is too young to complete such a puzzle, and suggested raising the minimum age to 6.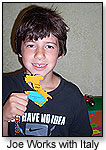 Would You Want Another Toy Like This? "I would buy more of these puzzles," summed up Christensen. Dawson agreed, "It's simple and educational, and my kids enjoyed it."

Roundtable participants are Sue Christensen with Mac (14), Kent (13), Joshua (10) and Ben (6); former corporate accountant Robbin Dawson with Ethan (9) and Sara (7); Susan Ledford, editor of the "Homeschool Resources Directory for SC," with Victoria (13), Joe (8) and Griffin (2); Teresa Wilson, editor of "HOMES Newsletter," with Timothy (15), Andrew (12), Elise (9) and Steven (7); and Jill Zuidema, former retail manager, with Alyssa (8).

Writer's Bio:
Susan Ledford is the writer, editor and publisher of the "Homeschool Resources Directory for S.C." She has been evaluating toys and games for
TDmonthly
's Roundtable reviews since 2005. She also is a homeschool veteran of seven years.
Read more articles by this author
THIS BANNER IS AN AD:
---
---