---
Families Say Pop-Up Cards Are Worth the Postage
Play Odyssey's Cards Give Kids Something to Write Home About
"Wow! Let's make some cards!" — Alexander (8) and Jessica (6)

TDmonthly's Grade School Roundtable recently created cards with Play Odyssey's Pop-Up Pen Pal Cards Kit. The finished cards feature a graphic that "pops up" for a three-dimensional effect. Participants liked the all-in-one kit and cheery designs.



Pop-Up Pen Pal Cards by PLAY ODYSSEY INC.
Age: 6 and Up
Gender: Boys and Girls
Category: Creative Activities
MSRP: $12.99

TDmonthly rating: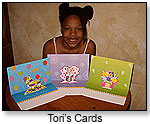 What It Is: Pop-Up Pen Pal Cards is a self-contained kit for creating 12 cards that feature three-dimensional pop-ups. The cards are self-mailers with trace-over greetings, and have manuscript printing guidelines for a short message on the inside and for address information on the outside.

What the Moms Thought: "It's simple and encourages writing," Dawson said of the kit. Jenkins agreed, adding that she "loved the whole idea of the product!" Richardson "liked the whimsical pop-up characters — nice colors, sturdy construction, and not too gender-specific." She also liked the simple, easy-to-follow instructions.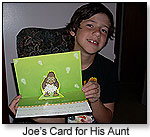 Tong appreciated the all-in-one concept and ease of use. Even Griff (2) was able to complete one ("with help"), Ledford noted. Wilson liked that the cards were sturdy and that a variety of themes were included "to fit whatever occasion." She added, "Like Elise (9), I thought it was helpful to have the card designed like handwriting practice paper."

"We visited the website and were pleased to find the free downloadable worksheets, which, we feel, are added value," Wilson raved.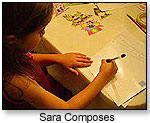 What the Kids Thought: "Wow! Let's make some cards!" said Alexander (8) and Jessica (6), who quickly went to work and enjoyed creating. "The kids really liked the cards," Tong said. "Can I send another one?" they asked.

The kit made letter-writing easier for Sara (7) since it featured preprinted lines and did not require an envelope, Dawson pointed out. "Neat," and "cool," Ethan (9) and Sara (7) told their mom. The Jenkins' children's favorite part was making the cards.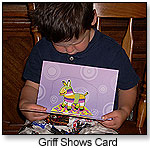 Elise (9) liked the simplicity, and the preprinted lines made it "easy to 'keep' her writing neat," Wilson commented. Steven (8) enjoyed that the kit was not gender-specific. The attractive pop-up pieces appealed to Joe (8). He and Griff (2) were excited to make and send cards to loved ones.

What the Kids Learned from this Toy: Participants listed letter writing and penmanship practice, as well as addressing an envelope.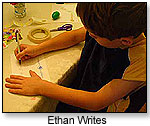 How to Improve It: An eco-friendly consumer, Dawson would appreciate the use of recycled materials. Several participants would like to see more variety in the pop-ups and cards. Richardson would like to see the packaging improved ("slightly larger and more sturdy," she said) to allow for storage.

Tong would like to be able to add pages, since her older children (7 and 9) had too little space to write. "They had much more to say," she pointed out, noting that the space provided was just right for Lexi (5). Joe (8) suggested leaving some backgrounds unfinished so he could spend more time creating the cards. Including glue or sticky strips "to complete the kit" would help, offered Jenkins.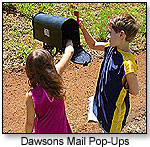 Would You Want Another Toy Like This? "I will certainly be looking for this set as a great gift idea. I know many children, particularly girls, who would love to add this to their craft and project collection," summed up Richardson.

Roundtable participants are former corporate accountant Robbin Dawson with Ethan (9) and Sara (7); office assistant Charlene Jenkins with Taylor (17), Terence (13), Tabitha (11), Timothy (9), Tori (7) and Titus (5); Susan Ledford, editor of the "Homeschool Resources Directory for SC," with Victoria (13), Joe (8) and Griffin (2); World Bank policy advisor Gail Richardson with Alexander (8) and Jessica (6); stay-at-home mother Mildred Tong with Alyssa (9), Ethan (7), Lexi (5) and Erik (18 months); Teresa Wilson, editor of "HOMES Newsletter," with Timothy (15), Andrew (12), Elise (9) and Steven (7).

Writer's Bio:
Susan Ledford is the writer, editor and publisher of the "Homeschool Resources Directory for S.C." She has been evaluating toys and games for
TDmonthly
's Roundtable reviews since 2005. She also is a homeschool veteran of seven years.
Read more articles by this author
THIS BANNER IS AN AD:
---
---