---
Retailing Tips: Finding the Right Dolls
Storeowners and Manufacturers Share What Makes a Doll Successful
"When the child can change the doll's outfit and take her to the supermarket in her own stroller, the child has the true experience of caring for a baby." — Beau James, Corolle

I remember, as a child, pressing my face against a toy-store window and falling in love with a doll. At the time, choices for toys and dolls were more limited. These days, it's more difficult for retailers to decide which dolls to put in the window — or in the store at all.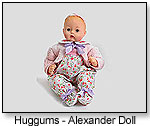 "Doll companies are always looking for new ways to connect with the child, but how does a retailer know if a doll will be successful?" Allison Cox, owner of Animal Quackers in Raleigh, N.C., asked TDmonthly Magazine.

1. Check the History. Since customers tend to purchase what's familiar, Colette Shockley, owner of Littlest Princess Doll Shoppe in Norcross, Ga., recommended longstanding favorites such as Alexander Doll Co., an industry leader for more than 75 years.

2. Tap Into Trends. Look for clothing and activity themes that resonate with today's kids, such as soccer, horseback riding or texting on a cell phone.

"We are delighted that boys from ages 3 to 8 have [fallen] in love with our boy dolls dressed as pirates, puppies, sailors and more," Bob Fuller, owner of Paddywhack Lane, told TDmonthly.

3. Lock in a Limit. "Even in play-doll lines, you don't want too many dolls in a line or too many of one character," stressed Thomas Boland, founder of the Thomas Boland Company. "Small quantities make them special."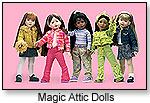 4. Secure Safety. "The first thing I look for is safety, and then the smell, feel and size of the doll are important," grandmother Jackie Dickson told TDmonthly. "The dolls need to fit a child's arms, and the accessories need to be easy for a child to operate."

5. Depend on Distinction. "If you stock one type of doll, you shouldn't stock another one almost like it," said Alyce Nicholson of Dolls & Things in Cartersville, Ga. "Magic Attic Dolls were wonderful … but were too similar to American Girl."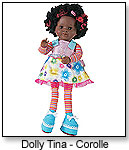 6. Accessorize. "We have strollers, clothes, all types of accessories for our dolls," Beau James, North American director for Corolle, told TDmonthly. "When the child can change the doll's outfit and take her to the supermarket in her own stroller, the child has the true experience of caring for a baby."

7. Foster Education. "Dolls that are educational and teach children through role play … are important," said Karen McDonald, a licensed professional children's counselor in Marietta, Ga. "Children are little copycats, and as they copy their role models they want the dolls to copy them."

8. Fuel Emotion. "There must be an emotional connection," Xavier Roberts, creator of the Cabbage Patch Dolls, told TDmonthly. "Grown women raised their hands and promised to care for these babies they adopted and named on their own birth certificate. … We never called these babies dolls, but [rather], 'kids.'"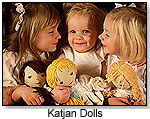 9. Shoot for Memories. "If a doll reminds a person of a doll they had as a child … or is part of a happy memory… [she'll] connect with that doll," said Janet Lennon, who, along with her sister, Kathy, created the Katjan "Best Pals" line of rag dolls.

10. Look for Purpose. Laura Rangel, founder of KidsGive, told TDmonthly it's important that a doll has "roots" with ethnic ties, and books that create a play experience. "A part of Karito Kids' profit goes to help children in other lands. … Children love to know they are helping other children."

If the doll you are considering meets several of the above criteria, you will probably have little girls pressing their faces against your store window, falling in love with that special doll.

Writer's Bio:
Virginia Davis is a freelance writer who is considered an expert in the area of dolls and collectibles. She has written hundreds of articles on dolls and toys, as well as other subjects, for numerous publications. She lives in Georgia.
Read more articles by this author
THIS BANNER IS AN AD:
---
---