---
Bath Doll Makes a Splash With Reviewers
Gotz® Maxi Aquini Brings Extra Fun to the Pool and Tub
"She's so pretty, Mom!" — Alyssa (9) and Lexi (4) Tong

TDmonthly Magazine's Dolls Roundtable participants were taken with the Götz Maxi Aquini Blonde Baby Bath Doll from International Playthings. They loved the doll's washability and pretty, easy-to-style hair. Except for concern about her retaining and leaking water, she was a hit all around.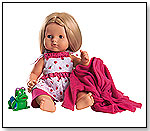 Götz® Maxi Aquini Blonde Baby Bath Doll by INTERNATIONAL PLAYTHINGS INC.
Age: 3 and Up
Gender: Girls
Category: Dolls
MSRP: $54.99

TDmonthly rating:


What It Is: The Götz Maxi Aquini Blonde Baby Bath Doll is a 15" doll suited for play in the bathtub or pool. She has washable blonde hair, go-to-sleep blue eyes, and an articulated vinyl body. She comes dressed in a strawberry play outfit with a robe and a squirt toy.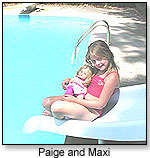 Packaging: Maxi Aquini arrived in a large, see-through box, and all participants felt that the packaging was attractive, informative and accurate.

Playability: This was the first bathtub doll owned by any of the participants. They all found the hair the most attractive feature, and also loved the fact that the doll could be submerged in water. Paige (7) called Maxi Aquini "a little friend to play with in the water."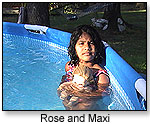 The children loved the accessories. "The girls loved the robe," said Tong of daughters Alyssa (9) and Lexi (4). "She's so pretty, Mom!" they exclaimed.

All the children washed the doll's hair, and tried to braid or style it. "Paige (7) loved brushing it," reported Mandt, adding, "It never tangled after washing." Alyssa (9) and Lexi (4) enjoyed putting curlers in Maxi's hair, and creating pigtails. "I really like how her hair curls," they told their mom.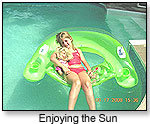 Rose (7) liked "the way its eyes move." All participants loved the clothes, which Davis felt were "suited to the doll." Most participants felt this would be a great item to take along on vacation, although Mandt thought it wasn't compact enough for that. All of the children played with Maxi in the bath tub; Paige (7) and Rose (7) enjoyed playing with her in the pool as well. Most of the mothers thought the doll was designed more for the preschool age group (2 to 6), because they like to play in the tub more than do older girls.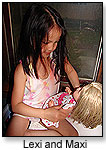 Value: The retailers and mothers felt that there is a need for quality bath dolls on the market, and that such dolls help children learn to wash their own hair and bodies. When asked if she would buy another doll like this, Tong responded, "Yes, now that I've seen how much my girls love her."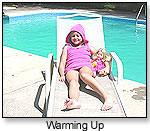 Improvements: Thomas suggested including underwear for Maxi Aquini to help prevent that last bit of water from leaking out, since "the children play in the tub with the doll, and then want to sleep with her, and [she] wets the bed."

Hobbs doubts that the doll is really air tight. Shockley agreed: "I don't believe this doll is watertight and won't take in water." She expressed concern that over time, water left in the doll would mold. "I would not stock a doll like this, because I am afraid parents might want to return it."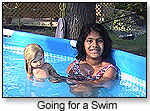 Shockley also felt that the doll has a small, specific target age. "It … would be a favorite for only a short period of time."

Roundtable participants included Ruth Mandt, with granddaughter Paige (7); machine operator Geena Thomas with daughters Liz (12) and Rose (7); stay-at-home mother Mildred Tong with daughters Alyssa (9) and Lexi (4); retailer Kim Hobbs, owner of Hobbs House of Dolls in Marietta, Ga.; retailer Collette Shockley, owner of the Littlest Princess Doll Shop in Norcross, Ga.; and doll collector Virginia Davis.

Writer's Bio:
Virginia Davis is a freelance writer who is considered an expert in the area of dolls and collectibles. She has written hundreds of articles on dolls and toys, as well as other subjects, for numerous publications. She lives in Georgia.
Read more articles by this author
THIS BANNER IS AN AD:
---
---