---
TDmonthly's Book Expert
One Educated Bookworm's Opinion
If you want to know which books to sell in your toy store, find out what the kids have to say. Each month, children's book author Amy Downing reads new titles to children, gives her educated opinion on positioning and sales to TDmonthly Magazine readers, and rates them with 1 to 5 TDs (for TDmonthly!), with "5" as the highest rating.

With these books, she makes a trip around the world (and really enjoys it!), reads a tale about the love that spawned Jerusalem, and works through a kidnapping mystery in graphic novel format.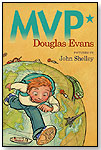 Title: MVP
Author: Douglas Evans
Illustrator: John Shelley
Publisher: Boyds Mill Press
Gender: Boys and Girls
Age: 8 and Up
MSRP: $9.95

TDmonthly rating




What It Is: "MVP" is the story of a 12-year-old boy and his race to get around the world in 40 days (without using air travel). Adam Story is convinced by a strange man of royal descent to take this journey. He is given unlimited use of credit cards, as well as a phone and GPS system. Adam realizes part-way into his travels that he is actually racing against 23 other 12-year-olds! First place is $4 million — will Adam win, or one of his competitors?

Why You Should Carry It: For a grown-up who has never traveled the world, "MVP" is the next best thing. (Television's "The Amazing Race" is another story.) The reader will enjoy every time zone — all 24 of them — as he or she learns little tidbits about many cultures and lifestyles.

What Kids Think: My son read this book straight through and immediately asked for the sequel. (There isn't one.) The high adventure and clever antics will appeal especially to boys.

---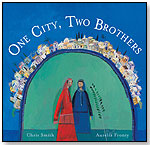 Title: One City, Two Brothers
Author: Chris Smith
Illustrator: Aurelia Fronty
Publisher: Barefoot Books
Gender: Boys and Girls
Age: 8 and Up
MSRP: $16.99

TDmonthly rating:




What It Is: This beautiful, traditional folk tale tells of two brothers' sacrificial love that eventually births the holy city of Jerusalem. The illustrations are by French artist Aurelia Fronty. The art combined with the tale from the Middle East gives "One City, Two Brothers" a truly universal feel with an even more universal message. The end of the book features a brief history of Jerusalem and why it's known as the Holy City.

Why You Should Carry It: "One City, Two Brothers" is a work of art. The timeless story is told with simplicity. The pictures are on the sophisticated side but appropriate for the tale. This book could fit in as a featured item in a number of ways: a display of folk tales, picture books from around the world, or as a story with Jewish and Arab origins.

What Kids Think: The story was a little long for the 5-and-under crowd, but older children enjoyed its message. All of the kids liked the art — its bright colors, especially.

---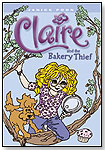 Title: Claire and the Bakery Thief
Author/Illustrator: Janice Poon
Publisher: Kids Can Press
Gender: Girls
Age: 7 to 10
MSRP: $7.95 (pbk) $15.95 (hcj)

TDmonthly rating:




What It Is: In this graphic novel, Claire has just moved to the country from the city with her parents, who have opened up an organic bakery. Soon after, Claire makes a new friend, Jet. She and Jet must head back to the city to save Claire's mom, who has been kidnapped. (Yes, the plot gets silly, but the kids who read this book hung on to every word and picture!) The end of the book includes several fun recipes, some of which are "sold" at the bakery of Claire's parents.

Why You Should Carry It: While I can't recommend this book based on a great plot line or intriguing characters, "Claire and the Bakery Thief" certainly fills a niche that has been rather empty. Graphic novels are usually geared toward kids who have a difficult time reading, and it's more likely that those kids will be boys. So, most graphic novels lean toward themes of interest to boys. "Claire and the Bakery Thief" was created with girls in mind. And whether girls are having a tough time reading or they devour books by the dozen, they will like the different approach this one takes.

What Kids Think: Generally, the boys were not interested in even picking it up, though there were a couple — most likely the comic book lovers — who plowed through it. The girls were drawn to the cover and cute characters.

Writer's Bio:
Amy Downing has been in children's book publishing for more than 15 years. As the editorial director of a small juvenile publishing house in Los Angeles, she has developed hundreds of titles for trade, mass market, book clubs and fairs. She is also the author of more than 20 books for children, ranging from picture books to nonfiction titles for the library market.
Read more articles by this author
THIS BANNER IS AN AD:
---
---