Tools:








Hollywood ToyBoy: Heavy Metal
Movies and Toys Go Robotic
"That's the whole point: robots make good toys."

It's finally happened: my assistant went on vacation. Once a year, I'm thrown into confusion by this and swear I'm going to automate. "Humans get sick, go on vacation, have family disturbances. Never again!"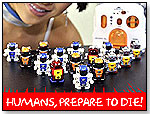 If only the Jetsons were real, and I could robotosize. Imagine, an assistant who never took lunch breaks, never slept, never talked back. It would revolutionize Hollywood. Maybe this make-believe is catching, because Hollywood is also going to the robots.


RISE OF ROBOTIC ROLES

"Forget the Transformers — blah!" pooh-poohed a director buddy of mine as we downed shots of Talisker and nibbled on watermelon slices. "That's not where the movies are going. Think smaller and world-enveloping. Every studio has a robot film at the moment, all going forward, all green."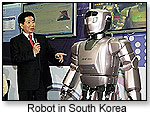 "They're rethinking Metropolis and all that," followed up an editor I know. "Robots as people. People as robots. 'Metaland' is one — that's gonna be very interesting. The 'Terminator' movies were the kernel for some of this, but taken to the nth degree. In 'Blade Runner' the artificial creations couldn't be told from the humans, but now, what if there never were any humans and we all are machines?"

It would solve my assistant problem, I figured.

"Paramount," continued an entertainment lawyer I called to follow up on this. "They have 'Nano-bots' in the works — a micro-world of robots created after our world's gone under. It's all nanotechnology meets metal. Great special effects. Cute robots that are great for merchandizing. That's the whole point: robots make good toys."

JAPAN DRIVES CRAZE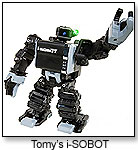 "Cross-fertilization is key, too," continued an executive friend who deigned to have breakfast with me and talk about the subject. "Take a look at Tomy's iSobot and the newest, even smaller mini-bots ... less than one-and-a-half inches tall. They play soccer and everything. Two different production companies are already bidding on the rights to those things. Japan is always in the lead for robots."

True: "Japan is robot crazy," explained a globe-hopping "cool" locator who freelance cutting-edges for a couple of studios. "They have robots in most of their industries and even have their own Robo Japan expo. It's a cultural thang. Most of the best stuff is from there, and then drifts over across the Pacific in one form or another. Robot chairs, robot dogs, even robot girlfriends."

MOVIES MADE OF METAL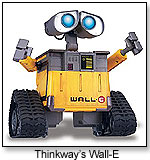 Robot actors? "CGI is the perfect medium for the new wave of robot movies," a special effects animator pal volunteered, going through my cupboards for something to eat. "Humans are tough, but robots are easy. I'm working on a movie where EVERYTHING is robotic: cars, refrigerators, can openers. 'WALL-E' barely scratched the surface. 'Dark Eyes,' 'The Steel Hand,' 'Metal Thoughts.' Two, three years, it's gonna be nothing but robots, androids and metal monstrosities. Trust me. Very, very cool stuff coming down the pipe. Kids and adults are going to want them for their own. And there're going to be toys like mad. Some that are robotic themselves."

Robots to movies to toys to ... assistants? One can only hope. Now if I could just figure out how to turn on this coffee maker. Hey, what about a robot coffee maker? Starbucks, beware!
Catalog Request Form
Writer's Bio:
Mark Zaslove is an entertainment industry veteran in developing content (writing, directing and producing television and feature films) for the major studios, including Disney, Universal and Warner Bros. A two-time Emmy Award winner for writing and recipient of the Humanitas Prize (for writing uplifting human values in television and movies), Mark is also Head of Content Development for Nice Entertainment.
Read more articles by this author
THIS BANNER IS AN AD:
---
---