---
TDmonthly's Music Expert
She'll Tell You Which Albums Hit the Right Notes
If you want to know which children's CDs may be worth carrying in your store, see what TDmonthly's Music Expert has to say. Each month, she listens to music from various publishers and rates each album with from 1 to 5 TD (for TDmonthly!) stars — 5 is the highest rating. With this group of CDs, she discovered style that really rocks, refreshing folk sounds and even a little taste of the Hawaiian islands.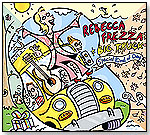 Rebecca Frezza & Big Truck: Special Kind of Day by BIG TRUCK MUSIC COVER
Age: 4 to 8
Gender: Boys and Girls
MSRP: $15.00

TDmonthly rating:




My Impressions: The folk style of this CD was really refreshing, as it's not something you hear often on kids' albums. There are even twittering birds in the introduction to one of the songs. Rebecca Frezza, the lead singer and songwriter, does a great job of telling a clear story, both with her lyrics and style of singing. The only non-original song in this collection is a pretty version of the old classic "You are My Sunshine," which was titled "Summer Sunshine."

Kid's Perspective: My 2-year-old daughter was a big fan of this album. Her favorite song was "Clackity Clack," which is about a train and has some cool harmonica solos.

My Recommendation: This is a really whimsical, fun, imaginative CD for kids of all ages. It's especially ideal for kids who are into story-telling songs and folk music.

---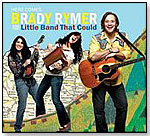 Here Comes Brady Rymer and the Little Band That Could by BUMBLIN´ BEE RECORDS
Gender: Boys and Girls
MSRP: $15.98

TDmonthly rating:




My Impressions: The musicians and overall recording quality are excellent. The tunes themselves vary in tempo and groove, giving the entire album a balanced feel. When I first looked at this CD, I noticed the connection between "The Little Band That Could" and the famous story of "The Little Engine That Could." It turns out that the first song on the album is about that very connection, and the power of positive thinking.

Kid's Perspective: Our 2-year-old daughter went nuts for this CD! The song "Jump-Up" actually had her jumping up and down and running in circles and singing the words the first time she heard it. She was also way into the song "Smile," and clapped and hummed with the cute song "The Relatives Came." I know she will enjoy this CD for a long time to come.

My Recommendation: This classic rock album is an awesome CD for kids and adults alike! Our whole family loved listening to it.

---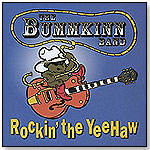 The Bummkinn Band: Rockin' the YeeHaw by BUMMS THE WORD PRODUCTIONS
Gender: Boys and Girls
MSRP: $12.97

TDmonthly rating:




My Impressions: The all-original songs on this album feature a style that harkens back to the days of the show "Hee-Haw." The musicians introduce themselves at the beginning of the album, as if they were on a radio show. The lyrics are cute and meant to be funny, with titles such as "Woke Up on the Wrong Side of the Bed," "I Wanna Be a Tree," "Texas Sized Boo Boo," and "Hullaballooey."

Kid's Perspective: My 2-year-old daughter was excited to listen to this CD and examined the cover with interest, but had a hard time following the lyrics. I could tell she was trying to sing along but couldn't catch onto the words.

My Reccomendation: Although this CD features fun and funny titles, neither I nor my daughter were able to understand the lyrics very well. This album will certainly appeal, however, to people who love southern, down-home country music.



TDmonthly Magazine Roundtable and expert reviewers are independent and are not compensated monetarily. Manufacturers pay ToyDirectory.com/TDmonthly Magazine to set up reviews, but payment is not reflected in the rating or evaluation given. A manufacturer can opt to withold from publication a review of less than three stars.

Writer's Bio:
Anna Bendorf received her Bachelor of Music in Piano Performance in 2004 from the University of Oregon, where she gained extensive experience as an accompanist and solo performer. While studying music, she won several piano competitions and sang in the University audition choir and the Symphony Chorus. She has been teaching piano for the past 14 years, and she and her husband, Adam, run Alberti Publishing, a music publishing company. They co-authored a book for piano teachers called "The Right Notes" (November 2008). Adam and Anna have two daughters.
Read more articles by this author
THIS BANNER IS AN AD:
---
---