---
TDmonthly's Psychologist Mom
She'll Put Your Toys on the Couch
TDmonthly Magazine's Psychologist Mom hung out with a magical elf, discovered an ideal carry-along for a plane trip with kids, and found an ingenious way to help "spot" a lost child in her latest round of reviews. See how the products stacked up below: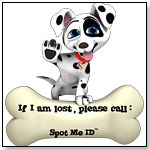 Spot Me ID Temporary Tattoos, Bracelets and Lanyards by SPOT ME ID
Age: 1 to 10
Gender: Boys and Girls
Category: Infant & Toddler
MSRP: $9.99 (tattoos and bracelets) to $14.99 (lanyards)

TDmonthly rating:




The Dr.'s Impressions: These temporary tattoos, bracelets and lanyards were invented by a mom who lost her 7-year-old daughter for 15 minutes while on vacation. The products are designed to make it easier for children to be reunited with their parents when they are lost in large crowds. The concept behind them is a label and phone number. Intelligently, the child's name is not visible from the outside on any of the products, and the temporary tattoos leave a space for one to write a cell phone number. The tattoos are FDA-approved and will last up to seven days, even when wet.

Kids' Perspective: Young children from ages 4 to 10 enjoyed playing with the tattoos. They thought the bracelets and lanyards looked cool as well.

Recommendation: This is the kind of product that will undoubtedly add to parental comfort. I'd be careful about overemphasizing the reasons for this product with young children, so as not to scare them unnecessarily. The Spot Me graphic with the dog was initially a bit confusing, as it wasn't clear whether the product was for pets or people. That said, the tattoos in particular are ingenious and could undoubtedly help assuage parental fears in crowds.

---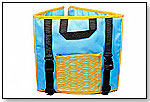 Portable Playtime - Plane Fun by PORTABLE PLAYTIME™
Gender: Boys and Girls
Category: Preschool
MSRP: $35.00

TDmonthly rating:




The Dr.'s Impressions: This play mat is designed to fit airplane tray tables, and it doubles as a child's backpack. There are side pockets with lots of room for little toys and snacks.

Kids' Perspective: The 4-year-old and 6-year-old who played with this immediately became enamored of it. Backpacks are always fun for this age group, but all the pockets and the special surface (perfect for games with animals and dolls) added dramatically to the appeal.

Recommendation: This is a very well-made, well-designed product, with sturdy cloth and high-quality zippers. For the price, that should be expected. The product appears as though it could hold up to years of use by multiple children. It's always handy for children on airplanes to have toys they can access easily and for them to have a bag that feels as though it is their own. This product works on both counts.

---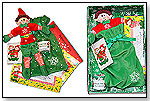 Elf Magic Doll by ELF MAGIC LLC
Age: All Ages
Gender: Boys and Girls
Category: Christmas
MSRP: $26.95

TDmonthly rating:




The Dr.'s Impressions: This 10" doll is designed to become part of the anticipation of Christmas. Parents are encouraged to tell their children that the elf will make mischief at night, and the children awaken each morning to find the elf in some new place (put there by the parent). According to the story, the elf will say goodbye on Christmas Eve to help Santa Claus with his duties. The elf comes with a name and removable clothing as well as a special letter that explains the whole magical concept.

Kids' Perspective: The 4-year-old, 6-year-old and 10-year-old who played with this got a huge kick out of the doll and the game. The younger two especially liked it. They'd wake up and immediately wonder where the elf would be.

Recommendation: This is a cute doll, and the game definitely creates extra excitement and emotion in the days before Christmas. The magical aspect of the doll, which comes with "North Pole Snowflakes" to sprinkle on him or her at night, contributes to a lovely family tradition that children will remember.

TDmonthly Magazine Roundtable and expert reviewers are independent and are not compensated monetarily. Manufacturers pay ToyDirectory.com/TDmonthly Magazine to set up reviews, but payment is not reflected in the rating or evaluation given. A manufacturer can opt to withold from publication a review of less than three stars.

Writer's Bio:
Dr. Tiffany Wright doesn't just look at toys; she analyzes them. In and out of the box, she scrutinizes them for playability, appropriateness and educational value. The latter quality is especially important to this stay-at-home psychologist/mother, who also homeschools her three youngest children. Her daughter attends UCLA. Dr. Wright earned her Ph.D. in personality psychology from University of California, Riverside. She is always on the lookout for toys and games that inspire creativity and impart knowledge while bringing fun and laughter to her home.
Read more articles by this author
THIS BANNER IS AN AD:
---
---