---
Loyal Customers Kept Specialty Afloat for Holidays
Shoppers Braved Economy and Snow to Show Support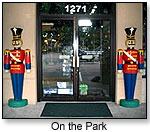 Despite the gloomy economy, only two of eleven specialty toy-store owners told TDmonthly Magazine that their holiday sales were slower than expected. Everyone else's responses ranged from "okay, considering ... " to "much better than expected."

"It was the best December we ever had," said Fred Rosenburg, owner of On the Park in Kingswood, TX, whose store has been open since 1996. Rosenburg had initiated a novel idea to woo customers: He didn't charge for sales tax.

"People were coming in and thanking me for 8.25 percent off, whereas if I'd put 20 percent off, they wouldn't have thanked me," he shared with TDmonthly. "People are desensitized to discounts," he added, since they assume that "40 percent off" means that the store was overcharging on the item by 40 percent in the first place.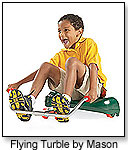 Though Fred had come up with the idea of knocking off the sales tax, it was his staff's interpretation that really sold the customers. They told shoppers, "The owner is paying your sales tax for you." In a shaky economy, such a gesture made an emotional impact and generated a lot of good publicity. It also led to bigger ticket sales, Fred believes. He sold approximately 150 Plasmacars in December and couldn't keep Corolle's Interactive Lia in stock, either.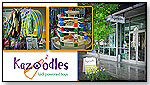 Sari Powazek, owner of The Doll House & Toy Store in Scottsdale, Ariz., also had a "great season," despite the fact that the local intersection was under construction, slowing traffic from September to December. Bob and Mary Sisson of Kazoodles in Vancouver, Wa., were on their way to a stellar December when "the biggest snowstorm in 40 years" shut down their town the last weekend before Christmas. Nevertheless, December 2008 is a little up from last year, said Mary.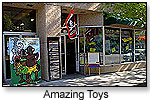 Fred was among three retailers who noticed that his customers were pointedly showing support for small neighborhood businesses. Dave Campbell, owner of Amazing Toys in Great Falls, Mont., shared, "People did say, 'We come here to make sure you stay.' "

Some store-owners were disappointed that specialty staples such as Plasmacars and Blokus are now mass-market items, with the former being sold at Costco and the latter now under the Mattel label. Others, however, know that when a specialty item moves into a big-box store, that just clears room for newer, more innovative toys and games. Just check out TDmonthly's new Notable and New Toys - Specialty Only articles each month, and the new home page of ToyDirectory.com.

As for the economy in 2009, Fred knows what he wants the government to do: "Give the [bailout] money to consumers and let them decide who to help. We're a consuming nation, so we can't manufacture our way out of [the recession]; we have to purchase our way out of it."

Here are the toys that customers purchased for the holidays 2008:

(No manufacturer paid to be included in this article. All products listed were chosen by editorial staff without regard to the company's relationship with ToyDirectory.com/TDmonthly Magazine.)









.

AD
---






.

AD
---






.

AD
---






.

AD
---






.

AD
---






Monsterpocalypse is a fast-moving, action-packed strategy game played with high quality collectible miniatures portraying the most fearsome giant monsters ever imagined. Each battle takes place in a city, which opposing players construct by placing models of buildings on a city map. Players will then build their force from their respective collection of models. Each force will consist of a giant monster model, and several supporting units (tanks, flying vehicles or creatures — depending upon which of the themed factions you decide to play). Purchasing Booster Boxes will expand your collection, giving you more tactical options and abilities to better suit your strategy. Launch date: October 10, 2008.

.

AD
---






.

AD
---






.

AD
---






.

AD
---






.

AD
---






.

AD
---






.

AD
---






.

AD
---






.

AD
---






.

AD
---






.

AD
---






.

AD
---






Killer Bunnies is a fast-paced, action-filled card game, in which players must try to keep as many Bunnies alive as possible, while eliminating opponents' Bunnies. The problem: Opponents are armed with weapons and will stop at nothing to keep players from winning the game, which can get dreadfully vengeful, horribly nasty, hilariously messy and just plain fun. Killer Bunnies are back again and sporting new Specialty Bunnies, which make taking double turns a snap. The Violet Booster Deck adds another 55 cards to an existing set, plus a clear 20-sided die.

.

AD
---






.

AD
---






.

AD
---






.

AD
---






Now even the tinest Baby can have a Zoobie. The Baby Mashaka plush toy un-Velcroes to become a comfy pillow, then unzips to transform into an infant-sized blanket. The blanket even features fuzzy "comfort corners" to stimulate Baby's interest in textures. Release date: 2008.

.

AD
---
THIS BANNER IS AN AD:
---
---