---
Is Hasbro's Cash Cow Being Led to Slaughter?
Mattel's Acquisitions and Lego's Entry Threaten Hasbro's Game Biz
"As far as buyers at the large toy retailers are concerned, the Lego company pretty much walks on water."
Wednesday, April 15 — For many years, Hasbro's board game business was boring. Nothing happened of any consequence, there were no new competitors, and the category was as flat as a … well, a board.

However, in 2008, for the first time in years, there was clear growth in the category. This continued into the first quarter of 2009. Below are the NPD numbers for last year and, in the last column, the growth during the first quarter of 2009 as per my retailer panel: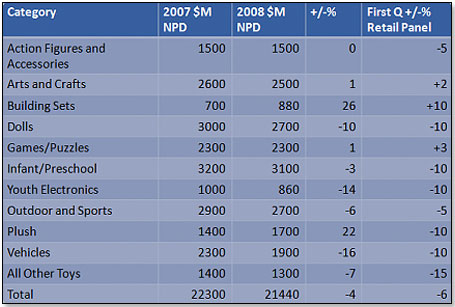 This sudden growth spurt has been attributed to several things, but I would give most credit to the economy. As a Toys "R" Us shop floor assistant put it, "There is no way that you can entertain your family better or more cheaply than with a game of Monopoly. You play it at home and you can play it for many evenings before the kids tire of it. And all this for less than 10 bucks."

Hasbro has reigned as the absolute market leader of the board game category for many years. Last year, the company sold $815 million in the United States. This is the equivalent of about $1,220 million at retail, or a market share of 53 percent. Games and puzzles are also Hasbro's largest product category, accounting for nearly one-third of its sales last year. While Hasbro does not break out gross profit by category, I understand that games and puzzles represent about 40 percent of Hasbro's gross profitability. Its single largest board game brand, Monopoly, has sold, over its lifetime, about 300 million pieces and moves about 3 million units every year in the United States alone.

This fat tidbit has long attracted the attention of competitors, but none has succeeded in capturing it. However, it looks as if things are about to change.

MATTEL BLOKS ITS OPPONENT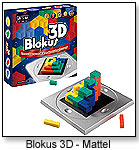 The first serious contender is Mattel. I reported in my March 1 article that Mattel had, in January, acquired Sekkoia SAS and with it, two games — Blokus and Whac-A-Mole. At that point, in addition to its distribution in specialty stores, Blokus was on Amazon [the No. 1 board game at that time] and Toys "R" Us and Whac-A-Mole was on Amazon. Since then, Mattel has put Blokus into Wal-Mart and Target. Target has just agreed to carry Whac-A-Mole as well. The latter is particularly ironic since Hasbro, who had Whac-A-Mole until the end of last year, never succeeded in putting this game into the mass channel.

Clearly, Mattel means business and is making major progress. I am told that Mattel plans to use Blokus as the core of a major board games push this coming fourth quarter, backed by heavy TV and good endcap support.

CATAN NEVER SETTLES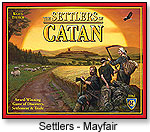 The second potential threat to Hasbro's board game business is, oddly enough, a German game, The Settlers of Catan. The game is owned by Catan Gmbh and licensed to Mayfair Games. The son of the inventor, Guido Teuber, is both head of Catan Gmbh and a shareholder in Mayfair Games. Mayfair has rights to the game in the United States, Canada, the United Kingdom, Australia, New Zealand and Continental Europe. Since its introduction in 1995, The Settlers of Catan has become a worldwide phenomenon. It has been translated into 30 languages and sold, in the past 10 years, 15 million copies — about $500 million at retail.

It moves extremely well at Target and Toys "R" Us as well as on Amazon, where it is the No. 1 toy product in sales terms, and replaced Blokus as the No. 1 board game in March. Settlers of Catan is today the fastest-growing board game in the United States, having doubled last year to 200,000 pieces sold in the United States and Canada and grown by another 75 percent in the first three months of this year. While still a stretch away from the Monopoly sales volume, it is catching up.

Web traffic metrics tell the story. Incidentally, Monopoly's October peak coincided with the release of the PC game.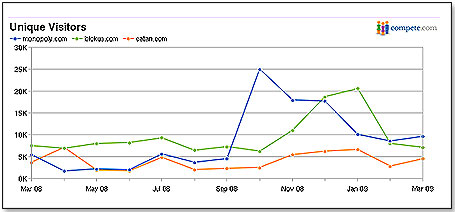 In terms of Amazon ranking, this is how the three product ranges stack up:


| | |
| --- | --- |
| Game | Amazon Rank |
| Catan | #1, #4, #19, #31, #68, #89 |
| Blokus | #2 |
| Monopoly | #23, #49, #70, #82 |

Catan is also the best-selling toy at Amazon overall, with Blokus at No. 4 and Monopoly not ranked in the top 100 toys.

LEGO BUILDS BOARD GAMES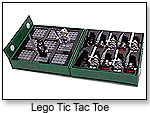 The third threat, and possibly the most serious one, is from Lego. I must rate Lego as probably the best-managed toy company in the world. Its turnaround a few years ago was nothing short of staggering. As far as buyers at the large toy retailers are concerned, the Lego company pretty much walks on water. Therefore, its recently announced plans to enter the board game field are something Hasbro has to take very seriously.

Packaging will be very different from the current Lego construction model. The company will first launch eight SKUs targeting 7 to 10 year olds in Continental Europe this summer, undoubtedly recognizing that this is where Hasbro has the majority of its international games and puzzles sales of about $500 million. The key European retailers — ASDA [Wal-Mart UK], Carrefour, Karstadt, Tesco and Toys "R" Us Europe — have already committed to the Lego entry.

The U.S. launch of the product range is expected to take place at Toy Fair 2010, but I understand that Lego management is already talking to key retailers in anticipation of this event. I would be surprised if any of the top three — Target, Toys "R" Us and Wal-Mart — would not carry the Lego board game range from day one. The products will be sold in the game and puzzle areas of the retail stores, at price points of $9.99 to $29.99.

This pricing compares with the main contenders as follows:


| | | |
| --- | --- | --- |
| Game | Lowest Price Point | Highest Price Point |
| Monopoly | $ 8.49 | $39.90 |
| Blokus | $19.99 | $32.99 |
| Catan | $19.99 | $41.99 |
| Lego | $ 9.99 | $29.99 |

Hasbro's board game business declined last year despite strong demand for the category. I predict this will happen again in 2009 and 2010.

Writer's Bio:
Lutz Muller is a Swiss who has lived on five continents. In the United States, he was the CEO for four manufacturing companies, including two in the toy industry. Since 2002, he has provided competitive intelligence on the toy and video game market to manufacturers and financial institutions coast-to-coast. He gets his information from his retailer panel, from big-box buyers and his many friends in the industry. If anything happens, he is usually the first to know. Read more on his website at www.klosterstrading.com.
Read more articles by this author
THIS BANNER IS AN AD:
---
---