Tools:








Social Networking for the Virtually Impaired
Steps for Using Online Platforms to Fuel Your Business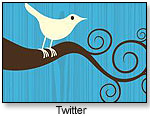 You've heard about timely tweets on Twitter, "friending" on Facebook, and marketing on Myspace. But why would any businessperson take time out of a busy schedule to "chirp" online ... daily? In TDmonthly Magazine's May issue, catch up with our latest series, "Business Networking in the Social Realm," for tips and warnings related to the use of these virtual platforms.

See "Benefiting From Business in the Blogosphere" and "Toy Businesses Create Buzz on Facebook."
Catalog Request Form
THIS BANNER IS AN AD:
---
---