---
Retailer Spotlight: Twirl Toystore & Playspace
Fascination Invites and Intrigues at Multipurpose Kids' Site
"There's a goldfish pond inside, dragons and snakes in the spiral staircase, and giant poppies in the bathroom. We never could have done this in a strip-mall location." — Molly McMullin, Twirl

Two years ago, a friend's suggestion spurred Molly McMullin to open a toy store in her small-town community of Taos, N.M.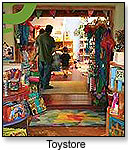 "She painted a fascinating picture and …. I had to see what would happen if we tried," Molly, now operations director, told TDmonthly Magazine.

So they took the plunge, opening Twirl Toystore and Playspace on April 1, 2007. The store is now run by five mothers who contribute to the business's operations, events and marketing through their distinct roles.

AN OVERWHELMING START

"At first we intended to be a mini children's museum; a place for art, music and movement classes; and a networking hub for parents," Molly explained. "We've ended up being a little bit of all this, but when we've run too far in any direction, it's distracted us from the whole picture."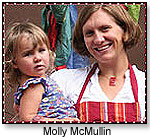 Because the population of Taos is fairly small — some 30,000+ in Taos County — Twirl relies heavily on loyal locals and visitors.

"Many locals are not very familiar with non-mass-market toys of quality and what they cost," Molly told TDmonthly. "We've had to do lots of education, and we've also found a happy balance of low and moderate price points. We have very few big-ticket items, as they seem to immediately become proof of how 'expensive' the store is. We've made peace with stocking more impulse-type, lower-quality (but still fun) items than we intended to at first, and don't go very deeply into any particular line."

EXPANSION OF ERROR

Molly noted a mistake in trying to open a second location last Christmas — choosing a little storefront in a busy spot, with the idea of having a stocking-stuffer store that wasn't necessarily geared toward kids.

"We ended up closing that shop a few days into December," she explained. "The economy aside, it turns out people like coming to our usual store. Luckily, it was a non-fatal error. We sold all the leftover stock easily at the main location."

GROWING OUTWARD

One of the store's biggest successes — the installation of a playground in an outdoor courtyard — came last summer.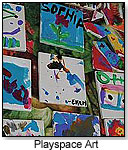 "In addition to a big play structure, we built a wading fountain, a pirate ship, an area of giant musical instruments, and a hobbit house," Molly said. "We had families from all over having a blast all summer long. Sometimes they come by to play without ever going in the store, but when they do come in, they spend more. It has also been a great way to engage the lower-income families of the community without immediate sticker shock."

Tourists in the area hear about the shop being a great place to bring the kids for a few hours of downtime. In addition, Molly rents out the space for parties, which has been a good additional source of revenue.

FASCINATION FOR ALL FAMILIES

The building and property themselves are unique, which is another plus for the store. Skylights and adobe walls add character to the store, which features elements of fantasy throughout.

"There's a goldfish pond inside, dragons and snakes in the spiral staircase, and giant poppies in the bathroom," Molly said. "We never could have done this in a strip-mall location."

In her two years as a toy-store owner, Molly has learned that she doesn't necessarily need to do a hard sell to get a loyal and profitable customer base.

"We wanted to be a magical and accessible place that all the children of Taos and their families could enjoy," she told TDmonthly.

"Encouraging footfall through events and activities to highlight the experiential side of our brand rather than more conventional product advertising has been the cornerstone of our marketing efforts. We always have something going on to plant that seed in our consumers' minds. Families appreciate what we do, and pay us back by coming into the store and becoming a customer."

Writer's Bio:
Brenda Ruggiero is a freelance writer from western Maryland.
Read more articles by this author
THIS BANNER IS AN AD:
---
---