---
Riding Toys Evolve With New Style and Design
Fisher-Price, Kettler and Other Brands Keep Kids Moving
"A lot of people are cocooning more, but they want outdoor activities." — Melissa O'Brien, Wal-Mart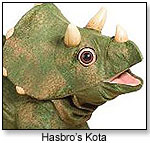 On a typical sunny day, you can see Hailey and C.J. Farrant, 3 years old and 23 months, riding their Fisher-Price Power Wheels in the backyard of their Beachwood, N.J., home. They spend rainy days inside with other ride-ons, such as the Spin Zebra from Fisher-Price and the animatronic Kota the Triceratops from Hasbro.

"They hang stuff on Kota. They decorate Kota. They try to feed him puzzle pieces," their father, Chris, told TDmonthly Magazine.

It's no surprise that riding toys make up a big part of a typical child's playroom.

KETTLER PUSHES FAMILY-FRIENDLY USE

"It's a family experience," pointed out Heather McGlothlin, national sales manager for Kettler International, which added features to its 2009 line "to help parents get out there with their kids."

There are "parent friendly" tricycles, for example, that can convert into something similar to a stroller handle for the parent to use to help their child.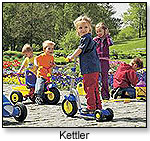 The Happy Plus Kettrikes have a push bar for parents to help push beginner bikers. The bikes also have a coasting system so kids can sit and learn as someone else guides them, and a safety mechanism that prevents the front wheel from turning more than 45 degrees and causing a spill. Similarly, the Kettrike Alana has a handhold on the back of the seats for parents give a supporting push.

There's also the Kettler AERO Racer, described as a "racecar engineered to scale for kids," streamlined and shined for maximum speed and fun.

These are not the only vehicles with new designs and operations, however. Other exciting changes are challenging the traditional perception of a riding toy.

RIDING IN STYLE WITH RAZOR

Take, for instance, a sparking mechanism that lights a stream of sparks behind the scooter as it goes. The Spark Kick Scooter is new from Razor this year. The wheels on the RipRider 360, also from Razor, are mounted on casters with a full-circle range of movement, so kids can drift and spin as they speed about.

There's another family connection coming from Razor this year — pink-painted "Sweet Pea" ride-ons for girls.

The Tri-ton Mobo (from ASA Products), not nearly as heavy as the name implies, is a long and stretched-out vehicle for pedaling around town, but it's made to fold and compact for storage and transport.

Giving new meaning to the words "training wheels," the Hobby-Bike from Inter-Axion Inc. has two different modes based on the skill level of the rider. Those just getting used to bikes can push along, learning balance, braking and other essentials of riding a bicycle — just like a run bike or balance bike. Then, once those skills are mastered, parents can easily attach the pedals, chain and everything else so it's just like a regular bike.

STAYING ACTIVE OUTDOORS

Melissa O'Brien, a spokesperson for Wal-Mart, also noted a trend toward family fitness and playing together, adding that licensed ride-ons such as Barbie and Hot Wheels, both from Mattel, are likely to continue in popularity.

"A lot of people are cocooning more, but they want outdoor activities," she told TDmonthly. Riding toys fill that niche by creating play experiences outside, and she doesn't expect them to slow down this year, despite the budget crunches many are feeling.

In the economy, some people may be forgoing vacations, but they still want their children to be doing something, after all.

See a variety of riding toys below:







The classic scooter design is kicked up a notch with a sparking mechanism to light up the ride. Riders can step on the refillable Spark Bar while riding to blaze a trail of sparks down the roadway. Launch date: Spring 2009.

.

AD
---






Standing 4' tall, this animatronic, prehistoric character is more than 40" long, has sensors on 11 parts of its body, and can move its head, tail and horns. It is equipped to roar when spoken to, respond to its owner's actions, and even chew leaves. While riding in a spring-loaded seat on Kota's back, children will hear jungle sounds and can simply activate a handle switch to play adventure songs. The toy requires six D batteries (not included). Launch date: Fall 2008.

.

AD
---






This design allows full-circle drifting and spinning actions, letting kids cruise with confidence, comfort and style. Its distinctive maneuverability lets kids coast at high speeds. Launch date: Spring 2009.

.

AD
---






This three-wheeled cruiser boasts features that distinguish it from the rest of the Tri-ton line - namely, a reclining seat back and folding design for portability and storage. In addition, it has an adjustable front frame, caliper hand brakes and free wheel maneuverability. Launch date: February 2009.

.

AD
---






Babies sit on the brightly colored, friendly-faced zebra and enjoy music and lights as they play with the wiggly-jiggly character activities and the spinning bead roller on the handle bars. As babies becomes more confident, they can start to bounce and spin. As they do, the zebra rewards them with more energetic music and wacky sound effects encouraging them to bounce up, down and spin all around. An easy to grip handle bar and sturdy base allow the zebra to grow with a child from baby to toddler. It requires three AA batteries, which are included.

.

AD
---






Now available in pink, this is one of Razor's speediest scooters, as it can travel up to 15 mph. It carries up to 220 pounds, boasts a "neighbor-approved" quiet motor, and has a detachable seat if kids want to ride it with the power off. Launch date: Spring 2009.

.

AD
---






.

AD
---






This is just like the scooters the boys have, but with the Sweet Pea pink coloration and streamers. Weighing only 6 lbs., it holds a rider up to 143 lbs. Launch date: Spring 2009.

.

AD
---






This pretty-in-pink Escalade is decked out with a working FM radio and rear speakers, open-and-close doors, see-through windows, chrome wheels, reverse-drive, a Power Lock® Brake System, and a 12-volt battery and charger. It has two forward speed settings: 2.5 mph and 5 mph.

.

AD
---






The Powerwing offers dual-inclined casters that allow turning, drifting and acceleration without ever having to push. Moving one's body side to side provides the momentum. The three wheels give the Powerwing stability. Launch date: Spring 2009.

.

AD
---






The Surfer Balance Bike teaches balance and coordination and has a limited turn radius to help prevent tipping. It features 12" tubeless air tires on sealed ball bearings, is height adjustable with a padded saddle, and has a low step-through frame design. It also includes a rear-wheel handbrake and a spring-loaded kickstand. Launch date: April 25, 2009.

.

AD
---






With rugged purple tires, two-speed handling (2.5 mph and 5 mph), a foot pedal and Power Lock® Brakes, this ride-on can travel both on grass and smooth surfaces. It comes with a 12-volt battery and charger.

.

AD
---






The Pocket Mod is a classic rider with a new twist — the pink decoration and streamers. Just like the other Pocket Mods, this version carries up to 170 lbs., including the rider and the storage compartment in the seat. It can travel up to 10 miles on a single charge. Launch date: Spring 2009.

.

AD
---






The Aero Racer is described by Kettler as a "Racecar engineered to scale to kids." The design is sporty and made for speed, but the dual hand brakes and oversized anti-slip pedals are made for safety. It also comes equipped with a lever to switch to freewheel coasting, and carries a one-year manufacturer's warranty. Launch date: January 2009.

.

AD
---






.

AD
---






.

AD
---






.

AD
---






This girly scooter is one of five Razor rides designed for girls, featuring shades of pink and accents including bells, handlebar streamers and flower decals. Launch date: February 2009.

.

AD
---
THIS BANNER IS AN AD:
---
---