---
Toys in the News: 4-30-09
Click Here for Current News

Hasbro and Discovery Partner for Kids' Programming Ventures. April 30, 2009 — Hasbro and Discovery Communications are joining forces to create a television network and Web programming featuring educational and entertaining shows for kids based on such properties as Trivial Pursuit, Game of Life, Scrabble and Transformers, as well as Discovery content including "Bindi the Jungle Girl," "Flight 29 Down" and "Tutenstein." According to a press release, the network is expected to take off in 2010; until then, the Discovery Kids channel will function under its current name.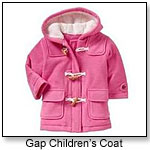 Gap Recalls Kids' Coats for Toggles. April 30, 2009 — The U.S. Consumer Product Safety Commission, in cooperation with Gap Inc., has announced a voluntary recall of about 19,200 babyGap Children's Coats in the United States and 3,900 in Canada because the toggles can break and come off, posing a choking hazard. No injuries have been reported. The coats were sold at Gap stores and online from October 2008 through April 2009.

Pumpkin Patch Recalls Rain Coats for Drawstrings. April 30, 2009 — The U.S. Consumer Product Safety Commission, in cooperation with Pumpkin Patch LLC, has announced a voluntary recall of about 800 Hooded Girls' Raincoats because of a drawstring in the hood that could pose a strangulation hazard. No injuries have been reported. The coats retailed at Pumpkin Patch stores and online from July 2008 through February 2009.

DND Imports Recalls Dinosaur Play Sets for Lead. April 29, 2009 — The U.S. Consumer Product Safety Commission, in cooperation with DND Imports, has announced a voluntary recall of about 50 Dinosaur Play Sets that contain a monkey figure with excessive levels of lead in surface paints. The product was sold at DND Trading in Los Angeles in December 2008.

Toys "R" Us Opens In-Store Supermarkets. April 28, 2009 — Nearly half of Toys "R" Us' 585 stores are now outfitted with an "R" Market section featuring snack bars, toilet paper, canned foods, juices, candy and more. In a TIME magazine article, Toys "R" Us CEO Gerald Storch called the move "right for the times" and "consistent with the overall recessionary environment." As opposed to eliminating toy space to make room for the market, the retailer is clearing inventory of apparel for children over age 4. In one New Jersey Toys "R" Us, the market accounts for only 4.3 percent of the store's square footage.

Stay of Lead Restrictions Put Up to Vote for Youth ATVs. April 28, 2009 — A federal register notice recommending a stay on lead limits set forth in the Consumer Product Safety Improvement Act for select materials and components used in motorized recreational vehicles for youth has been issued to the U.S. Consumer Product Safety for a vote by this Friday, May 1.

Mattel Retains $100M and Bratz Property, Judge Rules. April 27, 2009 — CEO Isaac Larian of MGA Entertainment is once again preparing for an appeal after a late Monday ruling by U.S. District Judge Stephen Larson that the Bratz doll is property of Mattel and that the $100 million awarded to Mattel in November will stand. The Associated Press reported that a federal receiver will temporarily be in charge of Bratz and MGA's assets, also determining who will produce the dolls. A May 18 hearing will review the possibility of making the receivership permanent. Read more coverage of Mattel and MGA Entertainment's battle over Bratz.

Mattel Links Up With NeuroSky for Mind Games. April 27, 2009 — Mattel and NeuroSky, a premier company for Consumer Brain-Computer Interface technologies, have entered into a multi-year agreement for the development of toys and games controlled by the mind, according to a press release. The new products, including the $80 Mindflex, which was announced earlier this year and will be available this fall, incorporate NeuroSky's ThinkGear™ headsets that recognize brainwave activity and translate it into commands to create a play experience.

ToyVoyagers Travel World With Strangers. April 27, 2009 — Since 2005, members of the ToyVoyagers website have been abandoning plush toys and dolls in public, waiting for them to be picked up by strangers and tracked with photos and commentary on the ToyVoyagers website as they travel the globe, the Daily Mail reported. Their fate is left up to the strangers who adopt them, take their pictures in front of landmarks, help them meet goals, such as "Have my photo taken with a famous person," and may send them off on other journeys. Trevor the Turkey, according to ToyVoyagers.com, has logged the most miles — more than 76,000. The ToyVoyagers community is preparing for a big release of toys all over the world this weekend.

CPSC Releases Lead-Testing Method. April 26, 2009 — The U.S. Consumer Product Safety Commission has released a document outlining the CPSC laboratory's procedure for determining the lead content of paint and surface coatings. It takes the place of previously published methods and may be viewed here.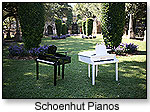 Schoenhut Stars in "64 Toy Pianos" Garden Event. April 24, 2009 — Miami's Vizcaya Museums & Gardens will host "Kun," a four-hour program created by composer Wendy Mae Chambers featuring 32 white and 32 black Schoenhut toy pianos played by musicians at various locations in the picturesque gardens this Sunday, April 26. The black and white pianos will be placed in pairs, representing yin and yang, each playing a six-minute duet. The performance is open to visitors with admission to the museum ($10-$15).

JAKKS Pacific Sees 1Q Loss, Downgraded Stocks. April 23, 2009 — JAKKS Pacific Inc. saw a first-quarter net loss of $10.8 million (40 cents a share), versus last year's profit of $877,000 (3 cents a share) during the same period. Reuters reported that Stifel Nicolaus analyst Drew Crum reduced the stock's status from "buy" to "hold. Increased costs for labor, product testing, sales, and administrative work are taking a toll on JAKKS' performance.

Danvers, Mass., Toys N Things Seeks Buyer. April 23, 2009 — At 80 years old, Bob Raiche of Toys N Things specialty toy store in Danvers, Mass., is ready to sell the business he's owned for four years, the Danvers Herald reported. As Raiche looks forward to fishing, more family time and some community involvement, he's hoping for the right buyer to come and take over the store that has become so much a part of the local community.

NASDAQ Delists Action Products. April 22, 2009 — NASDAQ is removing Action Products International from the NASDAQ stock market based on the company's decision not to pay listing fees, according to a press release. Common stock may be traded either in the Bulletin Board or Pink sheet market.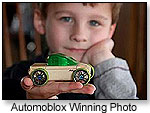 Playful and Artistic Photos Win Automoblox Contest. April 22, 2009 — Automoblox has announced the three grand prize winners of its recent photo contest: "Best Play Action" by Rachel from Virginia, "Coolest Car Creation" by Jan from Minnesota, and "Most Artistic Photo" by Emily from California. The winners received $200 Automoblox gift certificates, and their photos are featured on the Automoblox website, accompanied by commentary from the company's president, Patrick Calello. Nine honorable mention winners received a $25 gift certificate.

Toy Industry Scores Low With Climate Counts. April 22, 2009 — Makers of toys and children's equipment collectively received the lowest scores of 13 sectors evaluated for an Earth Day scorecard released by non-profit Climate Counts, which is dedicated to battling global climate change. According to a press release, eight companies, including JAKKS Pacific, MEGA Brands, Peg Perego, Playmates Holdings and Evenflo, received a score of 0 out of 100 when measured by 22 criteria that tell how the companies are dealing with their "climate footprint" and being proactive in regard to related legislation and consumer education. Hasbro scored 40 points, Mattel came in second at 18, and Lego scored a 13.

Javits Construction Delay Gives Toy Fair Exhibitors Extra Space. April 21, 2009 — A $463 million plan to increase space by 100,000 sq. ft. at New York City's Javits Center has been delayed a month, from February to March 2010, meaning manufacturers who have already turned in renewal applications for Toy Fair can reserve additional exhibit space for next year's show. Renewal applications and deposits for the show must be submitted to TIA by the end of this month, TIA's Toy News Tuesday reported.

Michigan House Considers Toy Chemicals Bill. April 21, 2009 — A 20" x 20" inflatable rubber ducky sat near the Michigan Capitol Monday to bring extra attention to a bill that would require manufacturers to report to the state harmful chemicals in their toys and would give the state attorney general power to remove products from stores if toymakers fail to comply with the new regulations. The Detroit News reported that the Michigan Children's Safe Products Act would have manufacturers publicly announce the names and amounts of chemicals of "highest concern" in their products, as well as why they're using that substance and how many of the toys being reported on are for sale in Michigan and in the USA. Rep. Rebekah Warren, a democratic sponsor of the bill, pointed to the existence of lead, arsenic and mercury in some toys.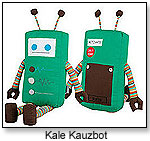 Kale Kauzbot to Benefit Arbor Day Foundation. April 21, 2009 — Kale Kauzbot, a handmade plush robot toy from Kauzbots, is helping to plant trees in support of Earth and Arbor days this year, according to a press release. All of the net proceeds from the sale of Kale Kauzbot at the company's website on both April 22 and April 24 will be given directly to the Arbor Day Foundation.

Ty Inc. Launches First Dog Beanie Baby. April 20, 2009 — On the heels of the Sweet Sasha and Marvelous Malia Ty Girlz dolls — since renamed to Sweet Sydney and Marvelous Mariah after reprimand from the White House earlier this year — comes a new Beanie Babies 2.0 pet, Bo, named and fashioned after the Obama family's new puppy. A portion of proceeds will be donated to animals shelters, according to the Los Angeles Times blog.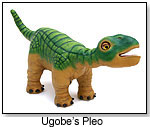 Pleo Maker Files for Bankruptcy. April 20, 2009 — Ugobe Inc., the company behind baby robotic dinosaur Pleo, filed for Chapter 7 bankruptcy in Boise, Idaho, Friday and has dismissed all employees. Ugobe CEO and inventor Caleb Chung is known for developing the hugely popular Furby toy that hit the market in 1998, the Idaho Statesman reported. The company's liabilities, $3.6 million, largely outweighed its assets of $1.6 million.

Hasbro Profit Plummets in First Quarter. April 20, 2009 — First-quarter profit from Hasbro toy sales dropped 47 percent, resulting in a dramatic dip from 2008 1Q sales — $19.7 million (14 cents a share) vs. last year's $37.5 million (25 cents a share). MarketWatch reported that fewer consumer purchases and a weakened U.S. dollar contributed to the losses, which included declining board game sales and affected boys' properties, such as Spider-Man and GI Joe.

Disney Recognized as No. 1 Licensor. April 20, 2009 — Disney Consumer Products has again taken first place on the list of last year's 100 biggest licensing companies, pulling in $30 billion in sales of licensed goods in 2008, up $4 billion from the year before. According to the Hollywood Reporter, "High School Musical," "Hannah Montana" and the Jonas Brothers brands continue to be strong sellers for the company. Warner Bros. Consumer Products took spot No. 3, according to License! Global, Marvel Entertainment took fourth, and Nickelodeon/Viacom Consumer Products grabbed spot No. 5.

Mattel Posts 1Q Loss of $51 Million. April 17, 2009 — Mattel Inc. reported a larger net loss during the first quarter this year — $51 million, or $0.14 per share vs. $46.6 million, or $0.13 per share in 1Q 2008. Global net sales fell 15 percent, while domestic gross sales decreased 6 percent, according to a press release. The Barbie brand saw a loss of 5 percent in worldwide gross sales, with other girls' lines, including Polly Pocket and High School Musical dolls, down a dramatic 27 percent. Reuters reported Mattel has let go of approximately 1,000 employees and has increased prices on its spring lines.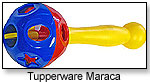 Toy Maracas Recalled for Choking Hazard. April 16, 2009 — The U.S. Consumer Product Safety Commission, in cooperation with Tupperware USA Inc., has announced a voluntary recall of about 44,000 Shape-O Toy Maracas following two reports of the toy breaking. Children could choke on the exposed small parts, and the handle poses a suffocation hazard. The maracas were sold through Tupperware's catalogs from September 2007 through April 2008.

Mattel One of "World's Most Ethical Companies." April 15, 2009 — Mattel has been recognized as one of 99 "World's Most Ethical Companies" by Ethisphere Institute for 2009, selected from among 10,000 companies from more than 100 countries that were evaluated for the honor, according to a press release. Attorneys, government officials, professors and leaders of organizations are involved in reviewing companies based on corporate citizenship and governance, innovation for public benefit, industry leadership and executive leadership, legal record, and internal ethics programs, an Ethisphere article explained. Other companies on the list include Ecolab, Dell, PepsiCo, Google, Starbucks and Gap.

Topps Wants New Upper Deck Cards Destroyed. April 15, 2009 — The Topps Co. Inc. has filed suit against Upper Deck, claiming the rival baseball card maker copied the design and layout of some of Topps' 1970s cards in its 2009 releases. The Associated Press reported that Topps is seeking profits and damages, in addition to requesting that the imitation cards be destroyed.

Mega Brands to Pay $1.1 Million for Magnet Violations. April 14, 2009 — Canadian toy company Mega Brands will pay a $1.1 million fine for failure to promptly disclose safety hazards to the CPSC following the 2005 death of a 22-month-old who died from ingesting magnets from a Magnetix kit, the Associated Press reported. Although the company reported the child's death, it did not immediately report defective products involved in more than 1,100 cases of magnets coming loose from the toys.

Toy Recalls See Drastic Decrease in First Quarter. April 14, 2009 — The Toy Industry Association reported that the number of CPSC-issued recalls of toys during the first quarter of 2009 was 50-percent less than during the same period in 2008. Toy recalls related to lead content have fallen 95 percent, and none were related to fire or burn hazards. Recalls concerning choking hazards, however, increased by more than 2,000 percent (from three SKUs to seven SKUS). First-quarter recalls involved the removal of about 1.7 million products from retail shelves.

City in Oklahoma Outlaws Real-Looking Toy Guns. April 14, 2009 — The City Council of Edmond, Okla., has approved a law banning toy and airsoft guns that are made to look like real firearms, specifically those with the distinguishing orange tips marked out with paint or marker. When the law goes into effect in 30 days, violators will face a $244 fine for possession, and a $544 fine for threatening an individual with an altered weapon, KTUL-TV reported.

HeroClix Sale Falls Through. April 14, 2009 — Topps' plan to sell the assets of WizKids, including HeroClix, has failed due to financing trouble on the part of the company Topps had been in negotiations with. ICV2.com reported that Topps is considering a summer launch of a Hammer of Thor HeroClix set but will likely continue negotiations for a sale with other interested parties.

Tweenbots Experiment Shows Human Empathy Toward Robots. April 13, 2009 — Kacie Kinzer, an ITP student at New York's Tisch School of the Arts, has discovered numerous helpful pedestrians in the Big Apple — at least when it comes to aiding a simple, vulnerable robot wearing a "help me" destination flag in getting from one place to another. Kinzer's Tweenbots are released on missions in which they depend on the help of strangers to point them in the right direction and save them from harm or failure, such as getting stuck against a curb or trapped in a hole. The cardboard-covered, smiling-faced Tweenbot's first mission, traveling from the northeast to the southwest corner of Washington Square Park, took only 42 minutes, and involved the help of 29 individuals, according to the Tweenbots website. More missions and robots are in the works.

Bloggers Could Be Charged With False Advertising for Toy Reviews. April 13, 2009 — A law under review by the Federal Trade Commission could put mommy bloggers who write product reviews in danger of lawsuits by applying current regulations in advertising law to the blogosphere, ABC News reported. There's concern about cases when bloggers do not clearly disclose they received a product from a company for free, for example, as this could be considered a form of payment, or customers who may want payback if they believe they were deceived into buying something. Sam Bayard of the Citizen Media Law Project recommends that to protect themselves from lawsuits, bloggers can establish themselves as an LLC, which would make the company liable instead of the individual, be honest about their relationship with companies that provide products for review, ask the manufacturers for fair descriptions of items, and not make outrageous claims. Linsey Krolik of the Silicon Valley Mom's Blog added it's crucial to have a proper disclaimer about reviews on blog sites.

Policemen Destroy 500 Toy Guns in the Philippines. April 13, 2009 — About 500 toy guns that look like real firearms were confiscated from vendors in various cities during Holy Week and then destroyed by police in Bacolod City Monday morning, ABS-CBN News reported. The move was designed to limit criminal activity, including robberies that have involved toy firearms, and followed desctruction orders issued by former President Ferdinand Marcos.

Consumer Spending May Be Down for the Long Haul. April 12, 2009 — A recent survey of more than 5,000 U.S. consumers shows that recession-fueled financial planning could leave individuals spending less and saving more for several years, the San Francisco Chronicle reported. Discretionary spending on automobiles, apparel and entertainment is expected to remain stalled, as many respondents don't believe the economy will see recovery until 2011. Same-store retail sales dropped 1.6 percent last month, and the national saving rate hit 4.2 percent in February, versus zero a year ago.

Dungeons & Dragons Co-Creator Loses Battle With Cancer. April 11, 2009 — Dave Arneson, co-creator of the role-playing game Dungeons & Dragons, passed away Tuesday, April 7, following a two-year battle with cancer, BBC News reported. He was 61.

"Caylee Sunshine" Doll Marketer Hit With Lawsuit. April 11, 2009 — Showbiz Promotions and its owner, Jaime Salcedo, which released both Michael Vick dog toys and a doll in memory of slain toddler Caylee Anthony, are being sued by the Florida Attorney General's office based on consumer complaints alleging that some did not receive merchandise they ordered and that a portion of the profits from the sale of the toys did not go to charities as promised. Salcedo says he has been working with the attorney general's office for over a year to settle disputes, and claims all but 10 of 200 complaints have been taken care of, CNN reported.

Pennsylvania Toy Store to Relocate for More Space. April 10, 2009 — The owners of Kidz Klub toy store in Hatsboro, Pa., temporarily closed shop at the end of February after just a year in business, with plans to reopen closer to the town center this summer in a space three times as large as the original. Public Spirit/The Willow Grove Guide reported that in addition to stocking lots of plush toys and eco-friendly items, Owners Veronne and Vonetta Carter plan to have both a game room and a theatre in the new store.

Hannah Montana Movie Highlights Street Surfing. April 9, 2009 — Alvin Calhoun, Lauren Callahan and Ryan Wilson of the Street Surfing Pro Team were filmed performing on a 13' skateboard ramp in Santa Monica, Calif., for "Hannah Montana: The Movie," starring Miley Cyrus and hitting theaters April 10. "We are very excited to be working with Disney who we've partnered with in the past but none have allowed us to have as much presence in a film as we have in Hannah Montana," stated Jasun Weiner, president of Street Surfing, in a press release. Street Surfing manufactures The Wave board.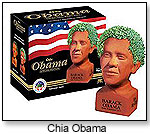 Walgreens Drops Chia Obama. April 9, 2009 — After a test run at Walgreens stores in Chicago and Tampa, the retailer has decided to pull the hair-sprouting Chia Obama from its shelves to avoid potentially offending customers who might misinterpret or put a political spin on the product. According to Fox News, the creator of the Chia Pet, 76-year-old Joseph Pedott, is outraged at the removal and has indicated the Chia Obama is not racist.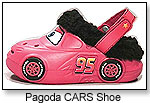 Pagoda Recalls 91,000 "CARS" Shoes for Choking Hazard. April 9, 2009 — The U.S. Consumer Product Safety Commission, in cooperation with importer Wal-Mart Stores and manufacturer Pagoda International, has announced a voluntary recall of about 91,000 CARS Fleece Clog Children's Shoes (73,000 in the United States and 18,000 in Canada) because the decorative wheels can come off and pose a choking hazard. The shoes retailed at Wal-Mart from September 2008 through March 2009.

Webkinz Now Available at Toys "R" Us. April 8, 2009 — Ganz's Webkinz have officially jumped into a new realm of the mass-market, hitting all Toys "R" Us brick-and-mortar locations as well as the mega-retailer's website — and will expand into Babies "R" Us in May. The store's April 10 circular will announce the availability of the playful, online-plush collectibles. Domino Cat, Cotton Candy Bunny, Orca Whale, Chimpanzee and Spotted Turtle are just some of the Webkinz varieties the stores will offer. "The introduction of Webkinz reinforces our status as THE toy authority," stated an announcement on the Toys "R" Us blog.

Main Street Toy Co. to Close in Murfreesboro. April 8, 2009 — Independent toy store Main Street Toy Company, located on the square in downtown Murfreesboro, Tenn., is closing its doors next week due to an expiring lease and lack of a full-time manager. The owners will, however, continue to run their other shop in Franklin, WSMV reported.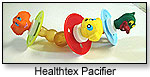 Healthtex Recalls 40,000 Pacifiers. April 7, 2009 — The U.S. Consumer Product Safety Commission, in cooperation with Healthtex, has announced a voluntary recall of about 40,000 Zoo Pacifiers because the nipples can come off the base and pose a choking hazard. The pacifiers were sold at pharmacies and supermarkets from December 2002 through March 2009.

Fire Triggers Evacuation at Hasbro Games Plant. April 7, 2009 — About 50 Hasbro employees evacuated Hasbro's games division plant in East Longmeadow, Mass., early Tuesday morning when a small fire began in the electrical cabinet of a printing machine. Workers had put out most of the fire by the time firefighters were on the scene, the Republican Newsroom reported, and the company is back to usual operations. A fire chief noted they're trying to determine what component actually started the blaze.

Arkansas Approves Ban on Toy Guns. April 7, 2009 — The Arkansas Senate, with a 20-6 vote, has approved a bill to prohibit the sale of toy guns that are designed to look like real firearms, the Associated Press reported. The bill was introduced following the death of a West Memphis boy shot in 2007 by a police officer who said the victim was holding a toy gun that was mistaken for the real thing.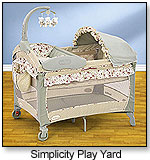 Simplicity Recalls Play Yards. April 7, 2009 — The U.S. Consumer Product Safety Commission, in cooperation with Simplicity Inc. and SFCA Inc., has announced a voluntary recall of about 25,000 Travel Tender Play Yards due to rail collapses that can cause children to fall or become trapped. There have been five reports of at least one rail collapsing. The play yards retailed at Burlington Coat Factory and online at Babies "R" Us, Target and Kohls websites from March 2005 through January 2009.

PlayStation Characters On Way to Toy Shelves in Europe. April 7, 2009 — Sony has appointed Target Entertainment as its consumer product licensing agent to oversee creation of toys, stuffed characters, food, stationary, clothing and more related to the various PlayStation software brands, according to the United Kingdom's CVG.

4Q Profit Up 11% for Toys "R" Us. April 7, 2009 — Cutting payroll and corporate expenses by $73 million contributed to Toys "R" Us's fourth-quarter profit increase of 11 percent, the Associated Press reported. Although annual and same-store sales fell, annual earnings increased 42 percent, hitting $218 million as compared to $153 million reported at the same time last year.

Zobmondo!! Files Suit Against Imagination International. April 6, 2009 — Zobmondo!! Entertainment LLC is suing Imagination International Corp. for marketing its 2009 release "Justin and Dave's Original Would You Rather ...? Board Game" as the original version, thereby implying that Zobmondo!!'s "Would You Rather ...?" was not the first. Through the suit filed in U.S. District Court for the Central District of California, Zobmondo!! is seeking damages and demanding that Imagination not use the word "original" in its game.

Mega Brands Posts Hefty 4Q Loss. April 6, 2009 — Canadian toy company Mega Brands saw a net loss of $323.3 million, or $8.83 per share, in the fourth quarter, owing to restructuring fees and debt write-offs in addition to low sales, Reuters reported. The company's net sales fell more than 20 percent, coming in at $101 million versus $128 million during the same period in 2007.

Pixar's "Up" More Artsy, Less Commercial. April 5, 2009 — Despite earning an opening-night spot at the Cannes Film Festival, Pixar's soon to be released film "Up" has retailers and Wall Street analysts worried about its lack of commercialism. Concerns include the lack of a female lead as well as the fact that manufacturer Thinkway Toys, known for Wall-E and other licensed character products based on Pixar films, is not making any toys for "Up." The co-director of the film and top executives at Disney said their focus is on making quality films, however, not necessarily expecting every production to become a franchise, the New York Times reported.

Special-Needs Man Leads Poppin' Joe's to Success. April 3, 2009 — Joe Steffy, a nonverbal 23-year-old with both Down syndrome and autism, hasn't been sidelined in the world of business. With the help of his parents and five part-time workers, Joe runs Poppin' Joe's Kettle Korn, a small-business venture that, given its growth record, should be bringing in more than $100,000 in sales within three years. During a recent presentation to parents of special-needs children, Joe used an augmentative speech device to communicate with the audience about his business, U.S. News & World Report reported, giving hope that such opportunities do exist for kids with disabilities.

CPSC's Nord Votes Against ATV Exclusion, Proposes Stay. April 3, 2009 — Nancy Nord, acting chair of the U.S. Consumer Product Safety Commission, issued a statement Friday denying the request to exclude ATVs and motorbikes for children from the lead-content requirements set forth in the CPSIA, saying the Commission does not have such freedom under the law. Instead, she has recommended a one-year stay of enforcement of "Section 101 and related provisions of the CPSIA" for that particular product category, during which time manufacturers can assess how to come closer to compliance with the 300 ppm lead limit and Congress can consider reasonable changes to the law. Per Nord's statement, CPSC staff are concerned with the potential dangers of adult-sized ATVs being bought and used for children in the event that youth vehicles are unavailable because of failure to comply with lead standards.

Toys for Tots Thief May Face Prison Sentence. April 2, 2009 — Seventy-three-year-old Virginia Kelly of San Ysidro, Calif., a foster mom and president of a foster parents organization, has been arrested for taking and selling more than 11,000 toys from the Toys for Tots charity program in San Diego over a period of years. She may face up to four years in prison if convicted of grand theft and embezzlement, the Los Angeles Times reported.

Toys "R" Us Debuts In-Store Dollar Shops. April 2, 2009 — New value sections at the front of Toys "R" Us stores showcase affordable toys priced at $3 or less. The selection of about 100 products includes dinosaur- and princess-themed toys as well as art supplies, jewelry, stickers and party favors, the Los Angeles Times reported.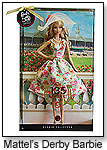 Barbie Dons Commemorative Hat for 135th Kentucky Derby. April 2, 2009 — Mattel has partnered with Churchill Downs, site of the annual "Run for the Roses," to release a Kentucky Derby Barbie Doll wearing a floral sun dress with sandals, a pearl necklace and a large, white hat with floral accents. Also available will be 135 Kentucky Derby Barbie replica hats, offered on a made-to-order basis except for the first, which will be auctioned off to support charities through the Clothes Off Our Back Foundation, according to a press release.

NJ Court Ruling Gives Toys "R" Us Edge in Amazon Case. April 2, 2009 — A New Jersey appeals court ruled in favor of Toys "R" Us March 24, saying a lower court that determined in 2006 that Amazon.com breached a contract with Toys "R" Us must now reconsider the toy retailer's damages claims. Amazon joined forces with Toys "R" Us in 2000 in a partnership in which Toys "R" Us supplied certain products for Amazon.com to sell; four years later, Toys "R" Us filed a lawsuit against Amazon, saying the company had not honored exclusivity rights, the Associated Press reported.

Nord Pushes Obama to Name CPSC Chair. April 2, 2009 — In a letter issued Wednesday, Nancy Nord, acting chairman of the U.S. Consumer Product Safety Commission, urged President Barack Obama to promptly fill a CPSC commission chair that's been empty for three years in order to help address growing concerns from the National Association of Manufacturers, the Toy Industry Association, and various toymakers and retailers regarding the Consumer Product Safety Improvement Act of 2008. The industry has already suffered a loss of more than $1 billion in inventory that, under the current CPSIA, cannot legally be sold. As the Wall Street Journal reported, many industry groups are hoping for exemptions to the required lead limits for ATVs for youth, bicycles and older books.

Chicago Toy & Game Fair Welcomes Richard Gill to Board. April 2, 2009 — Richard Gill, an Emmy-nominated executive producer of TV and gaming platforms and worldwide brand-builder of Pictionary and Trivial Pursuit, has been named to the Advisory Board for the Chicago Toy & Game Fair, according to a press release.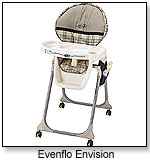 Evenflo Recalls 643,000 Envision High Chairs. April 2, 2009 — The U.S. Consumer Product Safety Commission, in cooperation with Evenflo Company, has announced a voluntary recall of about 643,000 Envision High Chairs due to fall and choking hazards created by detached hardware and falling seatbacks. There have been 320 reports of seatbacks reclining or coming off, resulting in injuries that include bruises and abrasions. The detached recline fasteners and screws may also pose a choking hazard. Evenflo Envision High Chairs retailed at mass-market and juvenile product stores from December 2002 through April 2006.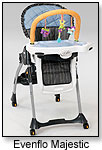 Evenflo Recalls an Additional 90,000 Majestic High Chairs. April 2, 2009 — Following a recall of 95,000 Evenflo Majestic High Chairs in December, the U.S. Consumer Product Safety Commission has announced a voluntary recall of an additional 90,000 of the same high chair for fall and choking hazards caused by loose and detached screws. Evenflo Company has received an additional 16 reports of reclining or detaching seat backs, some of which caused injuries to children. The high chairs were sold at mass-market and juvenile product stores from January 2007 through March 2009.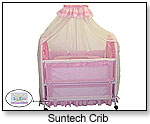 Suntech Recalls Cribs for Suffocation Hazard. April 2, 2009 — The U.S. Consumer Product Safety Commission, in cooperation with Suntech Enterprises Inc., has announced a voluntary recall of about 1,900 SunKids Convertible Cribs due to drop-side latch failure and mesh sides that can expand and create a gap, causing possible entrapment or suffocation. A similar crib made by another company was recalled after the suffocation of a 5-month-old in August 2008. The SunKids Crib retailed at juvenile product stores in New York, New Jersey and California from January 2007 through October 2008.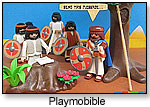 German Toymaker Threatens Legal Action Against Playmobible. April 1, 2009 — Playmobil has threatened to take German priest Markus Bomhard to court on charges of copyright violation if he fails to remove his Playmobible website by April 6, the AFP reported. The "Playmobible: Theology Made Simple" site, said to "convert hard to understand biblical concepts into child's play," uses Playmobil figures to illustrate biblical stories, even melting down and reshaping some of the figures for certain scenes, such as the crucifixion. Playmobil issued a statement that such manipulations pose safety hazards because the plastic figures are flammable. Bomhard maintains that his website is a private project.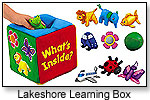 Lakeshore Learning Recalls Soft Toy Boxes for Choking Hazard. April 1, 2009 — The U.S. Consumer Product Safety Commission, in cooperation with Lakeshore Learning Materials, has announced a voluntary recall of about 3,600 What's Inside? Soft Toy Boxes because the head of the butterfly can come off and pose a choking hazard. The product retailed at Lakeshore Learning Materials stores and Toys To Grow On catalogs from September 2008 through February 2009.

Disney Purchases Online Assets of Kaboose. April 1, 2009 — Disney Online has entered into an agreement to buy the assets of Kaboose Inc., including Kaboose.com, AmazingMoms.com, Babyzone.com, Zeeks.com and Funschool.com, for about $18.4 million, according to a press release. The acquisition will expand Disney's content, especially related to mothers and babies, through the Disney Online properties, which currently attracts in excess of 27.6 million unique visitors monthly.

Bring Toys In Before the Recession's Out. March 31, 2009 — Toys are one of the "Top 10 Things to Buy Before the Economy Improves," according to Forbes, largely based on the fact that most manufacturers are filling out their lines with lower-price points to counter economic woes. On the higher end of the spectrum, the report said houses, cars and diamonds are also good bets.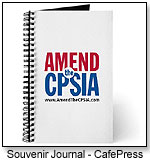 TIA President to Speak at CPSIA Rally. March 31, 2009 — Carter Keithley, president of the Toy Industry Association, will be among the keynote speakers presenting on behalf of the toy industry at the "Amend the CPSIA" rally in Washington, D.C., April 1. TIA is also helping to sponsor the event, along with the Handmade Toy Alliance, the National Association of Manufacturers, the Game Manufacturers Association and other groups, according to Toy News Tuesday. A live webcast of the rally will be available from 10 a.m. to noon at amendthecpsia.com, where individuals can also check related news and blogs, find details on the event, and even support efforts to change the law by purchasing souvenir clothing and other items.
THIS BANNER IS AN AD:
---
---