---
Bye Bye Monster Banishes Fears for Some
Bedtime Gift Set Offers Storybook, Friendly Plush and All-Natural Spray
"He couldn't wait to try [the monster spray] out … but he knew he would have to wait until it was time for bed." — Veronica Flamenco, mother of Brandon (6)

TDmonthly Magazine's Early Elementary Roundtable tried Your Thyme Inc.'s Bye Bye Monster Gift Set to soothe bedtime fears. Although using the bottle of monster spray was universally liked by the children, the storyline drew diverse reactions, with some parents saying bye bye to Bye Bye Monster and others recommending it.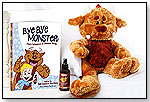 Bye Bye Monster Gift Set by YOUR THYME INC.
Age: 4 to 12
Gender: Boys and Girls
Category: Eco-Friendly
MSRP: $49.95

TDmonthly rating: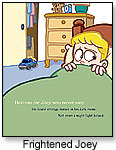 What It Is: Bye Bye Monster consists of a hardcover book, a 4-oz. bottle of monster spray and a 16" stuffed monster named Barley. The book, "Bye Bye Monster, Joey's Adventure on Monster Street," tells about Joey, who deals with his nighttime fears as he goes on an adventure with Barley, his new monster friend. The monster spray contains all-natural ingredients, including essential oils that help induce sleep.

What the Parents Thought: "Nice quality book [and the] message is well intended for those coping with children who suffer from fear of the dark or issues surrounding bedtime," said Jones, although she questioned the effectiveness of the storyline. Thomas appreciated that the font used was easy for children to read, and she liked the information about the author and the illustrator. Dawson called the illustrations "charming." She said, "The book was not scary at all and the colors were soothing."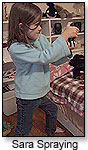 Flamenco most liked the monster spray, saying, "It really seems to bring the book to life." Since small children believe in the monster spray, they "feel more confident when going to bed," she explained. Tong liked the novelty of tying the sense of smell to a book with the monster spray.

What the Kids Thought: "He couldn't wait to try it out," said Flamenco of Brandon (6), "… but he knew he would have to wait until it was time for bed." Tong's children thought the story was "engaging and unpredictable," she noted.

"Rose (8) liked the wonderful pictures," observed Thomas, and told her mom, "The monster is cute, not scary." Meg (5) read the book initially with help from Cameron (7) and wanted it read to her repeatedly, "so she could spray the monster spray whenever Joey did in the text," Jones said. Cameron (7) tired of the story after his second reading.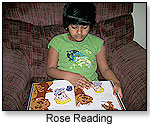 Rose (8), Brandon (6), and Sara (7) enjoyed using the monster spray; the smell took Rose (8) "to the woods," she said. Brandon (6) asked his mom "if the spray was real and if it really worked." Lexi (6), Cameron (7) and Meg (5), like the other children, enjoyed using the spray, but they did not care for the smell of it. As a result, Cameron (7) and Meg (5) used the spray in the hall to keep the smell of it out of their rooms. Sara (7), who doesn't believe in monsters, sprayed instead "the monster who's always coming into my room — my brother."

Sara (7) and Rose (8) liked the idea of a friendly monster. Sara (7), who's becoming an eco-friendly consumer like her mom, "commented on the importance of 'earth-friendly' items when she read the spray bottle label," Dawson noted.


What the Kids Learned from this Toy: Rose learned that monsters do not exist outside of the imagination; this kit "helps kids get over their bedtime fears," Thomas commented. Brandon (6) "learned that when he becomes afraid, he could think good thoughts," Flamenco reported. Tong, who called the story "foolish," said, "I don't think they learned anything deeply meaningful."

How to Improve It: Thomas would like to see "a more colorful bottle label," and Dawson suggested ingredient information on the bottle. Sara (7) thought the kit might be more appropriate for children younger than she is, as she no longer has bedtime fears and "the book was well below her reading level," Dawson said.

Flamenco thought that adding an audio disk of the story would make the story accessible to children not yet reading fluently, as well as auditory learners. She also suggested repackaging the kit in a box with a clear cover to display the book cover, attaching the monster spray in a smaller box glued to the larger one.

Jones was not convinced that telling children struggling with genuine fears that there are monsters (good and bad) would be developmentally appropriate. Tong agreed: "I also thought that the book was scary in that it introduced monsters to kids that may not even be afraid of monsters." As a parent, she is not comfortable telling children lies (e.g., thinking good thoughts can make bad things go away; monsters do exist), "because they won't believe me with other things," she explained. "It's an odd concept to allay kids' fears of monsters by actually validating the idea that monsters do exist."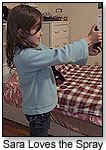 Would You Want Another Toy Like This? Dawson pointed out that how similar situations are handled varies from family to family. "Pretending that monsters are real is not the strategy that we've used with either of our kids, but every family is different," she commented. "I would give this to parents with younger children," she summed up.

Participants were homeschool mom Robbin Dawson with Sara (7); substitute teacher Veronica Flamenco with Brandon (6); stay-at-home parent Heather Jones with Meg (5) and Cameron (7; machine operator Geena Thomas with Rose (8); and stay-at-home parent Mildred Tong with Lexi (6) and Ethan (9).

Writer's Bio:
Susan Ledford is the writer, editor and publisher of the "Homeschool Resources Directory for S.C." She has been evaluating toys and games for
TDmonthly
's Roundtable reviews since 2005. She also is a homeschool veteran of seven years.
Read more articles by this author
THIS BANNER IS AN AD:
---
---