---
Sweet Fairy Doll Flies into the Hearts of Those Young at Heart
Doll Maker's Collectible Fairy Earns Points for Beauty
"I love the sparkles on her feet and the fairy dust in her little bag." — Paige, 7 years old

TDmonthly Magazine's Dolls Roundtable recently reviewed the Sweet as Can Be Fairy Doll from Linda Rick, The Doll Maker, and were delighted with her sparkling presentation as well as her affordable collectibility.



Sweet as Can Be Fairy Doll by LINDA RICK, THE DOLL MAKER
Age: 3 and Up
Gender: Girls
Category: Dolls
MSRP: $25.00

TDmonthly rating:




What It Is: This 8" fairy doll is available in three different dresses and with different colored hair.

Packaging: Packaging is not quite determined. Right now it comes in a soft, mesh bag, but will later have a box.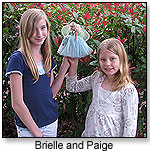 Playability: "I love the hair and eyelashes; the wings are beautiful and also the purple dress," raved Paige (7), adding, "I love the sparkles on her feet and the fairy dust in her little bag." Paige's grandmother Mandt found the doll "adorable," and commented that the fairy doll "really adds to a little girl's décor."

"Samantha (3) gives her fairy doll a goodnight kiss as [she] goes to bed every night," noted Simpkins. Samantha especially likes the fairy's wings. Retailer Shockley pointed out that "children are so into fairies right now." Both she and Mandt appreciated the doll's hair and facial features. Shockley said, "The face and hair [are] probably the nicest I have seen on a doll this size."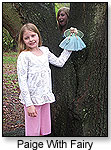 Collection Value: Davis called the doll "cute" and pointed out that while "lovely to collect … a child can enjoy having pretend adventures with them as well." She added that if she were a mother, "I'd want all three dress shades." Simpkins agreed that this doll "is really a collector doll more than a play doll."

Value: None of the participants thought the doll needed any improvement, and each gave it the highest score — 5 stars. Only Simpkins found the price point a little high, and Mandt commented, "Girls Paige's age (7) are really into accessories, but I think I would still choose this [doll]."

Shockley felt that the company may not be as well known as Tonner or Alexander Doll, which could affect sales since "people do brand-name shop. But I really like this doll," she said. Doll collector Davis rated this doll higher than other 8" dolls she owns because "the face is so pretty and the hair is, too."

Participants were Grandmother Ruth Mandt with Paige (7); Teresa Bannister with Samantha (3); Colette Shockley, retailer and owner of The Littlest Princess Doll Shop; and doll collector Virginia Davis.

Writer's Bio:
Virginia Davis is a freelance writer who is considered an expert in the area of dolls and collectibles. She has written hundreds of articles on dolls and toys, as well as other subjects, for numerous publications. She lives in Georgia.
Read more articles by this author
THIS BANNER IS AN AD:
---
---