This season, with so many new costume ideas to offer, kids will be donning everything from frills to fantasy. Accessories will be big as well.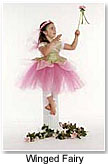 Fairytale Fashion
Known for their whimsical fantasy children's costumes, Fairytale Fashion (ToyShow) is planning to expand their fairy line with a collection of Woodland Fairy Costumes with a Greek goddess flair. These costumes will be designed in their signature princess pinafore design, allowing children to don them over their clothes. The pinafores have been redesigned to give the costumes a tailored look as well. They also plan on expanding the boys line by adding King costumes and Capes with a fantasy feel akin to Harry Potter. Most costumes are one-size-fits-all with adjustable sizing ($39-$160; ages 3-8). Accessories such as wings, wands and headpieces are also available.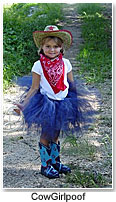 Prissy Poofs
Prissy Poofs (ToyDirectory) are themed costumes centered around a poofy tulle tu-tu for girls and accessories to match ($35-$49.99; ages 6 mos-8 yrs). Some of the more popular poofs are the LadybugPoof, Princesspoof and CowGirlpoof. Newer styles to look for in the upcoming season from the SpookyPoofs line include an AlohaPoof, AngelPoof, BumbleBeePoof, BunnyPoof, ChickeePoof, DevilishPoof, LionPoof, BaaBaaPoof and WitchyPoof. Parents love the fact that PrissyPoofs are easy for their little ones to put on and take off all by themselves.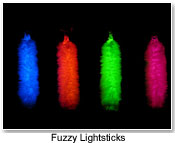 AtomicFuzz
For a new twist on the safety flashlight kids carry when trick or treating, AtomicFuzz (ToyDirectory, ToyShow) has created Fuzzy Lightsticks: a glow stick covered with fur which provides a powerful light surge while giving kids a fun tactile toy. The 6-inch sticks ($3-$5) stay illuminated for up to 8 hours.
Elope Inc.
Halloween accessories such as hats and eyewear are what you will find at Elope Inc. (ToyDirectory). For 2004, new Harry Potter items include: Quiddich Goggles, Professor McGonagall Hats, Dumbledore Glasses, and Potter-esque Neckties and Scarves ($4.50-$9.90). They also are planning to continue their line of costume helmets, including Scuba, Pilot, Astronaut and Fire-fighter helmets popular last Halloween.