Hot toys come and go, but puzzles never go out of style. It's easy to see why: They´re fun, educational, challenging and appeal to both children and adults.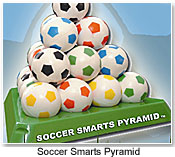 Smarts Puzzles from Use Your Head Unlimited, Inc. (ToyDirectory)
The colorful, 3D Smarts Pyramids puzzles ($14.99; ages 8 and up), designed to resemble soccer balls, golf balls, tennis balls, basketballs, footballs and baseballs, will exercise the mind. Stack the balls without letting like colors touch and you have a winner. It´s not as easy as it sounds!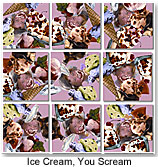 New Scramble Squares
Based on an ancient Egyptian game called "Heads and Tails," Scramble Squares ($7.95; ages 4 to 104) from b. dazzle (ToyDirectory,ToyShow) are both unique and familiar. An artful design is divided into nine squares; arrange them so that the design continues all the way around. Only those with persistence will conquer this puzzle. New designs include: American Native Flowers; Boating; Boston; Bunnies; Chili Today, Hot Tamale; Classic Cars; Covered Bridges; Fly Fishing; Hot Air Balloons; I Scream, You Scream; Red Hats and Retrievers.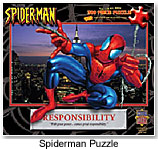 Masterpieces Puzzles: In the Mood For a Jig
From 36 pieces up to 1,000, Masterpieces Puzzles (ToyDirectory) has a puzzle and design for everyone. Among the new designs is Marvel Comic´s Spiderman ($8.99; ages 5-10), with wise words about character responsibility. Artist Steven Michael Gardner´s love of animals inspired his stallion design called, Thunder, a puzzle which glows in the dark and has 14 hidden images ($14.99; ages 10 and up). Sweet Serenity ($14.99; ages 10 and up) features one of Kim Norlien´s best-selling lake cabin paintings.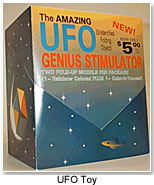 UFO Toy Packs a Twist
Follow the instructions: color it, fold it, and add a dab of glue. What you have is a tight, triangular-shaped, paper donut that you can continue to twist and rotate, but the paper will not tear. The UFO Toy ($5/package of two; ages 4 and up) from Victoria Toy Co. (ToyDirectory) is based on a sophisticated mathematical formula that is guaranteed to keep puzzlers guessing. New designs for 2004 include Stars and Stripes, Rainbows, Rays of Sun and Starbursts.
Solve the Mystery of Kaleidoscopes
There´s something soothing about gazing into a kaleidoscope and allowing your imagination to run free. Kids can create their own images with the 3D Interactive Kaleidoscope ($12; ages 5 and up) from Lightrix (ToyDirectory). The company also features a creative line of 3D travel games, including Stick & Ball, Star and Molecule ($4 ea.; ages 5 and up).