The ubiquitous toy of your childhood, The Big Wheel®, was first developed by Louis Marx Toys and presented to the public at the 1969 New York Toy Fair. In 2003, it was re-launched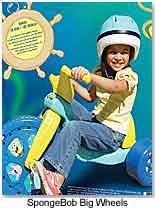 by Alpha International Inc., again at Toy Fair, to an enthusiastic response.
For 2004, the company is launching four new licensed models to appeal to today's kids. The Spongebob Squarepants™ Big Wheel® features a 16-inch wheel for low-profile (and safe) riding fun. Adorned with the colorful characters from the Nickelodeon series, it has an adjustable 3-position seat to grow with the child. The bright colors and weather-resistant decals make it easy to see. (ages 3 to 8)
Known over the years as "My First Big Wheel," the Clifford the Big Red Dog™ Big Wheel® comes festooned with the familiar colors and characters seen on the popular Scholastic TV cartoon series. The 9-inch wheel design offers riding fun for younger children in year-round indoor/outdoor play, as does the VeggieTales™ Big Wheel®, made with the colors and decal characters seen on the Big Idea Productions TV cartoon series (both ages 1 to 3). Orange County Chopper (16"), will be released in April.