Politicians, celebrities, monsters, and horror…all hot costume themes for adults in 2004.
Bruce Baum, marketing director for Cesar, Inc., says that masks of political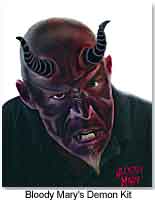 candidates are in the works. Donkey ears and elephant ears will accessorize caricatures of President Bush and Democrats Clark, Dean, Kerry, and Sharpton.

Bobbie Weiner, an award-winning make-up artist known as "Bloody Mary" since her work on the film Pumpkin Head II, supplies the U.S. military with camouflage paint and her everyday customers with cosmetics created to achieve special effects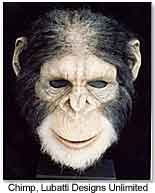 without staining clothes. The newest items from Bloody Mary's are a dark Demon Kit, a Lady Alien, Black Fangs and special make-up for applying prosthetics. Still in vogue is her Toxic Clown. Her fake blood is the best in the business.

Lubatti Designs Unlimited is an excellent source for original masks. Red Jack, Chimp, and Jack-O-Lantern are its biggest sellers. Owner Erich Lubatti is working on a realistic simian gorilla mask and plans more props such as severed heads and limbs, statuary and scenic details. Eventually, full-sized human figures made of latex and polyurethane foam will be added.

"In both costumes and latex masks, I´ve noticed that movie, legendary, and literary characters are still very popular," he says. "I´ve also seen original designs making a major move forward."



For an unusual twist, Gravestone Artwear offers Gothic-inspired t-shirts. Reproductions of Celtic, Colonial and Victorian American 17th- and 18th-century gravestone carvings adorn these shirts with death's head designs, skeletons, crossbones and soul effigies. This ten-year-old business has sold thousands of t-shirts and gothic velvet clothing not just for Halloween, but for year-round wear.

Costume World is the third largest costume supplier in the country, with clients such as Ringling Brothers and Busch Gardens. Marilynn A. Wick employs top designers and creates a boutique atmosphere for her customers. Individual attention, high quality and an eye for detail set her apart. She describes the industry as timeless, with Marilyn Monroe, Elvis, and historical figures leading the way in trends. Although election candidates and celebrities in court will make a show, she believes too much media focus can actually bring sales down, not up. She observed that Cat in the Hat sales were higher before the release of the movie. Spiderman, Batman, and other superheroes remain popular.

Smiffy´s International, a British family-owned business, supplies nearly 5,000 party and Halloween products worldwide. New for 2004 are a Skeleton with raised latex bones and an extra large Vamp with a veil. The Classic Marilyn halter neck dress, the Gangster Moll, and Gangster Suit are also popular. In accessories, the Screaming Cleaver and Screaming Knife grab attention, along with a giant 40" Hairy Spider with light-up eyes and a Flying Witch on a motorized broomstick. Among their best masks is the Leper with Hessian Hood.

Smiffy's PR rep Fiona Vincent remarks, "The most apparent change is that consumers are switching from rental costumes to retail."

Chuck Mattson, a partner with Halloween Headquarters, predicts the media will help drive costume trends. "With the increased emphasis for better-made garments comes the need for retailers to display the costumes," he says. "This presentation makes the experience more like shopping at a fashion boutique, rather than at a novelty shop where Halloween specialty shopping occurred a decade ago."