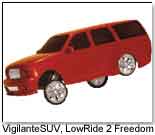 If you want to know about the hottest die-cast vehicles on the shelves, look to the most stylish cars on the streets. With new cars growing in popularity, new niches are opening within the die-cast vehicle industry. "Shelf space is limited, so you need to keep changing your product quickly to get the competitive edge," said Edwin Hung, vice president of operations for Alpha/Gearbox International (ToyDirectory).
"Fans are looking for something different," agreed Jamie Johnson, NASCAR buyer for Baseline Sports (ToyDirectory,ToyShow). "The last five years have all been the same paint and package. Now it´s about the serial-numbered products, innovations, autographed pieces and limited editions, things we haven´t seen before."
According to Johnson, a successful product will be a hit its first week and off the market in three months. Planning for shorter runs is becoming the norm, which keeps the product fresh and attracts collectors with built-in scarcity. "Before, limited edition really meant something; it was 500 to 1000 pieces," said Gearbox´s Hung. "Now a run of 20,000 can be called limited edition."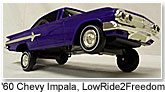 Last year saw lowriders take off as die-cast´s fastest growing market. Car customization is experiencing a new renaissance, and toy companies like LowRide 2 Freedom (ToyDirectory,ToyShow) and Jada Toys (ToyDirectory,ToyShow) are reaping the benefits. 1960s hot rods and ´70s muscle cars remain perennial favorites, but, "In the last couple of years we´ve seen a move to bring modern cars into the same vein," claimed Mark Woods of LowRide 2 Freedom.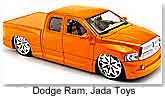 The lowrider market is currently split between classics and moderns. Big luxury trucks and SUV´s, such as LowRide 2 Freedom´s Escalade and Vigilante Dancer, are the biggest sellers. However, a major trend has also grown around drivers buying inexpensive cars and tricking them out with "nitrous oxide tanks, Spin Tex rims, carbon hoods, expensive sound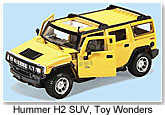 systems, spoilers and under-carriage glow lights," according to Lu Su, vice president of sales and marketing for Toy Wonders (ToyDirectory).
"A lot of people can´t afford the Escalade, so they do what they can with what they can afford," said Woods. Proving that hardcore collectors will pay extra for authenticity, newcomer Jada Toys released their hugely successful Dub City, Import Racers, and Streetlows lines at a price point almost twice as high as their competitors, with little advertising. "You can imagine how many eyebrows were raised," said Su. "You don´t see this type of accomplishment in the die-cast industry."
Other market trends include growing interest in the younger generation of NASCAR drivers, licensed lines, and changes in scale. "Any movie with cars shown prominently translates into popular toys," said Bruce Zalkin, vice president of sales for Marz Distribution (ToyDirectory). James Bond is a perennial favorite, and The Fast and the Furious franchise has revitalized street racers.
Collectors are also leaning towards bigger cars with better detail. "The 1:64 market has gone soft; hardcore collectors are 1:24 guys," according to Baseline Sports´ Johnson. However, Hot Wheels is banking on a strong 1:64 market, unveiling 100 new models for 2004, and companies such as NKOK are adding new gadgets to 1:64 die-cast with their RC Mini Racers.